Wondering how to actually use dried flowers around your home? Dried flowers are one of those home decor trends that can go with virtually anything.
While most often connected to the cottagecore and forestcore trend, you can use preserved greens and dried blooms to decorate anything from coastal-chic to Magnolia farmhouse to mid-century modern spaces. Plus, they make for stunning seasonal decor (especially in the fall), too.
As someone who spends way too much time crafting, I am personally obsessed with dried flower decor. Learning how to dry flowers and create home decor is a sustainable way to reuse flowers while also getting to lean into your creative side.
That being said, you don't have to be crafty to add dried flowers to your space as so many decor and craft stores carry springs of dried blooms ready for all of your decorating needs. So get decorating with our dried flower ideas.
Best uses for dried flowers as home decor
Dried flowers add a whimsical botanical touch to any abode, regardless of your decor aesthetic. Whether you're looking for a way to dress up your tablescape, want to create an accent piece with show-stopping potential, or are getting into the festive spirit with wreaths and garlands, here are some of the best uses for dried flowers in home decor.
1. Dried floral arrangements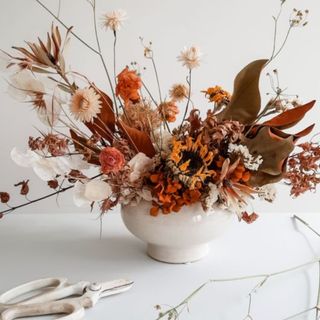 One of the easiest ways to incorporate dried flowers into your home decor is to put together a dried floral arrangement. These floral arrangements can be purchased from local flower shops, Etsy, and even Amazon. We're into this highly-rated Puthiac dried flower bouquet available on Amazon. However, if you want to create your own, all you need is a vase of your choosing and some sprigs of dried blooms.
Once you have your dried flowers picked out, arrange them into the vase just like you would a live-flower arrangement (only without the water, of course). If you have any leftover sprigs, you can add those to small jars and vessels to use as accent pieces in the home. You can also save them for gift wrap, weave them into a wreath form, or get crafty by turning them into resin coasters.
2. DIY dried floral wreath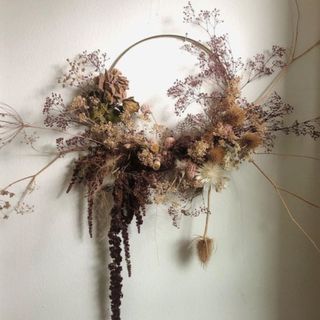 Another simple yet show-stopping way to add dried flowers to your space is to make them into a DIY dried floral wreath for your front door or entryway. Similar to arrangements, you'll first want to gather all of your dried flowers — whether you dry them yourself or get them store-bought — so that you have an idea of what you're working with.
Then, get a grapevine wreath form, like this budget-friendly wreath from JoAnn, and tuck the flower sprigs in between the branches to secure them down. If you need a little reinforcement, hot glue can also help tack everything together.
Once your wreath form is filled with florals, grab a piece of ribbon and tie a bow at the bottom center for a nice focal point.
Note: In addition to grapevine wreath forms, you can also purchase either embroidery hoops or brass hoops and hot glue dried flowers to half the form to create a more modern and minimalistic wreath design.
3. Framed wall art with pressed flowers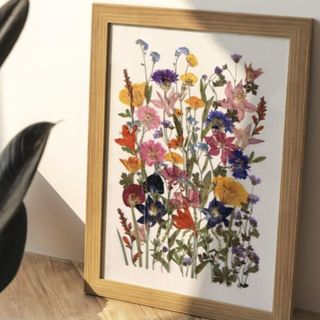 If you love to press and dry flowers at home, you can easily incorporate them into your home decor by creating framed wall art. All you need is a piece of paper, some glue, and a picture frame of your choosing.
To create this look, simply arrange the dried flowers in a pattern of your choosing on a piece of cardstock. Then, use glue sparingly to secure the sprigs down. Once everything is fully dried, place the paper in the frame, and you've got yourself a gorgeous piece of wall decor.
4. Candlestick holders with dried flowers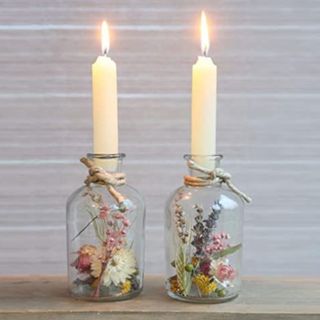 Add a touch of fairycore fun to your tablescape with DIY dried flower candlestick holders. The best way to create this homemade decor is by getting a couple of clear glass jars with tops that are wide enough to hold a tapered candle stick.
From there, drop your favorite dried flowers into the jars until they are full of florals. Once you have your desired look, stick a tapered candlestick into the top of the jar and add a piece of ribbon or twine around the top for a nice finished touch.
5. Dried flower candles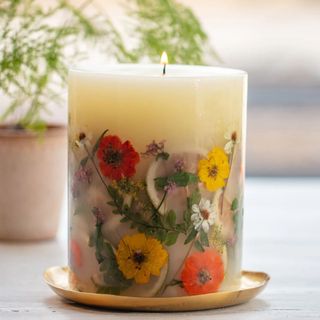 You can also incorporate dried flowers into the candles themselves to get a whimsical forest look. Some companies, such as Rosy Rings sell pre-made candles with dried flowers, making it easy to incorporate the botanical blooms into your decor aesthetic.
However, if you want to get crafty, there are plenty of candle-making kits online, like this CraftBud kit available on Wayfair, to choose from — or you can always follow a TikTok tutorial to craft your own from your stash of candles and handmade pressed flowers.
6. Dried flower garland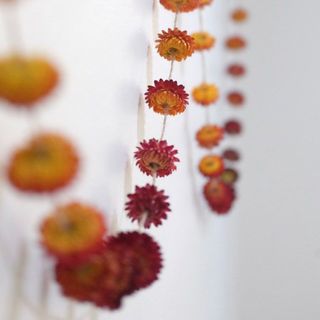 Whether you press your own or purchase them from a store, dried flowers also make stunning flower garlands for the home — and you can use different blooms to make seasonal styles for spring, summer, fall, and winter.
One of the easiest ways to make a flower garland is to dry flower tops and use a needle and string to string them together. However, you can also take bunches of flower springs and tie them together in clusters for a more cottagecore feel.
---
If you're into dried flowers as decor it's pretty safe to say you're embracing a more natural and boho look in the home. To really up the ante and get into those apothecary vibes, check out our whimsigoth decor ideas for everything from vine leaves to velvet throw pillows.