Some small bathroom shower curtain ideas may be the solution if you live in a rented apartment. Most landlords certainly won't let you jazz it up with a lick of paint, new tiles, or wallpaper.
But, one thing you *can* change with minimal effort and even on the smallest of budgets, is your shower curtain. Covering a large surface area, a shower curtain makes a big impact but as we say, without much hassle from you.
We've got loads of small bathroom ideas across the website on how to make your space your own, but if you're looking for the word on shower curtains specifically, here you go.
8 small bathroom shower curtain ideas for an instant makeover
Invest in the best shower curtains and go bold with bright colors, cutesy and playful with floral patterns or novelty, and opt for imagery from your favorite show or characters.
1. Lean into busy patterns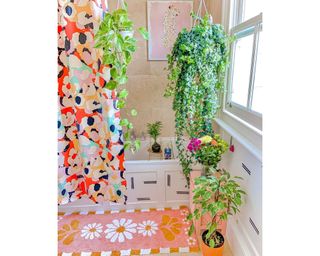 It's an old myth that small spaces can't take busy patterns. Back in the day, interior designers would have happily told you that neutral colors and minimal pattern was the only way to go in a tiny room but these days, the rules have joyfully been bent to embrace maximalism.
It's now often thought that a mass of pattern actually makes the space feel larger, as your eye becomes lost within it, and doesn't notice hard edges and corners as much. So, be free my pretties, and get your kicks with a mega-printed shower curtain, like this colorful wave shower curtain from Urban Outfitters that adds a cool 70's vibe.
2. Matchy-matchy with tiles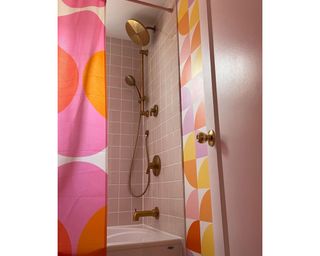 I am absolutely obsessed with this look from Marina Porter, an Instagram user who knows how to have fun with colors at home. Now, I'm not suggesting that all of us would be able to whip out a look like this tomorrow — after all, if you're renting it would be pretty hard to get the go-ahead from your landlord. But, one day my friends, one day!
3. Go wild for animal print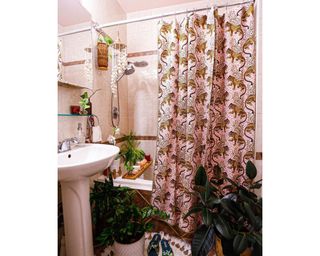 If you love jumping on a trend, an animal print shower curtain might be for you! Milly Summer, interiors influencer, says she's noticed that animal print is the one trend that's going absolutely nowhere.
"What I love about this print is how timeless it is. I'm a minimalist girl, but even I can appreciate it and, it looks good in a paired-back space, too. So, it's for everyone."
This boho leopard shower curtain available on Amazon can really make a small bathroom pop.
Milly Summer is an interiors influencer who shares her home on her Instagram platform, The House on Forest Hill.
4. Nod to your idols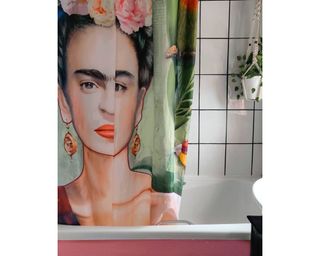 Imagine waking up every day and being face-to-face with one of your favorite idols. Now, that's sure to kick your day off right, right?! Frida Kahlo does it for me — but who would your queen be? Invest her and see your morning mood skyrocket.
5. Accesorize with a tie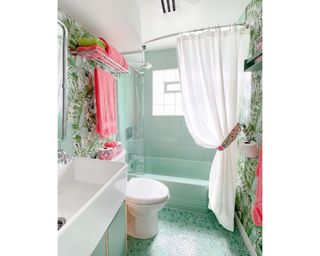 Yes, yes, yes; this is such a good idea. We can look at all of the cutest shower curtains in the world, but I love this example of how to think outside the box. Not only does this technique offer a different way to style your shower curtain, but it also creates a nicer silhouette by allowing the curtain to drape beautifully across the bath.
6. Go cutie fruity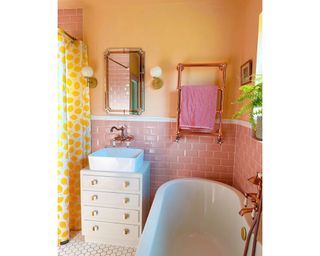 Just like how animal print will never get old, neither will these cute li'l fruits! There are loads of shower curtains out there with fruity prints, like this cherry shower curtain from Urban Outfitters, and are guaranteed to bring a happy, sunny vibe to your bathroom. For me, cherries or kiwis would be the best, but I'm partial to a lemon, too.
7. Coordinate with your bath mat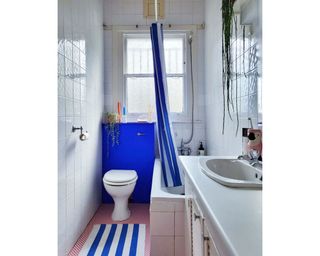 Matilda Martin, Trend Specialist at home decor brand Lick, says: "Bathrooms are an amazing place to have fun with color because we don't spend much time in there, so you're free to be more experimental. I love watching our customers come up with interesting, quirky ways to bring more personality to their spaces and this striped look is one I'll be recommending for sure. The matching element brings the space together and adds something a little extra."
Matilda Martin is a Trend Specialist at home decor brand Lick. She's also the Editor of the brand's Lift The Lid online magazine.
8. Have fun with sheer sections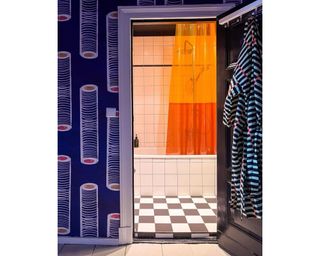 Dare to push the envelope and opt for a shower curtain that offers a more risque aesthetic? Influencer Herr Klar's account is a great place to look for seriously chic interiors inspiration, all with a really cool, Northern European vibe. And, this bathroom is no different!
FAQs
Can I wash my shower curtain in the washing machine?
If you're wondering how best to clean your shower curtain, it is possible to wash it in the washing machine if the liner and rings are removable. A top tip is to put two towels in the drum alongside it because these will stop the plastic from sticking to the inside of the machine.
How often should I wash my shower curtain?
While many of us forget to wash our shower curtains at all, experts say we should be doing this at least every six months, but ideally every month if possible. Especially, if you use your shower multiple times a day or live in a shared apartment!
Three shower curtains for small bathrooms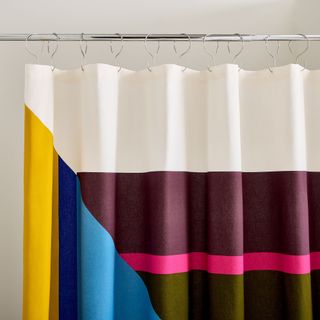 Bold color
1. West Elm Modern Split Shower Curtain
Price: $45
Make a statement with this color-blocking style, that puts together some of the most vibrant hues going. It's crafted from soft cotton to give it the perfect drape, but you can add a liner if you fancy it.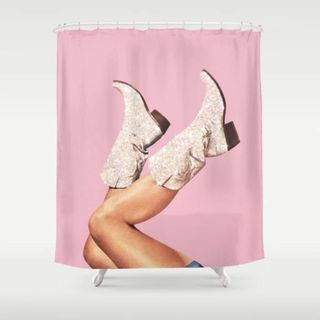 Novelty
2. Society6 These Boots Shower Curtain
Price: $72
This is giving Jessica Simpson and I'm so here for it. Obsessed with the kitschy cowgirl reference and what that will do for my dopamine levels every morning!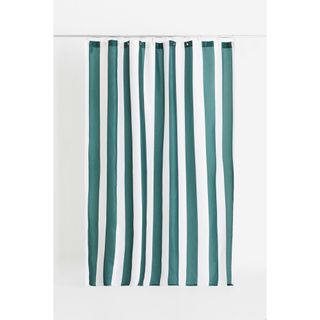 Classic
3. H&M Home Striped Shower Curtain
Price: $26.99
You can't go wrong with classic stripes. And, this gorgeous green is a transitional hue, that looks great in every season.
---
Shower curtains are an easy, accessible, and pretty fun way to spice up your bathroom and bring a whole load of color into what can be a clinical space. My advice? Let loose! As long as you avoid the worst colors for small bathrooms, you're in the clear.