Want to learn know how to organize bathroom cabinets and vanities like an interior expert? Let's face it, no one wants a cluttered cupboard full of hairsprays, styling tools, and tonnes more stuff they have to wade through, just to restock the toilet paper. So keeping your storage unit tidy is rule 101 of bathroom organization.
Of course, anyone can install a few floating shelves, but it takes a real style guru to transform these spaces into something special. Revamp your vanity organization if only for your sanity, because jammed drawers and product Jenga when you're running late just won't do.
Luckily, we've enlisted the help of professional home organizers, as well as some familiar retailers to assist in creating a dreamy aesthetic. Think spin-able turntables, illuminated units with LED strip lighting, and modular shelving for those must-have cult cosmetics. Plus, we'll even let you into a beauty industry secret so that you know when your bathroom cabinets and vanities need a clear-out.
How to organize bathroom cabinets and vanities
'Never underestimate the power of storage within storage!' says Barry Cutchie, design director, BC Designs.
'By that I mean, storage baskets and organizing trays which can be used inside vanity units and cabinets. These make it much easier to see everything as they are laid out neatly and you can put your hands on things much quicker.'
'There is also a lot of unused space when it comes to vanity cabinet doors. If you glue or stick a magnetic memo board to the inside door, it can be a great way of sticking items that seem to go missing like scissors and tweezers, along with adding in small magnetic organizers and hooks that can store cotton pads/buds etc.'
1. Sort products by expiry date and frequency of use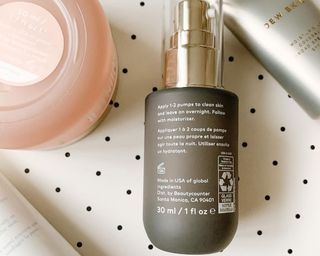 Sorting out your bathroom storage can be a bit of a Narnia-style nightmare. While many cupboards are deep enough to hold all your essentials, searching for a frequently used product that's nestled right at the back can be annoying.
Our top tip is to first evaluate what you use more often and pop this at the front of your cabinet. You'll also want to sort by your product expiry date. Because there's no point buying expensive creams and lotions that promise the world if the active ingredient is going to degrade.
Look out for a tub-like symbol with a number and 'M' (months) in it. I.e. 12M would mean that you have twelve months or a year to use this product before you should consider throwing it away.
By carrying out this initial exercise, you'll potentially have less to sort through each time you want to tidy. Make it a habit to note down the date opened or the date to dispose of opened products. You can either jot it down on the product using a permanent marker or set a notification on your phone.
2. Ensure products are visible with extra lighting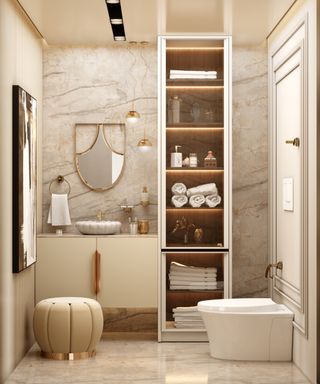 No matter how light and airy your space is, your bathroom cabinets and under sink vanities can lack light, making it hard for you to find what you want. Rather than pointing a flashlight into it, or using your cell torch for extra visibility, consider LED lighting for a luxe look that's functional too.
We love the look of this bathroom storage cabinet inside this contemporary penthouse bathroom by Caffe Latte. Along with the transparent glass front, the strip lighting creates a boutique hotel ambiance for all your bits and bobs. It doesn't cost much to install if you DIY but makes such an impact and a statement feature in this luxury bathroom.
3. Use drawer dividers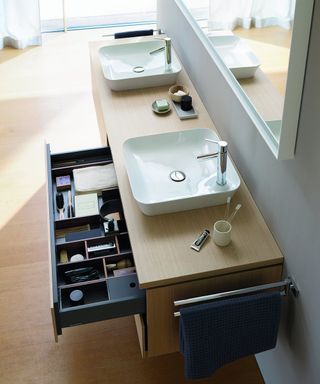 'Bathrooms are not 'one size fits all' today the bathroom has become a place of individualization and personalization; whilst retaining its functionality, it is now a place where people can create an environment that is unique to them.' says Martin Carroll, MD, Duravit UK.
When designing your bathroom; it's not only the ceramics, baths, and fittings that you need to consider but vanity furniture too. Duravit vanity units can have single or double drawers and are designed to suit the users' needs; as they can be fitted with high-quality drawer dividers as optional extras in series such as L-Cube, XViu, and White Tulip.'
'Designed to compartmentalize all of your everyday essentials but keep them close at hand, the dividers add that touch of luxury and ensure that everyone can make their bathroom work for them.'
4. Store similar items together in acrylic bins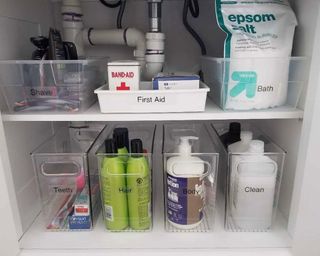 'Pro tip: store items with their "friends". Meaning if you use them together, store them together. Example: office supplies can "live" together, homework supplies can "live" together, beach supplies can "live" together, says Stacey Lewis, founder of Purge Monsters.
5. Choose open-sink storage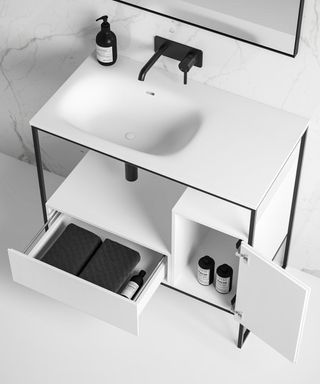 'The organization of bathroom cabinets and vanities is something that is often very personal to the individual who lives there.' says Fabrizio Costingo, product designer, Lusso Stone.
'However, there are better ways than others to ensure you are maximizing your space and getting the most from your bathroom. A bathroom does not need a huge amount of storage and maximizing zones which are often underutilized is key.'
'We love the design aesthetic of an open sink, but also understand that the sink area is often the best place for bathroom storage. Our luxe Vanity Unit Collection highlights how using open space alongside storage options makes your space look bigger. In terms of organizing a unit like this, place fresh towels on show and hide away spare toothbrushes and toiletries that may look unsightly.'
6. Use wire baskets within your bathroom cabinet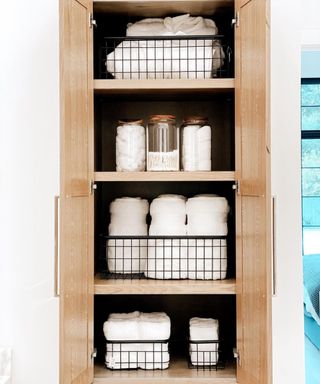 Where wire baskets were seldom seen in the supermarket, they're now a stylish staple to organize bathroom cupboards and vanities. Try and find some with handles for easy transportation of toiletries, poufs, and sponges. And, when you're not using them, they ooze minimalist chic as a bathroom shelving idea.
'Nothing better than a clean minimalist look. One of the easiest ways to achieve this is to go with all-white linens in your spaces and only store what you will use,' says Shelly Thornhill, aka @simplifywithshelly.
'These black bins are from The Container Store and help to make a tailored and clean look!'
Laura Boddice, bathroom designer from Dunelm also adds: 'Bathroom organization doesn't have to be big and bulky or compromise on trends. Our metal wire baskets are a practical way to organize your drawers and effortlessly tick the industrial trend for your bathroom shelfie.'
7. Mix and match storage with a modular unit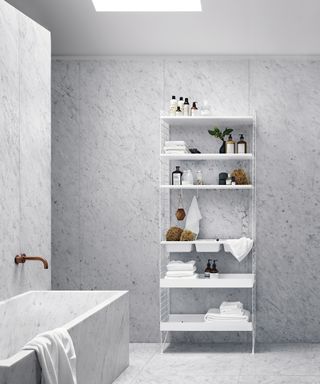 While conventional bathroom cupboards have structured cabinet-like qualities, you can't beat a modular shelving unit for its ability to change and transform with your life. And, this model by String Furniture is the perfect example. With a mix of flat shelves, deep-set trays, bucket-esque storage bins, and J-hooks, it's the perfect combination for loofahs to lotions, flannels, and towel storage.
'With the modular shelves from String, you will have no problem maximizing stylish storage for any bathroom size or type of space,' says Bo Hellberg, CMO at String Furniture.
'Towels and other bathroom essentials all need their dedicated spot and with String's unique shelves, you can find a place for all your things while giving your bathroom a contemporary design.'
'Even the smallest of bathrooms needs plenty of storage and with a combination of wall panels in plex, mirrored cabinets, and a metal shelf, you will go a long way. Alongside the clever range of accessories such as hooks, organizers, and rods, there's somewhere to give all those little things a place of their own.'
8. Use an acrylic Lazy Susan turntable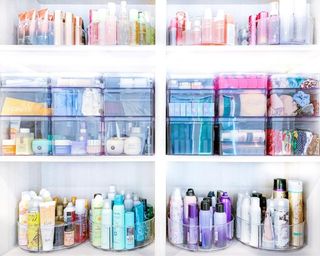 Not just for sharing dips and chips, a turntable can also be used to organize your bathroom cabinet and vanity units... Especially if you're sick and tired of bottles and canisters toppling over in a tight cupboard space.
'Turntables are the perfect way to store sprays and serums since they keep products upright and accessible,' says Clea Shearer, co-owner of The Home Edit.
9. Create a spa-like setup with glass canisters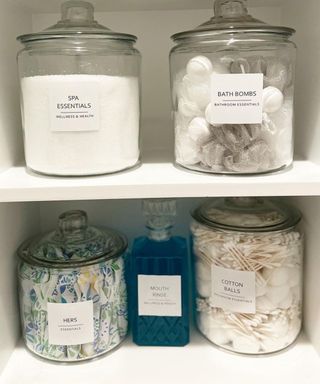 Our bathrooms can often be our sanctuary, so give this space the Zen treatment by decanting your essentials into glass jars and canisters. Sure, storing tampons and sanitary ware won't make Mother Nature's gift any easier, but it'll look tonnes better than the cardboard boxes they came in.
Aside from the much cleaner aesthetic, you can also take advantage of the savings made from buying budget bathroom essentials in bulk – because no one will know the difference between branded or supermarket own-label goods.
So what are you waiting for? Invest in a label maker like this from DYMO at Amazon and some jars, like professional organizer Essense Heel (aka @essenseofclosets) and away you go.
10. Keep your hot styling tools handy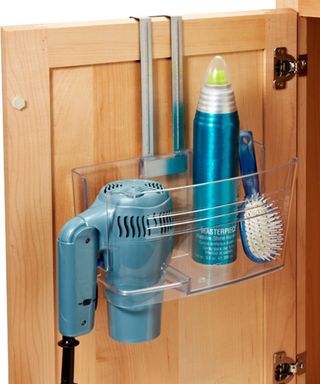 Keep your hairdryer, curling iron, and best hair straightener off your bathroom countertop by storing them on your bathroom cabinet door by making use of the inner side of your bathroom cabinets or vanity door. An overdoor styling station will also help prevent your styling tools from accidentally falling off the counter and breaking.
There are two basic designs of cabinet door organizers that we love by The Container Store. Those that hook over the door (great for renters) and those that mount to the door directly (a more committal option). Some even work both ways, giving you the most flexibility. With minimal space being taken up, it's the perfect small bathroom storage idea for ensuites and powder rooms.
11. Invest in durable and recyclable plastic bins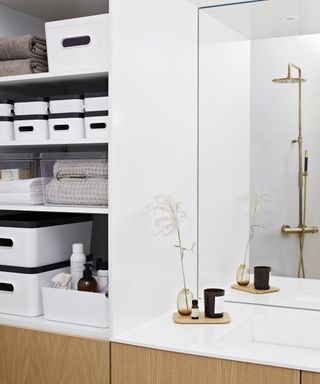 Simplify your morning routine and reduce stress by keeping your bathroom articles in smart storage solutions like these from Orthex. By compartmentalizing your dental care, hair products, and face care, you easily can find what you need when you need it... And they're are perfect for makeup storage too.
Use them in silo on your bathroom shelves or add on the lids to give these very useful vessels some stack-ability. And, there's no need to cringe at the sight of plastic as these containers are recyclable and BPA-free.
How often should I organize my bathroom cupboard?
'Organization systems should be re-evaluated and change as your needs change in life.' says Sarah Gerber, co-owner of NEAT Method.
'Adding a family member, adding a pet, moving, working from home, changing hobbies, or your kids growing up. Take the time to see what systems are no longer working or what could be added or removed to make things flow properly again!'
How to organize small items in a bathroom cupboard
'For smaller products such as cotton buds and face cloths, why not ditch the packaging and store them in our eco-friendly Edited life jars? Made from glass and bamboo, they are a sustainable choice that will instantly add that Scandi touch to your bathroom.' says Boddice.