Love to cook? Then, this one's for you. When it comes to how to store spices in a small kitchen, the struggle can be seriously real. Spice tubs might be small but when you like to cook and, as a result, have a lot of them it can make storing them all a little tricky, especially when your home comes with a more compact kitchen than you might like.
Spices might be notoriously space-consuming but the good news is that, even if you have the smallest kitchen in the world, there are lots of ways that you can store your spices, ensuring that your cooking space remains as neat and ordered as you like.
Whether you live to cook and have (pretty much) every herb and spice there is, or you're just looking to store your few go-to's in your small kitchen, we've got you covered with our expert-approved ideas.
How to store spices in a small kitchen
Knowing how to store your collection of spices in a small kitchen can be tricky, but there's no need to panic. To give you a helping hand, we've rounded up all the best expert-approved ideas for easier spice storage, regardless of the size of your space.
1. Use a letter organizer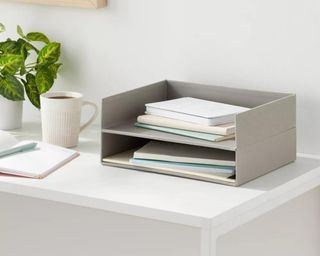 A simple way to make organizing your spices easier is to treat yourself to a letter organizer, like this Brightroom canvas letter tray from Target, and hang it on your kitchen wall. It might sound a little odd but, honestly, it works like a dream.
Leslie Kilgour, professional organizer and founder of Get It Straight, says: "Hang a letter organizer on the wall to hold your spice jars. Each compartment is perfect for small containers."
2. Invest in a Lazy Susan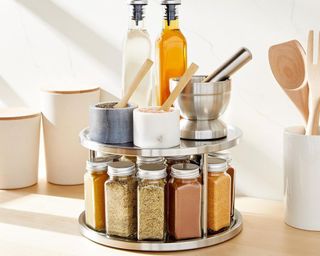 Whether you're displaying your spice collection on a countertop or you're stashing them in your cupboards, a Lazy Susan (like this two-tiered Lazy Susan from Amazon) can be a game-changer. These handy spinning trays not only offer an easy way to store your spices but they also make accessing each spice simple, thanks to the handy spinning feature that they come with.
Kilgour says: "I love using a Lazy Susan for spices, as you can put them in corner cabinets, which are pretty common in small kitchens."
3. Add a pegboard to the wall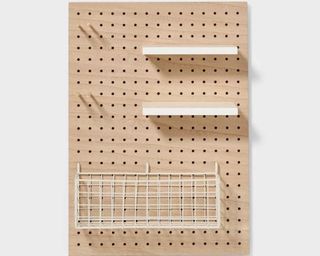 If you've got excess wall space or a spare cupboard door, you might find that adding a pegboard to it, along with a few peg-in shelves, is the ideal place to stash your spices.
Kilgour says: "Install a pegboard on a wall or inside a cabinet door. Pegs can hold your spice jars securely, and it's visually appealing."
A friend of mine has a pegboard, like this Pillowfort wooden pegboard from Target, for her spices and, honestly, it looks great. Her kitchen is teeny tiny so having a pegboard for extra storage works to allow her to make the most of the space.
4. Use a staggered spice rack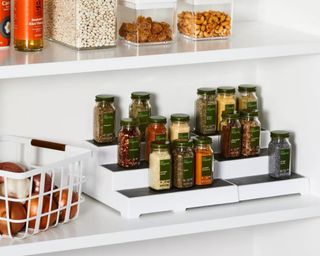 If you're someone who likes to be able to see all of their spices easily, a staggered spice rack (like this Brightroom expandable spice rack from Target) could be a good option for your kitchen.
Andhi Ermawan, Founder of MyProsAndCons.com says: "A spice rack drawer insert with staggered, stadium-style rows is perfect for a cluttered spice situation. You can see everything clearly instead of having to move jars around to find what you want in the very back. Game-changer!"
5. Use magnetic spice racks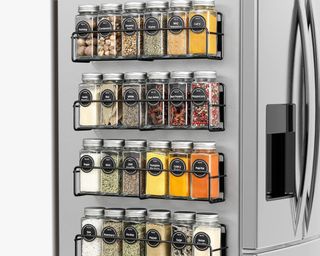 If you've got a fridge that has a side or door free, you could opt to treat yourself to magnetic spice racks (like these Vitever magnetic spice racks from Amazon) that allow you to store your spices on the side of your fridge.
FAQs
Where is the best place to store spices in the kitchen?
Ideally, when it comes to storing your spices, you want to stash them as close to where you cook as possible. The easier to access your spices, the better. Just make sure they're in a cool and dry environment so they don't get damaged in any way.
How can I keep my spices neat and organized?
The best way to keep your spices ordered and neat is to find a storage solution that works for your space and your cooking habits. Try adding a cabinet organizer or one of our recommended spice racks to keep everything in order.
---
Ultimately, how you choose to store spices in your small kitchen depends on your personal preference but our expert tips and tricks should provide some inspiration to get started. Just make sure you aren't missing these small kitchen must-haves when organizing and designing your space.