The kitchen is one of the most high-traffic and well-used spaces in the entire home. Organizing a kitchen generally, especially hot zones like the pantry or the fridge is vital – but ensuring your spices don't overflow into your counterspace will have a significant impact on the space as well.
There is no one size fits all solution when it comes to organizing spices. Each kitchen is different and that means that each spice storage solution is unique. That said, there are plenty of smart tricks, cool spice racks and solutions that can be customized to suit your specific needs. Here are a handful of cool expert-approved ways to organize spices.
No matter where your spices live—opt for a turntable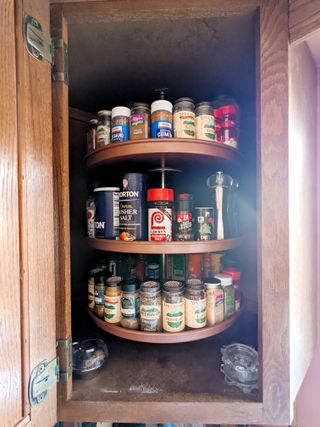 Each space is different so there might be many ways to organize spices. The most common places to put the spices are: in a cabinet, in a drawer, or on the counter and depending on the layout of your kitchen, one usually makes more sense than another. 'When you have a lot of spices, usually it's easier to put them in a cabinet,' says Amanda Liford, founder, Easy Life Organizing. 'I prefer to use a small turntable/lazy susan or a tiered riser for spices so it's easy to see all of them.'
Organize alphabetically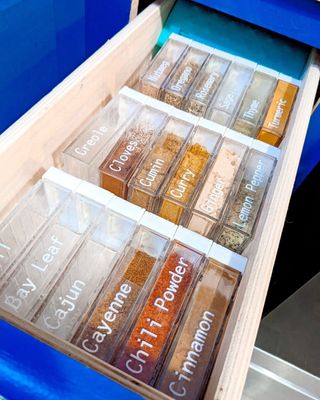 'I usually like to organize the spices alphabetically with white labels or white text,' says Liford. 'I tend to suggest putting the small containers of spices in a newer spice jar that you can label yourself that way all the spice jars are the same size and it will be easier to find.'
… or consider grouping by category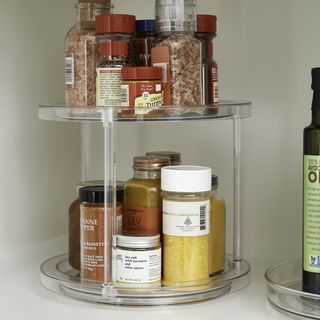 'Some people like to organize alphabetically but I strongly prefer sorting spices by category,' says Brenda Scott, owner and operator, Tidy My Space. 'Group the spices for meat together, the spices for baking together, and so on.' Lazy susans like the above from Container Store work like a dream and make cute spice rack ideas also.
Think about placing your spices in smaller containers.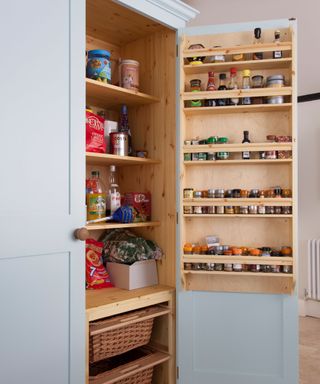 'I suggest using only smaller sized bottles for everyday use,' suggests Scott. 'I don't suggest decanting because you lose the info but if you want the uniform appearance then simply write the expiration date on the back of the bottle for reference.'
If you have bags of refills or larger bottles of refill, store them in an upper cabinet of the pantry. It's within reach when your smaller bottle gets low but isn't taking up prime real estate in the spice area, says Scott.
Do your own labeling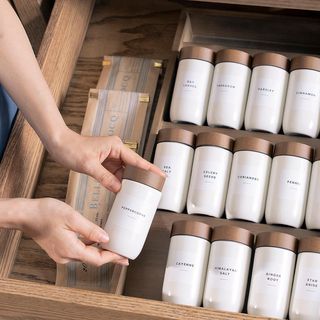 Whether you're looking for a more aesthetically cohesive look or you don't want to put on your reading glasses every time you enter the kitchen, it might be worth doing your own labeling. 'I like to put a label on the bottles with a larger font because some of the labels are hard to read,' explains Scott. 'If you have a lot of spices, place this label around the cap to make it easier to read when they're grouped together.'
Consider magnetic strips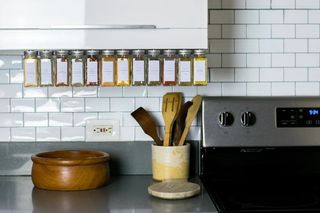 'I suggest making a spice cabinet or display by using a smart storage solution like magnetic strips,' available from Etsy says Jennifer Curtis, founder, She Cooks She Eats. 'I use magnetic strips that can easily hold containers for extra room.'
Consider a hanging spice rack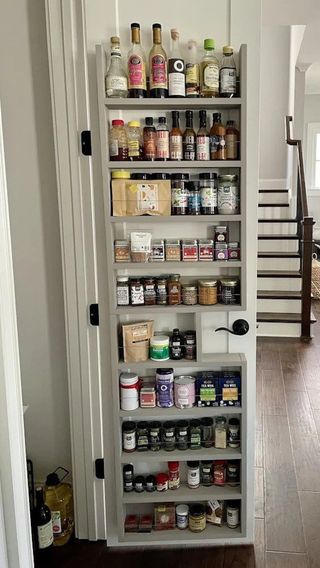 The cabinet door can be turned into a great storage spot for spices, simply invest in a hanging spice rack like this from Etsy. 'Install racks on the door and you will be able to use all that extra space while also organizing the spices better,' says Curtis. 'When you finish using a particular ingredient, the hanging rack will be hidden when you put it away and close the door. Many people prefer it that way for a cleaner look.'
Make use of shallow drawers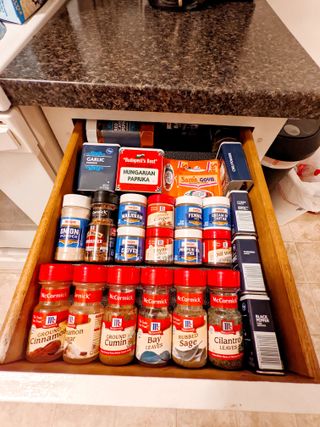 'Shallow drawers don't get the appreciation they deserve,' says Stefan Bucur, founder, Rhythm of the Home. They're usually used to store unimportant items in a random manner, so if you want to give a shallow drawer a purpose, transform it into your spice storage area.'
Only adding spice jars in the drawer won't work well because it will quickly become disorganized. The solution for this, according to Bucur, is to add special drawer inserts with lifted borders to keep your spice jars stable in a flat position with labels facing up.
How do you organize a lot of spices?
The best way to organize cartons full of spices is to get a rack of clear glass jars that you can store in a cool place away from direct sunlight. According to Curtis, glass is better than plastic containers, and lets you instantly understand what kind of spice you're storing. For daily usage, you can have mini dispensers and smaller jars to be kept on your kitchen countertop.
How do you make a spice cabinet?
A spice cabinet can be an upper kitchen cabinet with a rack installed on the door, tiered turntables on the shelves or on pull-out shelves. You can also use labeled baskets or clear containers to group each category of spice in, which helps you to know where it should go after using.
How do you organize spices in a corner cabinet?
A corner cabinet (full-length corner pantry, upper or lower corner cabinet), uses the same ideas as regular cabinets. 'Group spices into categories, label and make the system work for your needs,' says Scott. 'A tiered turntable works great in the back of a corner cabinet but make sure that it can rotate.' Pull-out shelves or baskets can be used, they're much easier to find items instead of bending over to search deep into a shelf, find some that are shaped to fit the size of the shelf (pie-shaped).
How do you organize small spices?
Small spices belong in dispensers rather than large jars or canisters. "Small spices easily scatter and are harder to manage, hence, a dispenser with a valve on its mouth is important for small spices," explains Curtis.