There are loads of reasons why you might want to know how to get makeup out of clothes. Perhaps you've pulled off that white top from over your head forgetting about your full face.
Or maybe you've seen a piece of clothing that you might be able to get a discount on at the store. Let's not forget how makeup and cosmetics can suddenly become a magnet to garments (especially when you're getting ready to go out).

From lightweight foundation to heavier cover-up: makeup is designed to be removable. But not everyone has time to chuck clothing into the laundry. While the best washing machines can deliver on stain removal, even the quickest spin settings can take their time... and then there's drying too.
So if you've made a mess with your maquillage: don't stress, because we've got quick solutions to get rid of that stain pronto. Oil-free or not, we've got a fix to get that formulation out of your finest fits.
With all of the methods, it's best to test them on a small inconspicuous area first. Try doing this under a collar, near the spare button pouch, or where you'd tuck the item into your trousers perhaps. Oh... and don't forget to check the care label instructions.
How to get foundation out of clothes with shaving cream
Yep – the same thing you use to lubricate your legs before hair removal can get rid of cosmetic stains. For optimum results, clean with shaving cream that's white (ie: not the fancy pants gel stuff). The good news is that it's a super budget hack so you'll be saving on expensive dry cleaning bills.
Method:
1. If the foundation stain is fresh and still wet, carefully remove the excess with a paper towel. Use blotting movements to gently absorb the liquid; do not rub.
2. Next, shake the pressurized shaving foam canister and apply a small amount onto the affected area.
3. Gently remove the stain with a clean white microfiber cloth. If a lot of foundation has been spilled, you may need to repeat this process twice and you may need to consider using a toothbrush to gently lift the smudge.
Getting powdered foundation and eyeshadow out of clothes
It can be heartbreaking to see your perfect compact crack and smash. Even more so when the powder takes a detour to your dress before it gets to the floor.
Sure, makeup is expensive, but if you've no chance of replacing your gown (because it was expensive, a vintage hand-me-down, or no longer in stock), you might be desperate to make that stain disappear.
Thankfully you won't need any specialist cleaning equipment for this, as cleaning with vinegar and water will do the trick. As well as getting makeup out of clothes, the acetic acid in this salad dressing item will break down embarrassing yellow armpit stains if you're wondering how to remove deodorant stains (both fresh and old) from shirts and other clothes.
Method:
Using a hairdryer on a cold setting, shake out and blow on your items to loosen any eyeshadow or powder residue.
If any remains, make a mixture of two parts water to one part vinegar in a measuring jug.
Use the microfiber cleaning cloth to blot this on your clothes until any smudges are gone. You can either apply this straight from the jug or by transferring the diluted vinegar solution to a cheap spray bottle and misting it onto your clothes for a more controlled application.
If you're looking for other natural ways to get a stain out of a white shirt – lemon juice works wonders.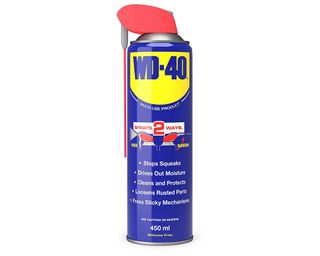 How to get lipstick out of a shirt with WD-40
Lipstick is a little bit trickier to get off blouses than foundation because lipstick is fat- or oil-based to ensure super soft lips. So, you need something that will break down the fat in your fave pillar box red, nude, or pink shade for effective stain removal.
'This might sound like an unfamiliar remedy to remove the lipstick smudges, but it is an amazing one,' says Kal Kozomos, digital e-commerce manager at WD-40.
'One reason is that WD-40 does not harm the fabric like any other harsh detergents or bleaches would do. All you would need to do is to place the stained part of the shirt on a paper towel, and spray WD-40 on the stain from behind.'
'You should see the stain magically start to fade. You can dab with another cloth moistened with WD-40 to make the process faster. Once you are done, you might need to rinse the fabric again to wash off the constituents of WD-40 spray.'
'Mostly all you need is a clean white microfiber cloth with warm water to fade the stain away, but if it has been there for a while, it might become firm and difficult to get rid of.'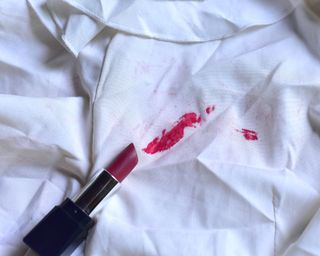 Removing lipstick with alcohol
No, we're not asking you to use your best spirits to get that Ruby Woo off your favorite dress (no matter how nice it is).
Instead, something like isopropyl alcohol (aka rubbing alcohol) or a hairspray containing alcohol might make good of your wardrobe-based malady.
Method:
Using your handheld vacuum cleaner, lightly hover it over your garment to suck up any lipstick particles, making sure the nozzle attachment doesn't touch your clothing (you may accidentally rub it in further if you do!)
Place the fabric item on a clean towel or a material that you won't mind absorbing the lipstick stain. Make sure the stain is facing downwards.
Apply a small amount of your chosen alcohol-based substance to your cleaning cloth or rag and apply to the stain.
Use your remaining clean cloth to lift the lippy stain.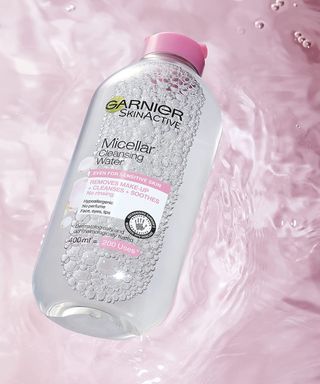 Make eye makeup vanish with micellar water
A revelation for cosmetic addicts and low-maintenance women alike, micellar water has made a relatively recent introduction into our make-up removal routine. Instead of scrubbing away with our expensive cleaner, a few sweeps and poof... panda eyes be gone.
So can the same be said for black kohl and flecks of eyelash-lengthening ink? The good news is that it can. You just need to know how to apply it. Note this *should* also works for waterproof war paint too.
Method:
Go ahead and employ the same steps as the surgical spirit instructions above.
Spot treat with a stain removal powder or spray
While this might seem like the more obvious route to take, buck for buck, stain removal powders and sprays come in more expensive than the methods above. And, we're all about saving money and using products you might already have first, hence why it's at the bottom of our list.
These cleaning agents (which usually contain hydrogen peroxide or oxygen bleach) can either be used to target your tees as a standalone treatment or, in conjuction with your best laundry detergent, washing powder or washing pods to give your wash extra oomph.
Prevention is better than cure
While we hope that these makeup removal tips have been helpful, if you've got a a cosmetic collection that'll rival a professional make-up artist, you'll do well to invest in a good makeup storage idea to keep your kit in organized. That way, you won't have a mixed bag of bits and bobs of orangey-brown stained cosmetics that stain your hands... and garms.
Can you remove makeup from clothing?
'If you drop your mascara mid application causing it to smear on your clothing, all hope is not lost,' assures Karin Behmoaram, marketing director, L'Oreal.
'Just like when you get mascara on your face, the best tactic to remove it from your clothes is to let it dry completely and then scrape it off with your finger or a spoolie.'