You might want to know how to clean stainless steel appliances if your daily devices are looking a li'l dull. Perhaps your toaster isn't popping (aesthetically), your kettle isn't looking so hot, or your mini fridge isn't looking as cool as when you bought it.
But before you go and buff things up with elbow grease and any ol' cleaning accessory — stop right there. Your small kitchen appliances need some TLC, even if they are made of steel. General wear and tear (and even where you live) can leave your prized possessions looking a little lackluster. But that's why I'm here to help!
In six speedy steps, I'll get your everyday apparatus looking extra shiny. Removing food debris is the obvious aim, but we'll even go through how to remove limescale and nasties that you can't see. And, I promise you won't even break a sweat in the process because two eco-friendly cleaning supplies are going to do the bulk of the work for you to get rid of the gunk.
Ready for clean stainless steel appliances? I'll race you to a squeaky-clean phone selfie in their reflection.
Good to know
Time: 10 minutes
Difficulty: Easy
Helpful hints: This is a generic guide to cleaning stainless steel appliances, going by our experience and what has worked for us in the past. Of course, we wouldn't want you to invalidate any guarantees on the products you've purchased, so always consult your manufacturer's guide first to ensure you don't void your warranty.
Here's what you'll need
Step 1: Rinse the outer area of your appliance
First, unplug your appliance. Then rinse or wipe down the area with clean, warm water. You'll want to do this to get rid of any obvious dirt or debris that you can see. You'll be surprised how easily crumbs and burn stains can come off the surface of your toaster.
WARNING: If your appliance has electrical components, do not submerge it in water.
Step 2: Sprinkle baking soda over the entire area
Baking or bicarbonate of soda (like Arm & Hammer from Amazon) is a great stainless steel cleaner as it's abrasive enough to scrub away stuck-on grease, food, and limescale, but not so abrasive it will scratch the shiny steel. Baking soda cleaning couldn't be easier. You can use it on kitchen appliances big and small, such as tea kettles and stovetop kettles.
Step 3: Allow the solution to sit for a few minutes
After a while when it has done its work, use a damp soft cloth to wipe it down.
Step 4: Wipe the cloth around the area
At this point, inspect your kitchen gadget closely and get into any corners using an old toothbrush if necessary.
Step 5: Spray white vinegar over any stubborn residue
The vinegar and soda will fizz when they come into contact with each other. Using vinegar to clean is super effective for disinfecting appliances and also great for removing hard water spots. This is particularly helpful if you've misjudged filling the water tank of your small coffee maker and it's "stained" the exterior.
FYI: We really love Heinz's cleaning vinegar from Amazon.
Step 6: Wipe and buff dry
Wipe down your stainless steel appliance using warm water and buff dry with a soft clean rag. You can polish further by buffing coconut or baby oil into the area using a dry cloth.
Alternative ways to clean stainless steel appliances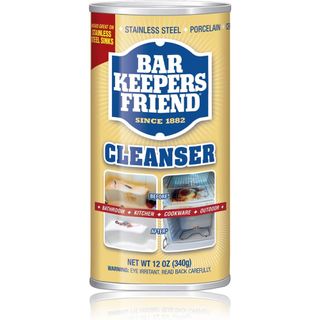 $7.10
Bar Keeper's Friend superior cookware cleanser
A Real Homes favorite, this powdered formula is perfect for cutting through baked-on food, rust, and mineral deposits. If you're not a fan of the talc-like texture or want more control when cleaning, there are also liquid and spray versions available on Amazon.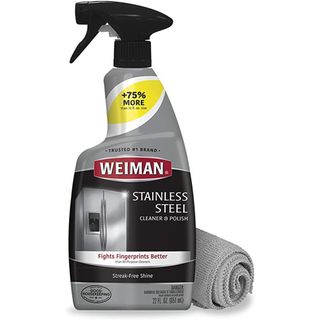 $17.98
Weiman stainless steel cleaner and polish
This Amazon Choice product (meaning it's highly rated, well-priced, and available to ship immediately) has almost 6,000 highly-rated reviews. It's the #1 selling stainless steel brand with a pH-neutral formula that won't damage your goods. And, it comes with a microfiber cloth — winning!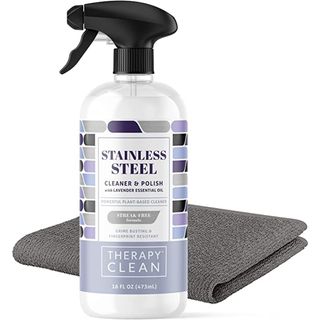 $19.95
Therapy Stainless Steel Cleaner Kit
Gotta give it up for this Therapy stainless steel cleaner kit. It's plant-based, solvent-free, and made with natural essential oils. Yet it surprisingly still manages to get rid of fingerprints, grease, and stickiness.
What should you not use on stainless steel?
As well as avoiding physically abrasive sponges and wire brushes, you should also steer clear of strong chemicals, which could erode the surface. This includes scouring powders, oven cleaners, bleach, and even ammonia-heavy window cleaners like Windex. Surprisingly, if you live in a hard water area, you might find a chalky residue from the high mineral content in your H2O.