It's hard to beat the appeal of a fire, but knowing how to clean a fireplace is crucial because the process of burning fuel can create stains and leave behind by-products neither of which will do anything for the appearance of the fireplace.
A dirty fireplace doesn't just look bad, though. It can mean the fire is inefficient, and a build-up of creosote is a hazard. The answer to these problems? Regular cleaning, which combined with the best fireplace ideas will make your living room look great, and your fire safer.
Here, we've put together all you need to know about how to clean a brick fireplace, one made from stone, fireplace glass, a gas fireplace and more, and we've asked the experts to share their wisdom, too.
How to clean a fireplace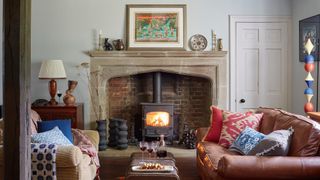 When it comes to how to clean a fireplace, you'll be glad to know it's not a difficult job, but it's a potentially dirty one, so put on old clothes and wear gloves. You can follow our step-by-step guide for a thorough clean.
Bear in mind, too, that different fireplace materials have different care requirements. Whether you prefer modern fireplace ideas or traditional fireplaces your fireplace might be made from brick, stone, cast iron or another material, and it's vital to ensure that how you clean doesn't damage it. We've got the answers on how to clean these materials following the steps.
How to clean a fireplace – step by step
You will need:
1. Prepare the room and sweep up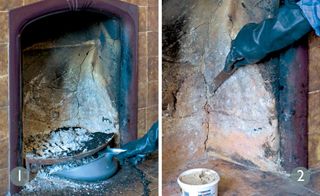 The first necessity in the process of how to clean a fireplace is to move furniture, roll up rugs, and protect the floor with dust sheets and newspapers. Next empty ashes and unburnt wood or coal that is still in the hearth into a bucket. Sweep the fireplace clean or use a vacuum cleaner so you can better examine the fireplace beneath.
2. Repair or replenish fire bricks
Check the insulating fire bricks to the back and sides of the hearth. Badly deteriorated bricks will need to be replaced but cracks and chips can be made good with fire cement. The brick must be dry and dust-free – use a knife to push the cement in place. Following a repair you may need to light a fire to cure the cement.
3. Clean the ceramic tile surround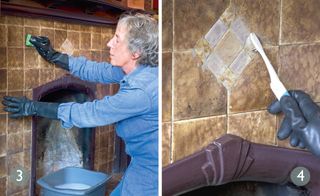 Clean tiles on the surround and hearth with warm soapy water – use a bristle scrubbing brush or nylon scourer. Badly broken tiles can be replaced using the best adhesive, although if your home is very old cracked tiles on the hearth could be part of the house's history. On the other hand, if it's time for a complete refresh, you could opt for new fireplace tile ideas instead.
4. Clean and replace grout
An old toothbrush is useful for cleaning grout. Missing grout can be replaced, too. Check the new product is suitable for surfaces exposed to high temperatures and press firmly into joints. When partially set, run the end of a pencil along to make a neat finish. Next day clean off surplus grout with a nylon scourer.
5. Remove stubborn stains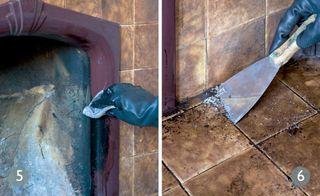 If after the initial clean stubborn stains remain, apply a proprietary tile cleaner and leave an hour or two to lift the dirt. Scrub again with soapy water and a bristle brush. Wipe down the area with a clean cloth and water. Once completely dry polish with a soft cotton cloth to make the tiles shine.
6. Remove any build-up of candle wax
Candles on the hearth can look pretty but avoid heavy build-ups of wax as it could present a fire hazard. Hold a scraper at an acute angle to avoid scratching the tiles, and scrape away the wax. If melted wax has run into the grout, heat it with a hairdryer and mop the wax up with paper towels.
7. Spruce up the metal fire grate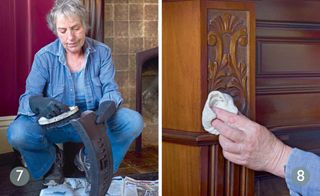 Clean rusty metal with a steel brush. Then apply black grate polish sparingly with a brush. For a shiny finish leave for at least an hour and then polish with a bristle brush. Beware, grate polish easily rubs off on furnishings and clothing so use sparingly. Use stove paint for a longer lasting finish.
8. Polish a wood fire surround
If you have a wooden surround to your fireplace, you might want to give that a clean too. To nourish the wood and protect it from the drying effect of heat, rub in a good quality beeswax polish. Leave to dry and buff up with a soft cotton cloth. To avoid a smeary finish always apply polish sparingly – too much will discolor the wood.
How to clean a brick fireplace
Want to clean a brick fireplace and make it look like new? 'Use water and soap,' recommend the experts at Top Cleaners London.
'Wet the bricks with water before you start the clean. They can absorb moisture very fast, including dirty water as well. When you saturate the bricks with water, they won't be able to absorb the soap. Just dab them with a soft wet sponge.
'Put the soapy solution into a spray bottle and spray the bricks while scrubbing them with a fiber or plastic bristle brush. Do not use metal bristle brushes as they can damage the surface of your bricks.
'Wash the bricks using a sponge and clean, warm water. Let them dry off and repeat the process if needed.'
What can I use to clean soot off a brick fireplace?
'The good news is that the materials you need are probably already in your home,' says James Morgan, editor of GetRidofThings.com. 'Mix a small amount of baking soda with some water. Use a soft brush (or an old toothbrush) to apply the baking soda to the brick, and let it sit for 15 to 20 minutes. Then, wash it off with clean water.'
Note that if soot is coming down it might be time to clean a chimney.
How do you clean a burnt brick fireplace?
If the bricks of the fireplace are looking burnt, you could try TSP (trisodium phosphate), which is a powerful cleaner. Be aware, though, that you need to use it with extreme caution. Wear rubber gloves, safety goggles, and a mask and make sure your arms and legs are covered. The room should also be well ventilated when you clean with TSP.
We'd always advise trying gentler cleaning methods first.
How to clean a cast iron fireplace
Cast iron is the most common material used to make period fireplaces and can usually be brought back to life where it has deteriorated.
Make sure you protect neighboring areas before removing loose material and rust using a wire brush. If necessary, you can use a chemical rust remover.
Following the manufacturer's instructions, finish the metal with black stove grate polish and burnish with a brush or soft cloth, or use a heat-resistant paint instead.
'Never use water on cast iron or it will rust,' cautions Andre Kazimierski, CEO, Improovy.
How to clean a wood fireplace
You should clean wood fireplaces in the same way you would other wood surfaces, buffing regularly with a lint-free cloth and polishing occasionally.
If it needs more of a clean, use a well-diluted soap solution and a cloth but make sure you don't soak the timber.
If the fireplace is damaged, a carpenter can generally make repairs to it using like-for-like materials.
How to clean a stone fireplace
Asking how to clean a fireplace if it's made from stone? First, be aware that the surfaces of stone and marble are easily damaged by household cleaners if they contain any acid, so make sure you invest in specialist supplies.
As a general rule, always test cleaning products on a small, inconspicuous area first and, if the surround is particularly old or valuable, take expert advice, especially when dealing with excessive soot deposits, red wine or rust stains.
These last three are a particular problem, but poultices of white paper towels soaked in distilled water may remove some stains.
If in any doubt, where the piece is valuable, consult a specialist before undertaking repairs or cleaning.
Note that some 'marble' fireplaces are in fact scagliola, a mixture of plaster and aggregates that imitates marble and which is easily damaged.
How to clean a gas fireplace
Want to know how to clean a fireplace if it's a gas version? These are general guidelines, but make sure you check manufacturer's instructions to ensure you can remove elements to clean them.
To clean a gas fireplace, turn off the gas first and wait for a few minutes. Make sure the fire is completely cool, too, then remove the glass following the manufacturer's instructions. Clean the glass according to its type, as below.
Take a photo showing the logs so you can put them back in the correct position then you can use a soft paintbrush to dust them. Lava rocks can be vacuumed, but make sure you don't suck any into the vacuum cleaner. The interior of the fire can also be cleaned with the vacuum cleaner hose.
Use a lint-free cloth to wipe around the outside.
How to clean fireplace glass
The way to clean fireplace glass depends on its type. 'Fireplaces will have tempered glass or ceramic glass,' explains National Fireplace Institute-recognized Joe Bodden at We Love Fire.
'Those gas models with larger burners and higher heat outputs will be equipped with ceramic glass,' he continues. 'Other gas fireplaces come with tempered glass. Bi-fold doors on wood burning fireplaces are usually tempered glass.'
You'll need a glass cleaner that's specified for the glass in your fireplace, he advises. Bear in mind that you should not use regular glass cleaner on fireplace glass.
General fire surround maintenance

If layers of paint are obscuring decorative details on cast iron and wood fireplaces, apply proprietary strippers or poulticing systems that peel away.
Stripping is always best done in situ with surrounding areas well protected by dust sheets.
Removing a fireplace for professional stripping can result in damage and disturbance to the chimney opening so is best avoided if possible.
Check firebacks for cracks. Where these are minor they can be patched with fireproof cement but more major problems may mean that you have to find a replacement.
Plug gaps between the fireback and fire surround with fireproof rope or string as this allows for expansion and contraction between the surfaces.
Tiles are a feature of many fireplaces and would originally have been inserted from behind. This makes repair or replacement tricky so you may decide it's better to live with a damaged tile on an old fireplace – seek advice if in doubt.
Where drafts are entering a room through an unused fireplace opening, consider inserting a chimney balloon to temporarily block the chimney.
Cleaning and maintaining a stove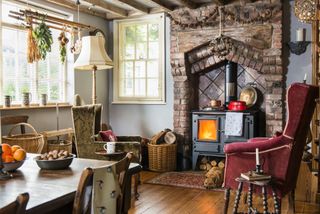 Fan of wood burner ideas? Once you've chosen from the best stoves and had yours installed don't forget that maintenance is vitally important to ensure that the components are working safely and that no combustion gases are escaping into the room. Here's what you need to do.