When we were asked to do a review of the Kärcher K2 Full Control Pressure Washer, we were pretty excited. After all, there's always a lot of muck to remove from everything from garden furniture to car tyres once winter is over and summer kicks in.
This pressure washer also tops our list of the best pressure washers, so we were keen to put it through its paces. How did it get on? Keep reading to find out what our reviewer thought.
If you just need to wash your car or dirty mountain bikes, a good garden hose with an adjustable nozzle might do a good of a job but, for me, a pressure washer really comes into its own when I'm cleaning patio tiles. Muck and algae builds up over winter, along with debris from guests having a good time in summer and this is particularly useful tool for cleaning yours, with minimal effort. So, once I'd given said bikes, car and even some garden furniture a good clean with the K2 (which, by the way, it did effectively), I thought I'd experiment to see what the outcome would be on some very grubby patio tiles, too.
To do a near spotless job on patio tiles with the K2, you need ­­either the Kärcher patio attachment (T 150 or T 5), which did not come with the model I tested, alternatively just buy the K2 Full Control Home or K4 Full Control Home which actually come with the patio cleaning set.
Setting up the Kärcher K2 Full Control Pressure Washer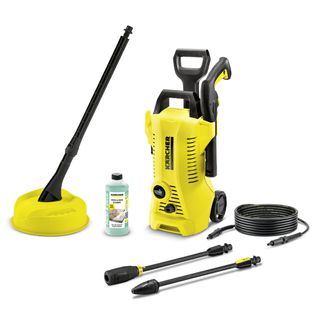 The instructions are illustrations with no text, but it didn't take long to click everything into place and get up and running.
The K2 has two wheels and a fixed-position handle to make moving it easy. Compared with the larger Karcher K4, the K2 is much, much lighter and easier to move or carry about. This is important if you're not especially strong and is an advantage over the heftier K4.
The 5m power lead that comes with the K2 isn't very long if you're tackling a patio down a garden, like I was, so I had to use a power lead extension. You'll also need a garden hose to feed the pressure washer (its own hose is 4m long). Having two leads (electrical and water) coming out of the K2 can make moving it about a bit of a faff – but that's no different to other pressure washers. Either way, it's wise to plan ahead where you need to be in advance. And I'd advise the use of an RCD to ensure there are no accidents.
Using the Kärcher K2 Full Control Pressure Washer
Once it was set up and I was in position, the K2 was really easy to use. The K2 comes equipped with a trigger gun, Vario Lance and Dirt Blaster that promised to deliver outstanding cleaning performance using concentrated rotating pressure. Also provided is Kärcher's Home Kit with a patio cleaner accessory for hard surfaces like decking and patios, as well as patio and deck detergent.
It is easy to switch between the two supplied nozzles – simply twist the Vario Power spray lance to change the pressure. One nozzle is fixed on high pressure for patios or walls, the other can vary pressure such as for washing your car. The pressure changes are well indicated on the nozzle and are easy to make. The change in pressure was noticeable. However, one drawback is the short length of the K2 nozzles. This means the nozzle never gets very close to the ground so it's less effective than it could be.
How well did the Kärcher K2 Full Control Pressure Washer perform?
For bikes and furniture? It does what it's supposed to. But we wanted to really test this pressure washer. Although it's not designed to clean patios, the pictures on the website do show people cleaning decks and patios, so we gave it a go. My garden patio – which is a mix of porcelain, marble and encaustic tiles – was really filthy and the algae had really got into the marble tiles. I used the K2 on the high pressure nozzle but it struggled to get more than about 40 to 50 per cent of the dirt off the tiles. Not good enough. Disappointed with progress, I attached my Kärcher T 450 patio tool that came with the K4, which did improve performance but, Kärcher have advised that it's not suitable and would damage the motor. If you've got the same problem as I've experienced on our patio then Kärcher recommend the T 150 or the T 5 attachments to tackle more stubborn grime.
As stated on the Kärcher website the K2 Full Control is 'designed for occasional use and removal of light dirt around the home, including dirt on bicycles, garden tools or garden furniture' so we'd jumped in at the deep end with this one, and really put it through its paces, but really it's more suited to tackle lighter dirt and grim.
What I liked about the Kärcher K2 Full Control Pressure Washer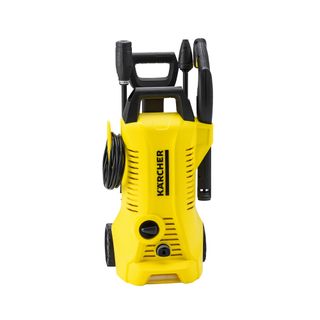 I enjoyed the lightness of the K2 and combining it with a Karcher patio attachment made it a useful and effective tool.
However, what could be improved was the fact it's a lot of work to set up with power extension cables and the garden hose so I wouldn't bother if I was just cleaning my bikes or car.
My K4 started to leak water from inside after about 18 months so I worry the K2, with its smaller engine, will start to leak too.
You're going to use a fair amount of water and power so you may have to consider environmental and economic issues versus not cleaning at all or using alternative methods such as just scrubbing whatever you need to clean.
Overall verdict
The K2 is easy to set up out the box. It was effective at cleaning bikes and patio furniture, but if you have the budget, I'd shop for one that can tackle patios thoroughly, too.