If you're starving, you might wonder how long to microwave a potato to make a delicious baked potato. Sure, it doesn't deliver the crisp jacket that a conventional oven would, but if you're famished and want something fast - this is the route to take when preparing this midweek favorite.
The best microwaves come with all sorts of settings, which might include a specific cooking function for this complex carbohydrate. But if it doesn't, don't panic, because we've got the perfect instructions for a potato, whatever size or shape.
The most important takeaway when learning how long to cook a potato in a microwave is to pierce your tater. If you don't, the non-porous properties mean that your spud could explode in your micro oven. It's dangerous and darn right messy (but we've got tips on cleaning a microwave if some starchy water escapes). And, as if we need to mention, be super careful when taking your tuber out of the micro-cook, as it'll be piping hot!
Plus, we'll show you how to get a crispy outer shell without cooking it fully in the oven (or at all).
Get your timings right
In short, the answer is around five to seven minutes. But you're not going to get the best results knowing that alone. To start with, not all potatoes come out of the ground ready to be microwaved for seven minutes. Think medium-sized potato, six minutes; small potato: three to five minutes; big potato, eight, nine, or 10 minutes.
How do you get it right? Start cautiously if you're not sure, check it and give it another minute. Repeat until you're happy the potato is ready.
What else to know about microwaving a potato
First, it's important to make sure the potato's clean, so run it under a kitchen tap, give it a good rub and pat it dry with kitchen paper (buy in bulk on Amazon) or a clean tea towel.
Then poke it with a fork on each side. This won't only stop it from exploding in the oven because it helps the steam escape more easily through the skin, it should speed up cooking times, too.
Pop it on a microwave-proof dish (something from your best dinnerware set should do) and set the timer and the power to full.
Aluminum foil is something you should never put in the microwave, so don't be tempted to wrap your potato in tin foil before attempting to nuke it. You wouldn't believe how many people ask us if you can put tin foil in the microwave – and the answer is no.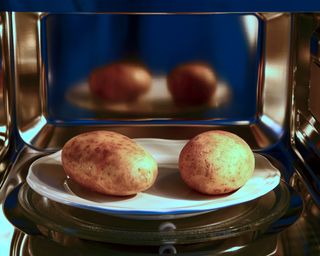 Microwaving more than one potato at a time
In an ideal world, you should microwave potatoes that are roughly the same size. This will help them to cook evenly. In theory, cooking two potatoes should take twice as long, but be careful.
If you're going to cook your single potato for five minutes, reckon on needing eight minutes for two, then perhaps an extra minute. It all depends on their size...
How to improve flavor when microwaving a potato
Even if you're a not huge fan of microwaved potatoes, you can up their flavor really easily. First, ensure you don't overcook them because they do dry out pretty quickly. Second, once you've poked yours with a fork, rub it over with olive oil, then sprinkle on some table salt and black pepper. This will help the skin be more flavorsome.
Put the microwaved potato in the oven for ten minutes
Better still? While the microwave is cooking your potato, turn your best oven on high. Then simply pop the microwaved potato into the hot oven for five to ten minutes to crisp up the skin. It'll improve the texture immeasurably.
If you are making potatoes for the whole family, you may choose to pop these on a baking tray so you don't have to take them out one at a time. If you are, be very careful... a tea towel or oven glove may help to stop you from scalding your hands.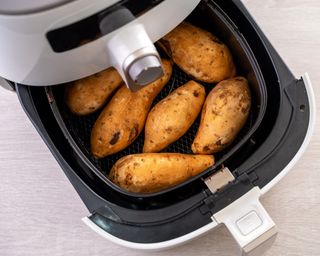 Other ways to crisp a microwaved jacket potato
If for whatever reason you don't have a conventional oven, the best air fryer will work wonders to turn your humble white (or sweet potato) into a delicious side or main meal.
While it usually takes 30-40 minutes to cook a jacket in this machine, if you've already cooked the potato in your microwave (and then cooled it in the fridge), you can crisp up the skin in a matter of minutes the next day so it'll have a crisp outer skin. Along with this, you can try some other air fryer recipes for rapid meal inspo.
Cleaning an air fryer thereafter is a breeze, so it's worth spending that extra time on getting optimal results. The cost of running an air fryer is literally a couple of cents too, so getting a superior spud won't be expensive.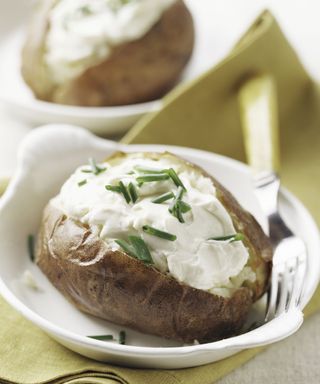 Toppings for a microwaved potato
You name it: sour cream and chives, coleslaw and grated cheese, a slow cooker chili, or just lashings of butter, salt, and pepper. You can have your fave ingredients delivered to your door with Amazon Fresh. Or simply have it as your carb option with a salad and grilled meats off your barbecue. Yum.
Are microwaved potatoes healthy?
'Cooking your potatoes in the microwave can take as little as five minutes, making it a great way to save time in the kitchen,' says Thea Whyte, small appliances expert at AO.com.
'It is completely safe to do so as long as you remember to prick the potatoes beforehand. By pricking the skin you avoid a messy potato explosion in your microwave that you'll be left to clean up afterward.'
'Not only does it save time, but microwaving your potatoes can be a healthier option too as you're eliminating the need to use any oil or butter during the cooking process.'
'Overall, cooking your potatoes in the microwave will still give you the same fluffy tender insides as if you cooked them in the oven, but you just won't have the same crispy skin. Alternatively, after cooking your potatoes in the microwave you can pop them in a preheated oven for 10 minutes and the skin will be nice and crispy.'
Can you microwave raw potatoes?
'You can definitely microwave a potato, it takes about 10 to 15 mins for a big one but keep checking,' says Miguel Barclay, chef, and author of One Pound Meals.
'All you need to do is stab it a few times with a fork to allow the steam to escape and prevent an explosion. Then turn it every so often to get a nice even cook. The skin won't be as dark and crispy but the inside is exactly the same, I definitely recommend this method, it's cheaper and more energy efficient, plus its loads quicker.'