If you're ready to dive into summer but are unsure of how much an above ground pool costs, stay cool. The answer can vary widely depending on the type of pool you choose, your skill level, and the type of decking/landscaping you'd like to create.
Summer is coming fast, so start budgeting now to enjoy a refreshing dip come Memorial Day. Unsure of what you can swing for? We have the full breakdown, below.
Average above-ground pool costs

According to Home Advisor, above ground pool costs can range between $737 and $4,431. Why such a wide range? That's because the type and size of your pool, as well as the installation, will impact the price.
Without installation, a 12-foot round pool costs between $820 and $1,570. The price goes up from there, depending on the size of your pool, with a 30-foot round pool ranging between $1,600 and $4,500. These figures refer to permanent pools, but there are cheaper temporary pool options as well, starting at about $150.
Along with the size, material choice will also impact the price. Above ground pools are usually made from steel, resin, or aluminum (or a mixture of all three). Steel is the most affordable option, but it can rust over time. Aluminum is the most expensive and rust-resistant, with resin falling in between.
Aside from the price of materials, keep in mind that the thicker and heavier the pool, the more expensive the installation. This may make you want to opt for a cheaper, lighter design, but remember that investing in high-quality materials will extend your pool's lifetime and help it hold its resale value. (That said, don't install an in-ground pool hoping to improve the value of your home, as they only see a ROI of around 7 percent.)
Above ground pool installation costs
Like the cost of the pool itself, installation fees can vary widely, from about $750 to $3,000, according to Home Guide. The size and shape of the pool will impact installation costs, but there are other factors to consider as well.
Is the area already relatively flat and even? Or, will it need to be cleared and leveled? What is the grade of the soil? This can all affect the cost. If the ground stability isn't great, you'll need to pack down the soil or consider installing a concrete slab, which will cost about $6 per square foot on a level surface.
Additionally, shape comes into play. Oval pools are more expensive to install than round, and rectangular pools are the most expensive.
According to Royal Swimming Pools, the best way to save money is to do the labor yourself. Royal sells above ground pool kits that include everything you need for setup with simple directions, starting around $1,500. You just need a few helpers.
Another option to save on labor costs is to purchase a temporary option, like an Intex pool, that is inflatable or has flexible sides.
Above ground pool accessory costs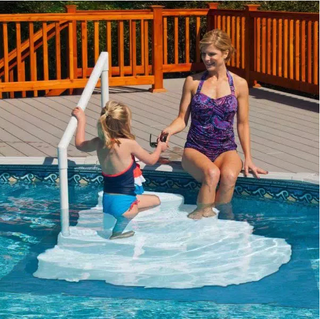 HomeAdvisor cautions to remember all of those other costs. Will you want an above ground pool deck? If so, it will run you $300 to $3,000, depending on the size, materials, and labor needed. Then, there are things like electric installation for the pool filter ($350 to $1,500), a heater ($300 to $2,000), above ground pool cover ($100 to $1,000), fencing ($1,500 to $10,000), lighting ($30 to $120), and any fountains and waterfalls you wish to add ($30 to $130).
So, it's easy to see how much your project can add up, depending on what you'd like to add on. And unless you purchase a full kit, even things like an above ground pool ladder won't be included, and you can expect to pay between $100 and $400. The off season will come eventually as well, so don't forget that winter cover.
Finally, there's the less-fun aspect of maintenance, which costs about $115 per month on average. (Thankfully, this is much cheaper than in-ground pool maintenance.) A professional pool service can help keep things looking good for between $85 and $150 per month, or you can do the chores yourself. This includes things like skimming, cleaning the pump filter, testing the water's chemical balance, and adding chemicals when necessary.
Other things to keep in mind
Part of the reason there are many wide price ranges is that cost is largely impacted by location. For example, labor costs are much higher in the Northeast than in the Midwest. You'll also want to check the fees associated with obtaining a building permit. Your locality also may place restrictions on where your pool can be set up in relation to underground utilities and power lines.
Lastly, don't forget about utilities. Water fill-up can run between $80 and $1,200, and electric between $350 and $500.
Final thoughts
Installing an above ground pool will require careful planning, but don't let all of those factors hold you back. If you want to save money, do the installation yourself. If you prefer to streamline all the small details, purchase a kit from an above ground pool retailer.
If installed properly, an above ground pool can last 10 to 15 years. Just want a quick-fix for the summer? Go for an inflatable option that will last a few seasons. Decide what's best for your family and your budget and, most importantly, plan ahead. Royal Swimming Pools suggests purchasing your pool three to six months before you'd like to start building your pool. Due to the recent rise in demand, you can expect delays in manufacturing and shipping. Sit down and start planning now to make a splash by the Fourth of July.