These rock garden ideas will inspire you to create your very own – and there are many reasons why rockeries are so attractive.
Rock gardens are easy to build even if you have very little gardening experience. They don't have to cost the earth because all of the materials are very affordable. Rock gardens are suitable for smaller backyards, including urban courtyards and patios. And, finally, a rockery is an oasis of calm that easily goes with almost all modern garden ideas.
All of these ideas for rock gardens can be replicated on a DIY basis. All the materials can be bought from your local garden center or even building supplier.
Top expert tips for building a rock garden
Not sure where to begin with building your rockery? Paige Anderson, a landscape design architect at Nitido Design, gives the following easy DIY steps:
Making room in your lawn or yard for your stone garden.
Rock gardens, on the whole, are elevated above the ground, so you'll need to start by laying a foundation of rocks and dirt, then build on top of that.
Lay down the bigger rocks first, making the outline of your rockery.
Rock gardens need well-draining soil. This means you'll likely need to mix some sand in with your soil to improve drainage.
Make a smaller circle with smaller rocks inside the larger one. 'When creating the smaller circle of the rock garden, make sure the second circle is small enough to give enough space between the first circle and itself.'
Now add your plants. 'Look for plants with different leaf textures, heights,
and sizes. This creates a more natural-looking visual impression. Sedum,
succulents, and phlox are all attractive plants for rock gardens.'

1. Build tiers in a sloped garden
Incorporating rock gardens into sloped garden ideas is a great idea to add interest to uneven sites – use stones of roughly the same size to create a spectacular tiered display, filling the spaces between the rocks generously with rock garden plants of different heights and sizes.
2. Use a natural planting scheme in a large rockery
If you have a lot of space to cover, you may find it easier to scatter a seed mix over areas you'd like to be carpeted with flowers, rather than attempting to plant up the vast space manually. A rock garden doesn't have to look formal – a natural planting scheme reminiscent of Alpine flower meadows will look stunning in a large space.
This rockery uses the Annual Rockery Plant Mix Seeds from Amazon.
3. Rock garden ideas for small spaces: plant in containers like Monty Don
Even a tiny garden can still have a rockery – you can easily start one in containers. Simply choose rock garden plants – succulents, cacti, miniature bulb plants like small daffodils and iris – and sprinkle the soil around the plants with pebbles. Then, display your miniature rockery on a garden table. Beautiful.
Monty Don has created his rockery on a table in containers and we're sharing (above) because we think you'll love it as much as we do. It would look fabulous reproduced in any garden, but one of the things that's brilliant about it is that even if you have the smallest of exterior spaces, you could pull it off, too.
4. Use rocks and pebbles for easy maintenance rockeries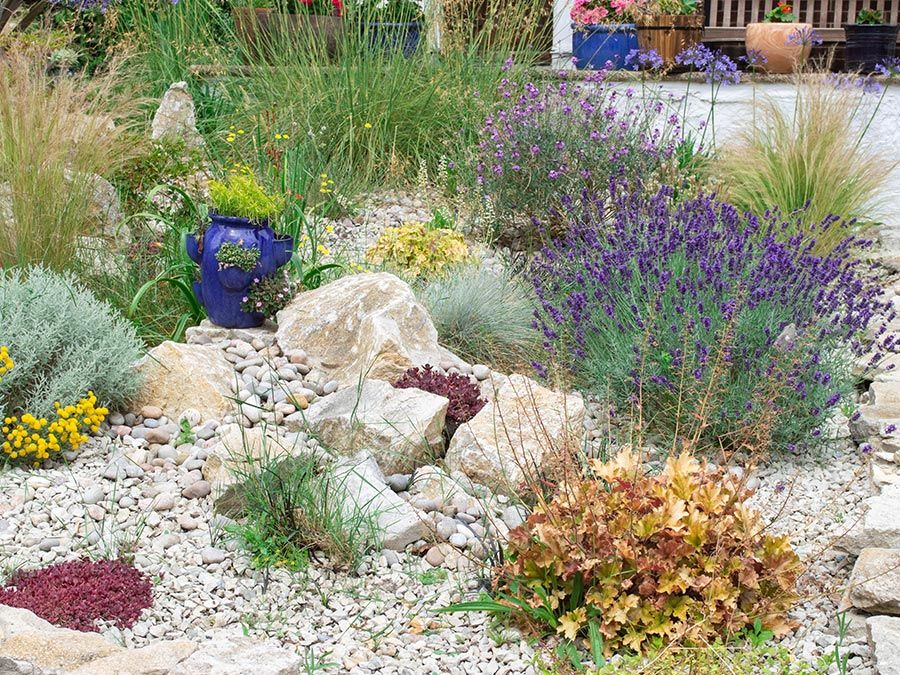 If you prefer a clumped planting scheme for your rockery (where plants are dotted in groups), add texture and interest by filling the spaces between the plants and large rocks with smaller pebbles. The result will be more interested and polished than if you leave the soil between plants bare. And, of course, it will mean fewer plants, fewer weeds, less work – and less money spent on rock garden plants.
5. Rock garden ideas from Japan
Japanese rock gardens are a bit different from Alpine-style rock gardens. Firstly, it will use more shrubs and compact trees such as acers rather than just low-growing plants. Secondly, slate and fine granite chippings are favored over other types of stone. And, thirdly, if you're building a Zen-style garden in the Japanese manner, consider using moss as ground cover and stone garden decorations. Water features, especially water pumps, are also common.
6. Mini rockery ideas
No room for a rock garden, not even for a rockery display on your garden table? You can still create the same effect by planting up a garden wall with succulents. Or, display a pot of Japanese-style moss in a stone-effect planter. These aren't the same, but similar in texture and appearance.
7. Choose the best rock garden plants
These are the top plants for rockeries to go for for year-round color and interest:
Crocuses
Campanula
Sedum
Sempervium
Spring gentian
Pulsatilla vulgaris
Thyme
Saxifraga
Dianthus
Miniature daffodils
Miniature iris (iris reticulata)
Delosperma
Ajuga
Phlox subulata
Euphorbia myrsinites
Iberis sempervirens
Dwarf rhododendrons
Lithodora
Silene schafta
Sisyrinchium
Japanese maples
8. Build a rockery on the side of a garden path
Rockeries can work wonders to enhance your garden path ideas. Especially where a path has been built into an incline, a rock garden can add interest and texture to the areas either side of the path. This beautiful rockery has been created by Exclusive Eden. We really like the way the white rocks contrast with the gray gravel.
9. Combine formal and informal elements
If you like a polished, contemporary look but want to introduce some natural elements, then building a small rockery can really help to soften the look of a formal design scheme. Here, formal stone spheres have been combined with a more natural rockery scheme, including by the side of a garden pond.
10. Create a screened off Zen area
Want to create a Zen garden area in your yard that is completely private and separate from the rest of your outdoor space? Installing a screen can make a big difference to how much privacy you'll be getting from your rockery. You can make a living screen from bamboo or use a freestanding room divider (unless you have a covered patio you'll need to protect it from heavy rain).
How to build a rockery, with Alan Titchmarsh's advice
Alan Titchmarsh has praised rock gardens as an undeservedly neglected garden trend. In his video (watch it below), Alan explains that rockeries present excellent opportunities for displaying small plants that otherwise won't be very visible in your garden. His top tips for planting up a rockery are:
1. Get several of the same rock garden plant: because alpines and succulents are quite small, you need a few of each type to really make an impact.
2. Plant rock garden plants of the same type in groups rather than spaced out throughout the rockery: the effect will be much more appealing.
3. Finish the look by sprinkling the top soil with horticultural grit – of the same colour as the rocks. This will also suppress weeds and help retain moisture.
Now you're ready to make your own rock garden – it's easy and satisfying, even in smaller spaces.
Can I build a rockery if I have a very small garden?
Yes. You really don't need very much room at all to build a rockery – you just need a raised area. Even a small table will do. A rockery can be easily created in a container (see our example with potted moss). You can also buy a mini rock garden kit from Amazon – these are very compact and you can display them in even the tiniest of outdoor spaces like balconies.