Always dreamed of having your own pool in your backyard? Well, thanks to these stock tank pool ideas you can make your dreams a reality – and for much less, too.
We're always looking for the best garden design ideas to really bring your outside space to life. And adding a stock tank pool to your outdoors could be just the thing it's missing this summer. Usually, most stock tank pools are crafted from galvanized metal, as they're intended to be used as water troughs for livestock. But thanks to their strong and sturdy construction, built-in drain, and easy-to-customize qualities, they make for the perfect above-ground pools.
But perhaps the best thing about them? Unlike most backyard pools, which can set you back around $20,000 and upwards, these Insta-worthy designs can be constructed for less than $500. Simply pick your chosen size and design, whether it's from Tractor Supply, Home Depot or Amazon and prepare to get crafty.
Sold? To discover the best stock tank pool ideas and help conjure up some designs, keep scrolling. Or, if you're wondering how to make your own stock tank pool for under $500, look this way.
The best stock tank pool ideas in 2022
1. Just add flamingos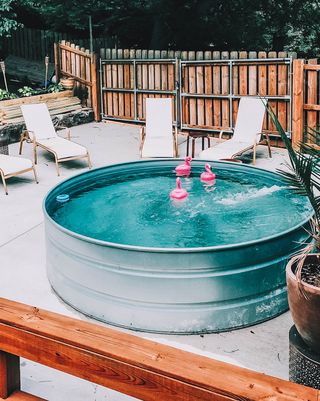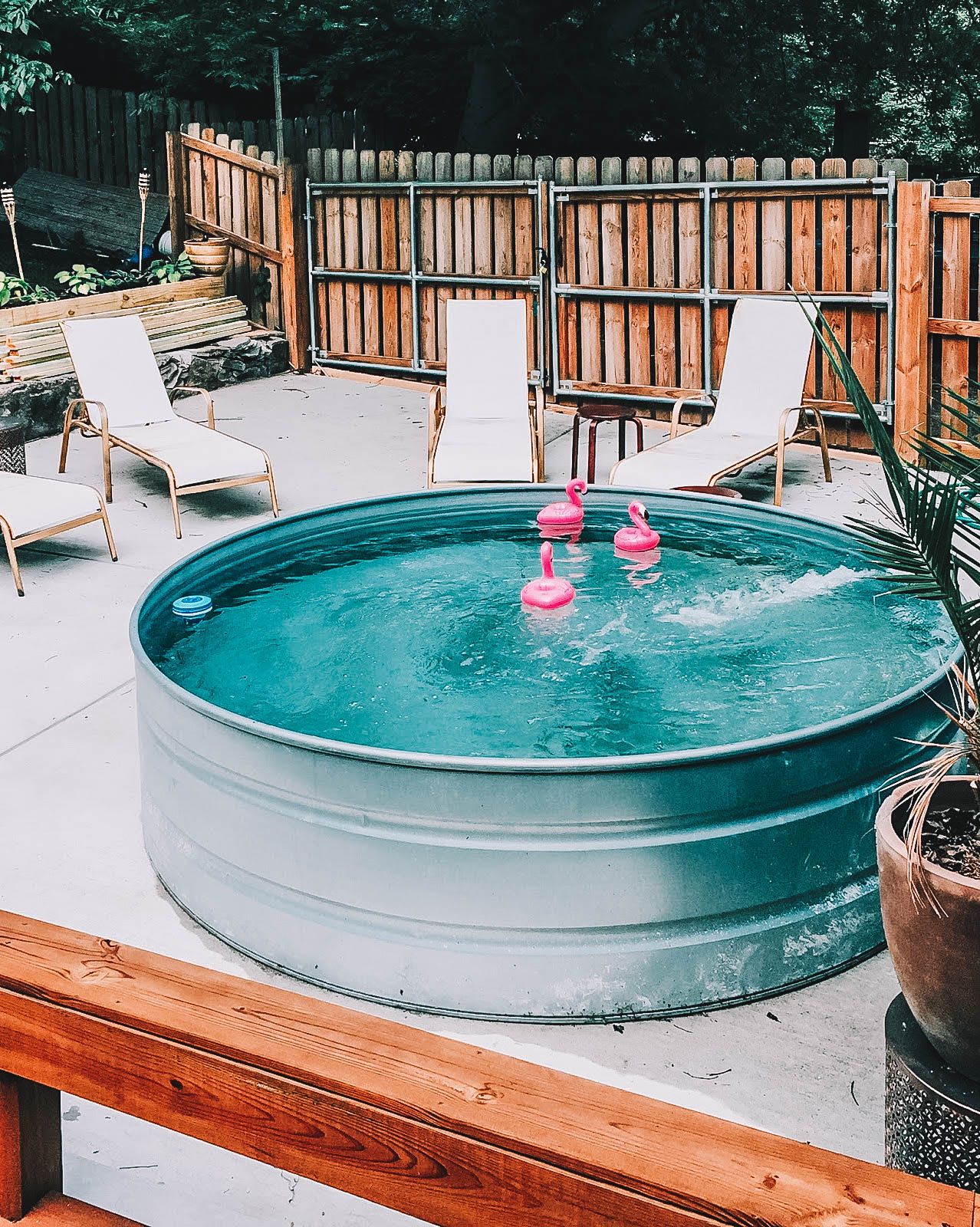 Sometimes, less is more. Just take this simple but stunning setup by Hey Wanderer which sits pretty in the middle of this concrete patio idea. If you ask us, it's the star of the show.
Most stock tank pools come with a silver-colored galvanized steel finish which helps to prevent them from rusting. And although – as you'll see with the designs in this guide – you can paint your stock tank with suitable metal paints, like Rust-Oleum, why would you ever need to when a paired back design can look this pretty? Just add waterproof flamingo coasters and you're good to make a splash.
2. Keep it simple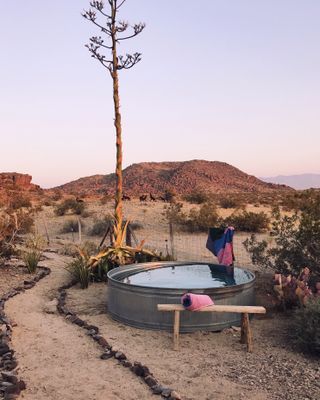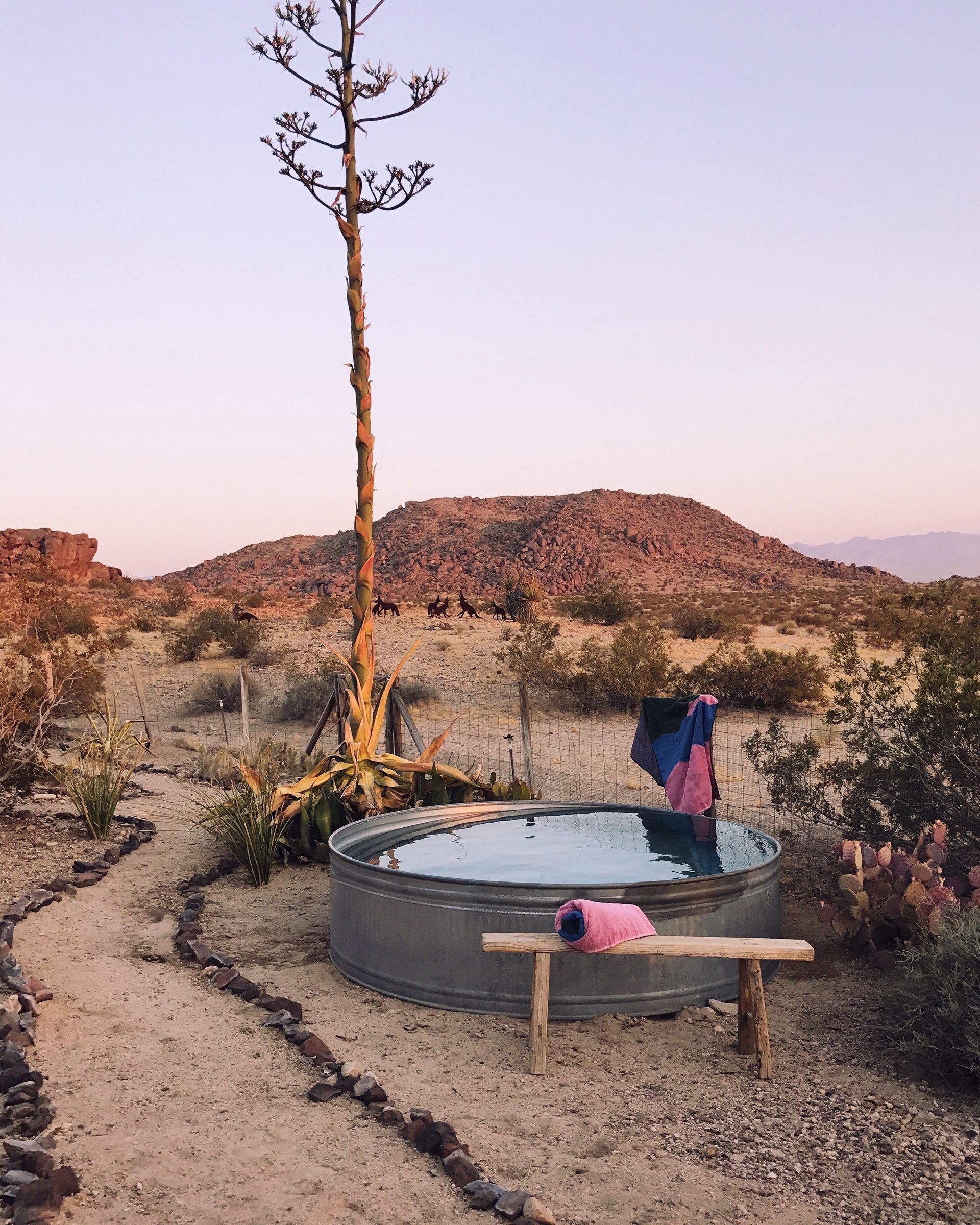 Doing any form of DIY can take some trial and error. And while some more experienced DIYers might intend to make a wrap-around deck, a fancy painted design, and all the accessories you could think of – sometimes all you need is your stock tank pool, a fence to hang your towel on, and a two-seater bench to sit and admire the view.
How inviting does this DIY stock tank pool at The Joshua Tree House look?
3. Go big on bamboo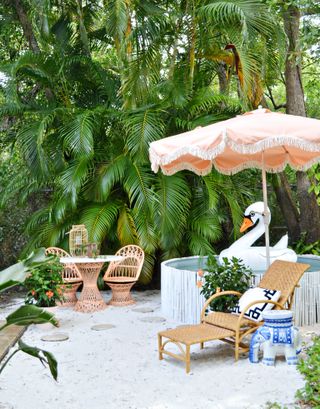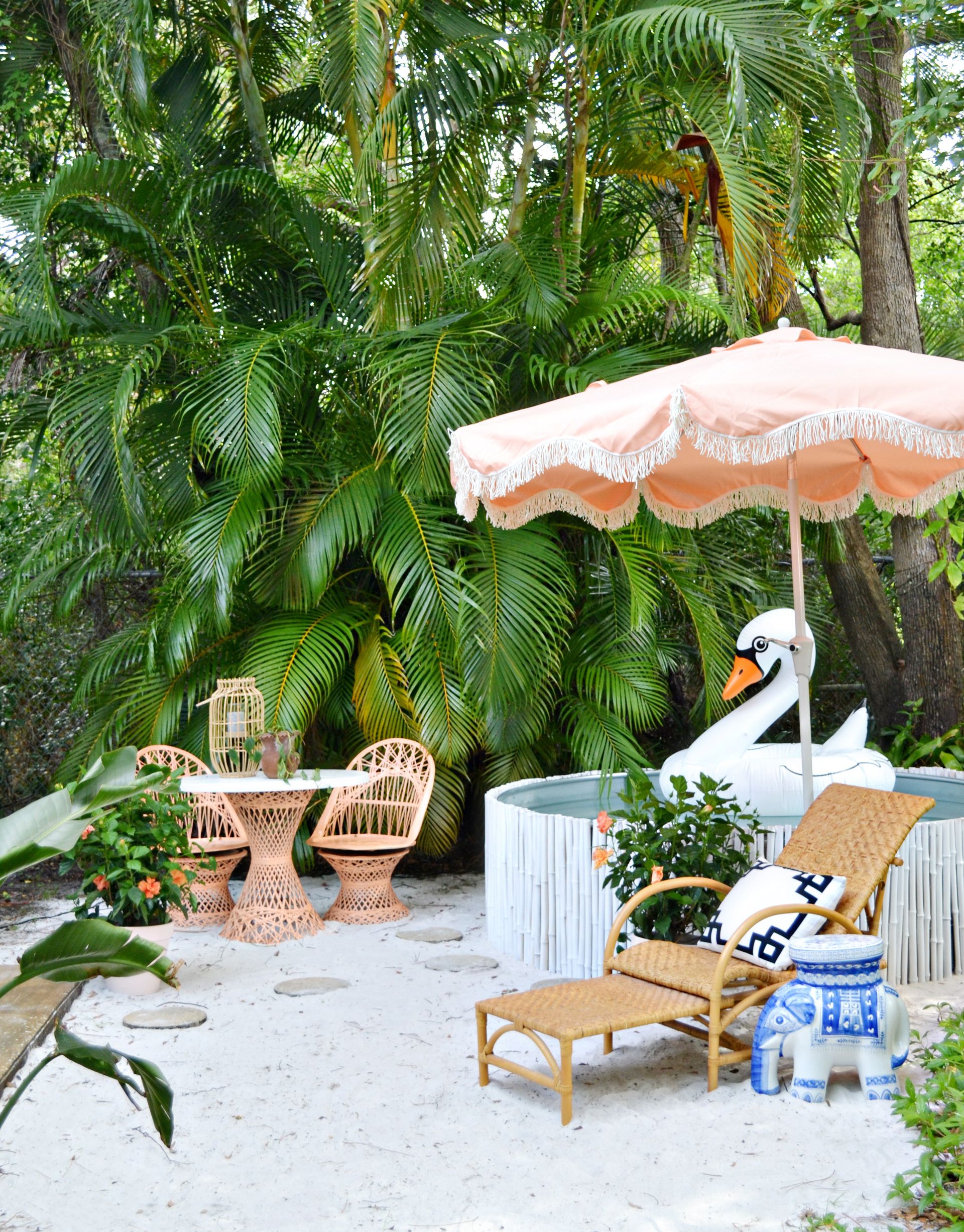 Interested in adding an extra touch to your stock tank pool? Add texture to your design by gluing perfectly cut bamboo to the outside of your tank. You could leave the bamboo au natural or paint it white, just like this design.
Our top tip? Remember to coat your bamboo sticks with water-resistant gloss or paint, like this pick from Rust-Oleum. This will help to avoid your bamboo sticks from going moldy and keep the aesthetic looking fresh and inviting all year round.
4. Tile it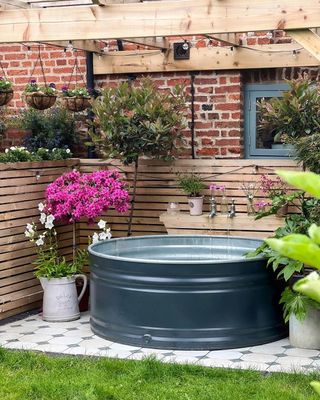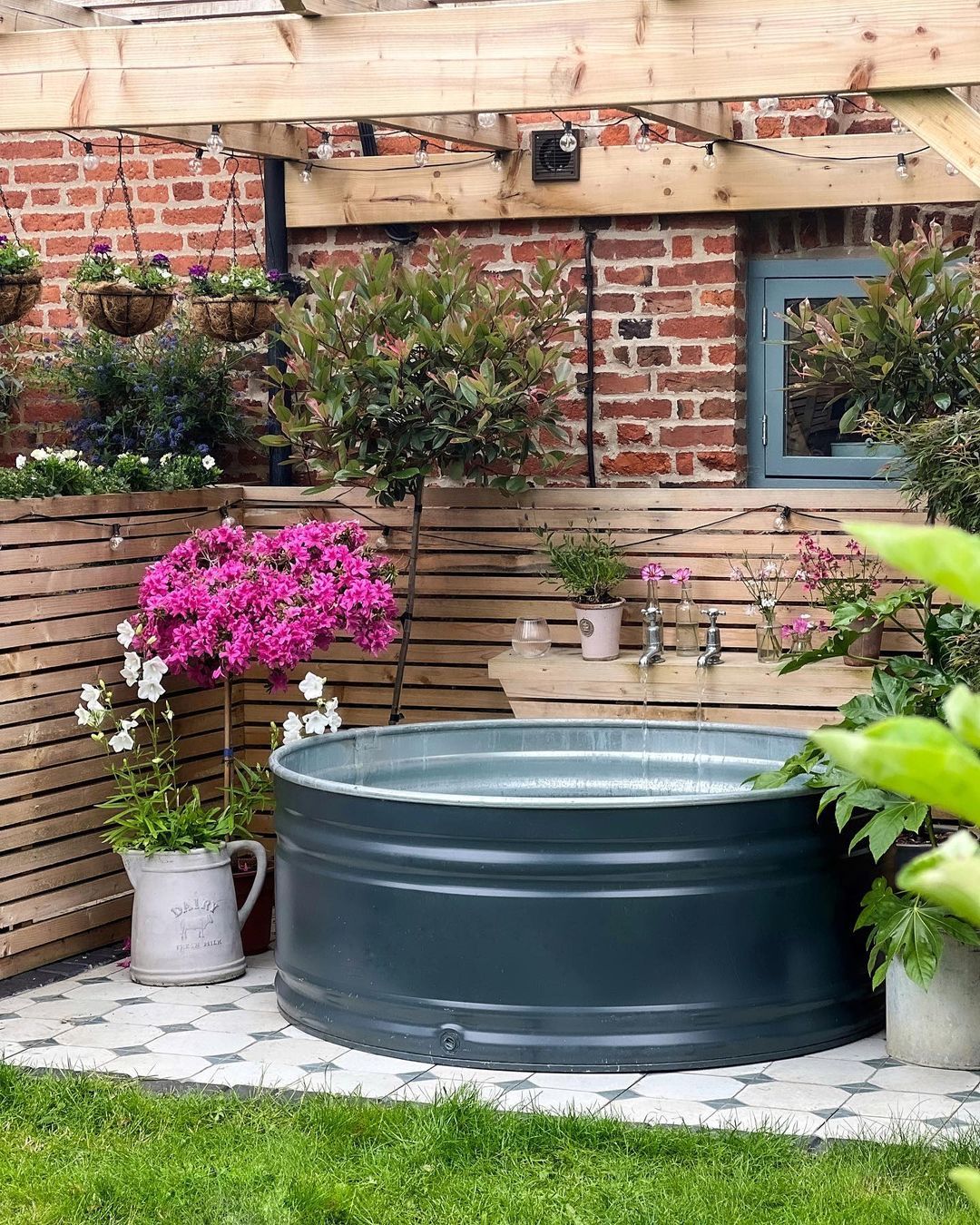 It's not just concrete or grass where you can lay your stock tank pool. You only have to look at the best patio tile ideas to see how stylish a tile or two can make your outside space look.
But don't just take our word for it. Interior and garden guru Belle, from @designermumetc decided to tile her flooring to help 'bring the inside, out.
She says: 'Initially I saw a bath in a garden and absolutely loved the idea. I visualized a space in the garden right next to the patio seating area and I tiled it to separate it and make it feel like it's bringing the inside out. However, the space was massive! So when I placed the bath in the area it looked a bit lost. A friend of mine sent me a link to the Dip Tanks and I immediately loved the idea.
'My top tips would be that if you can install hot and cold taps, it's a total game changer! Also to save water and be more eco-friendly, once you've finished with the water, get watering cans and use it to water the garden.'
5. Bring sunshine shades to you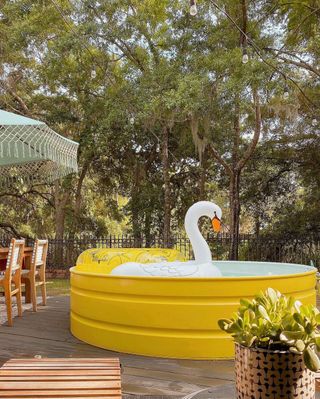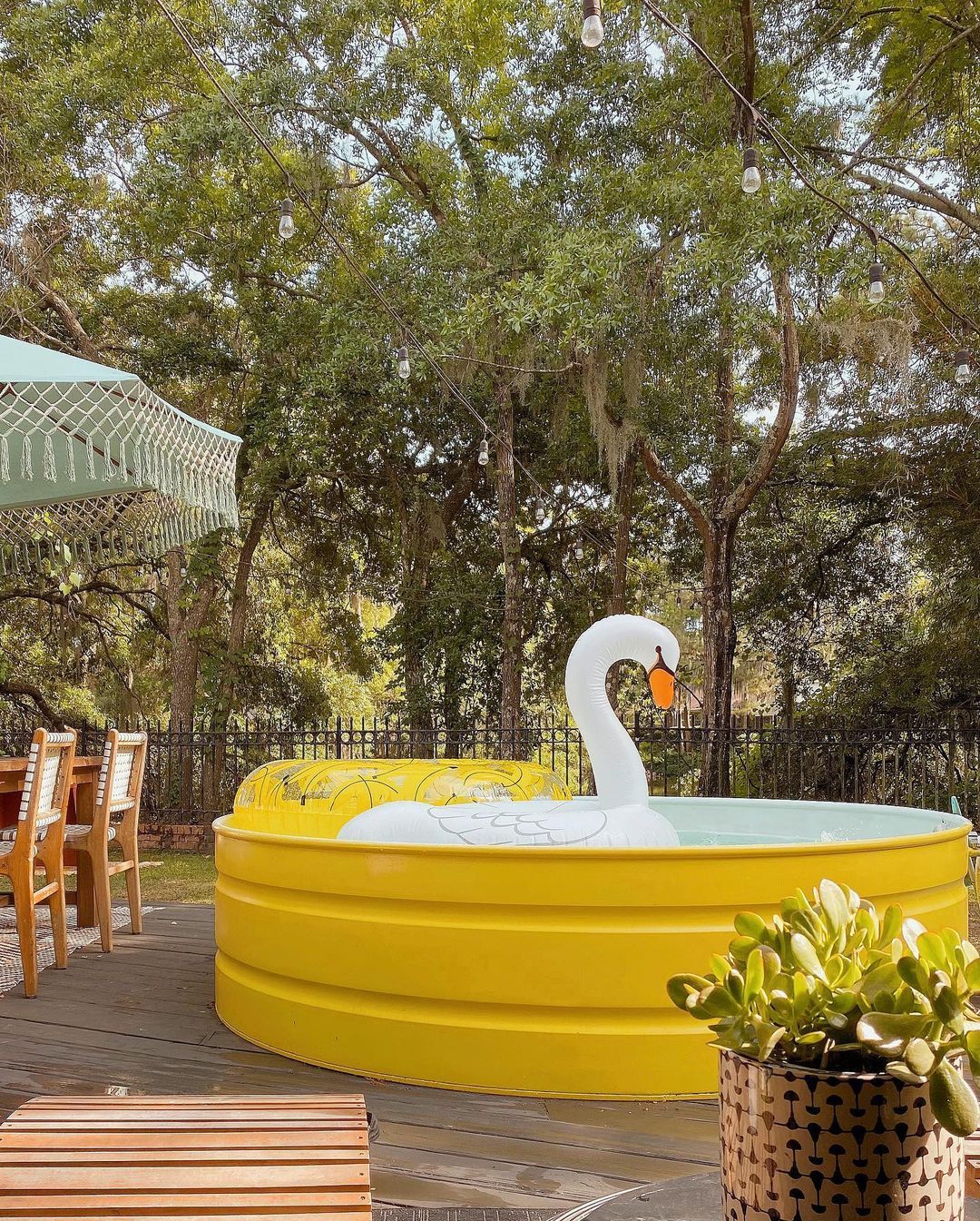 We can't always rely on the weather to bring the sun to us. So why not bring summer to your own backyard all year round by painting your stock tank a bright and beautiful yellow?
If you ask us, this design by Erin Barrett encapsulates summer in a picture. Check out metal-approved paints such as Rust-Oleum or Jenolite to recreate your own little ray of sunshine.
6. Go for gold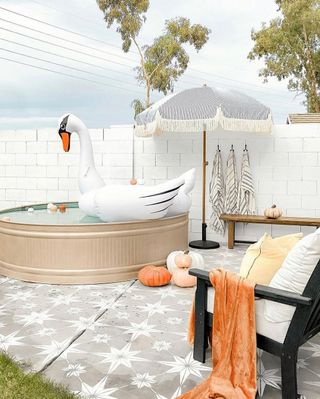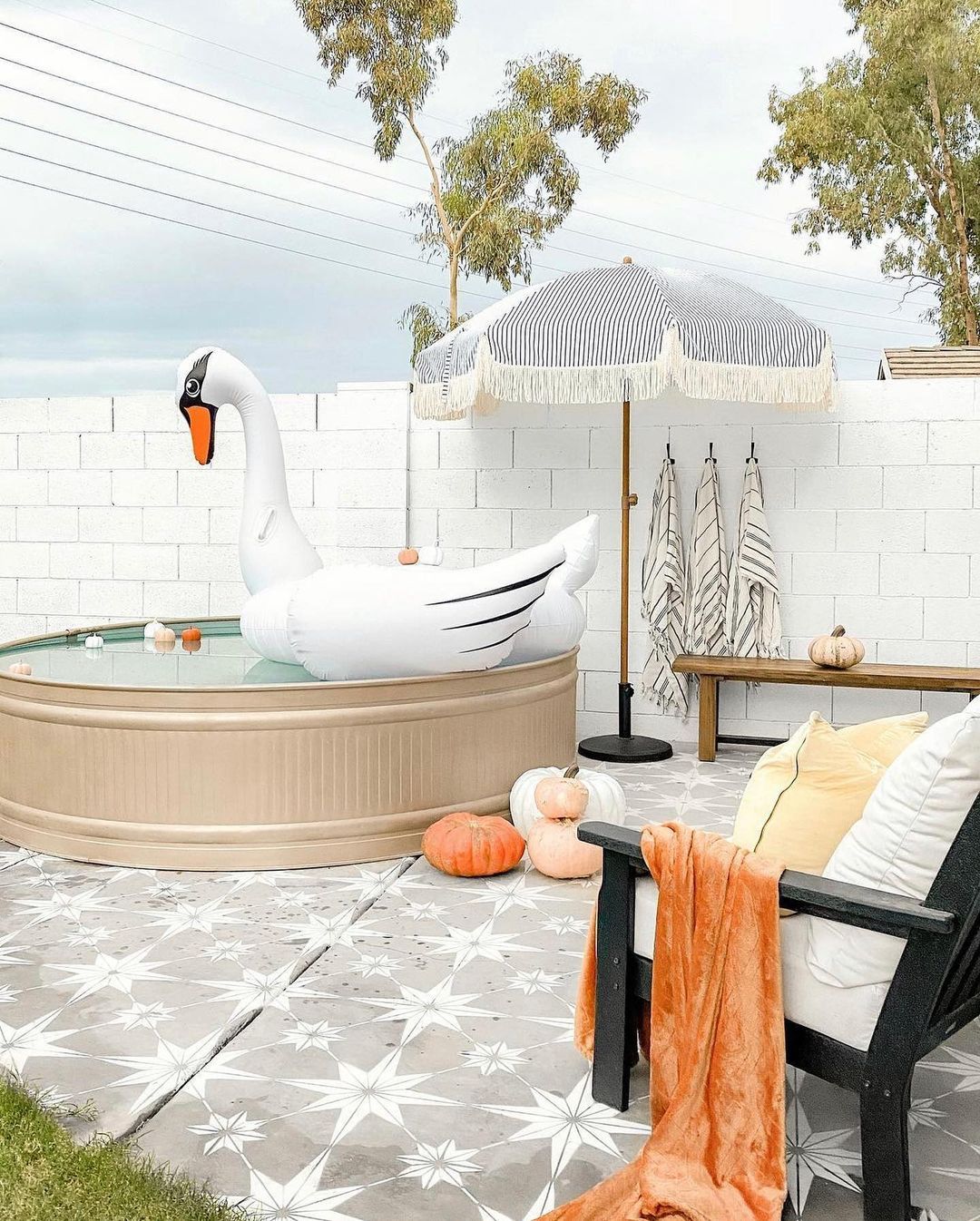 Bringing some character, color, and glamour to your backyard is always a good idea. One of the best ways to do this when it comes to your stock tank pool? Spraying it gold.
For years, the hue has been synonymous with the color of glamour and opulence. It also adds some warmth to any space – including outside spaces.
So, if gold is your color use this shade on your stock tank pool, just take some inspo from Kristi and Kelli from Lolly Jane Blog.
7. Splash a stencil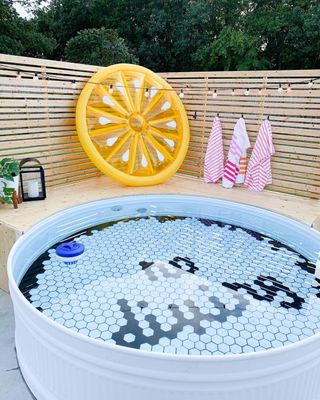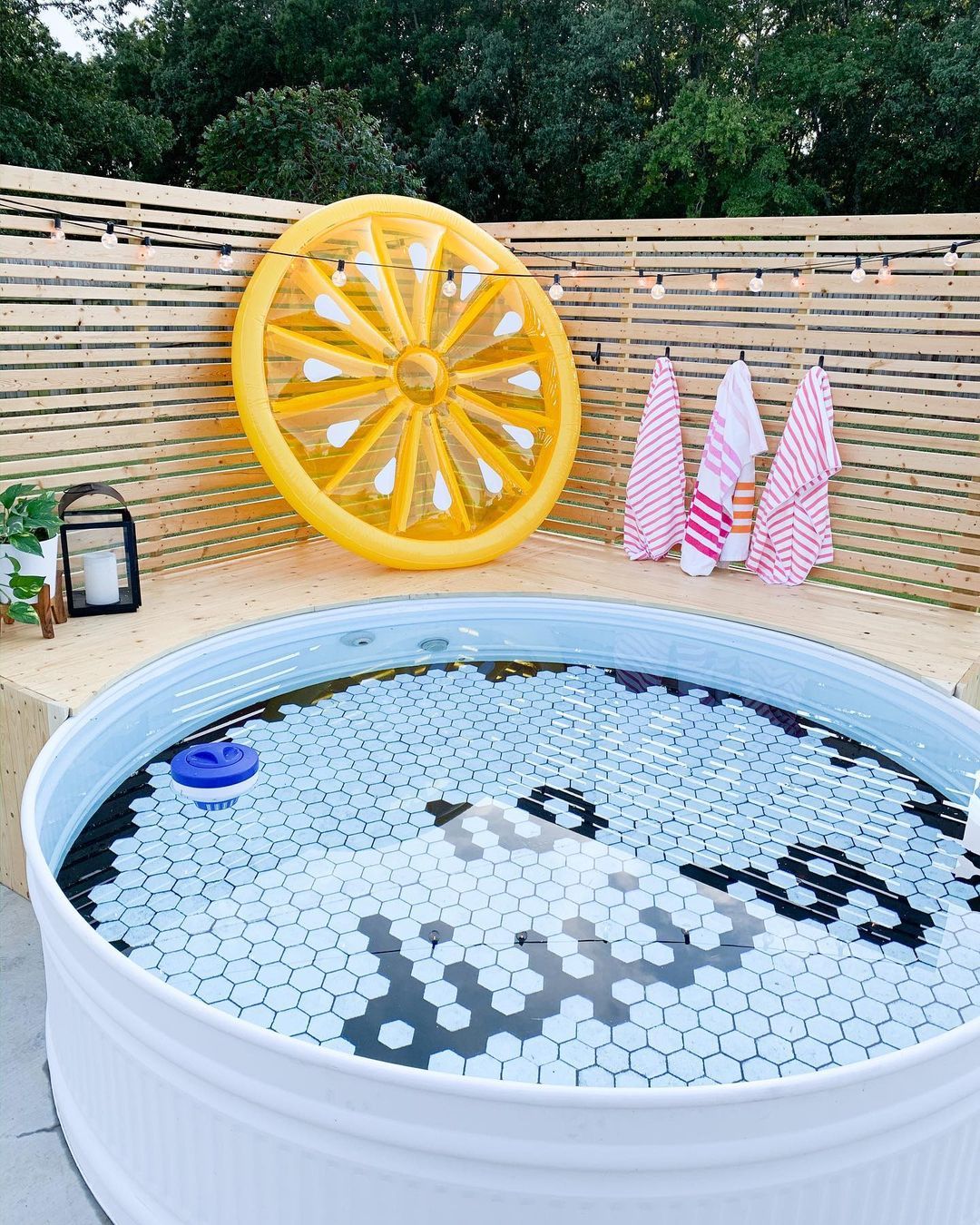 This pool is the gift that keeps on giving. Along with the towel hooks, the wrap-around decking, and the painted stock tank from Amazon, it's the 'no diving' message that really takes this design to new depths.
You would be forgiven for thinking this message was created with tiles. But DIY expert, Hannah Reesor, actually crafted this clever warning sign with a stencil and Flex Seal paint.
8. Seeing stripes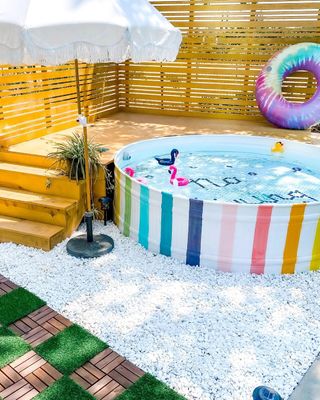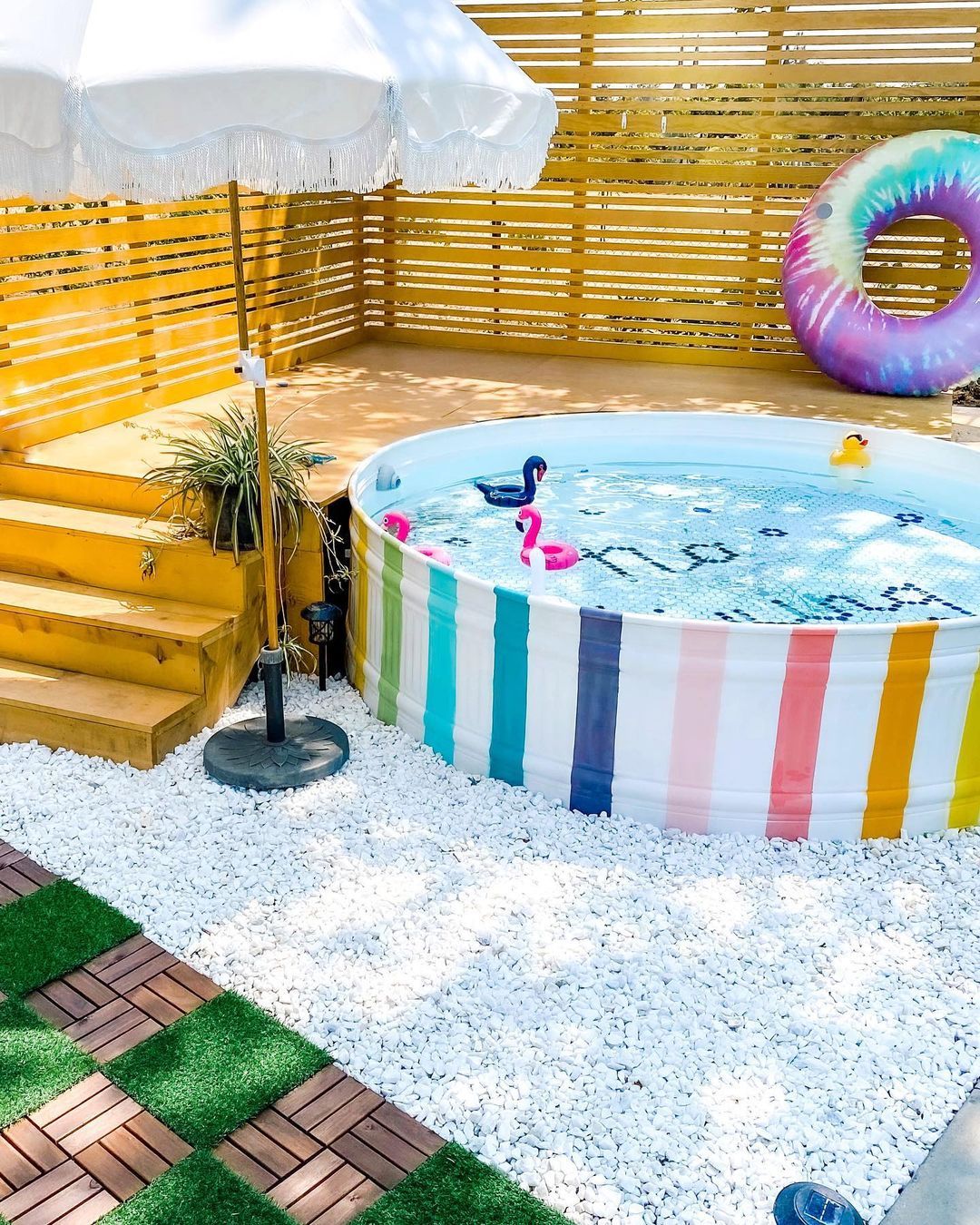 Talking of 'no diving' signs, why not add some extra color and fun to your design by adding some stripes to your tank?
Marissa Bushee of @ambusheedwithboys had the right idea. From the rainbow-striped design to the fringed beach umbrella from Wayfair and the wrap-around deck to the inflatables in the pool, what's not to love about this splash zone?
9. Make your own backdrop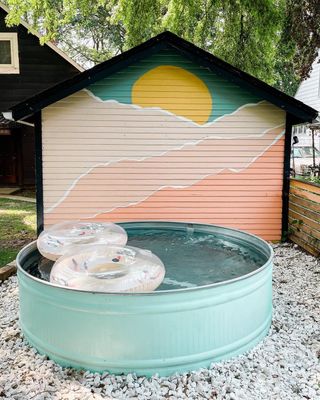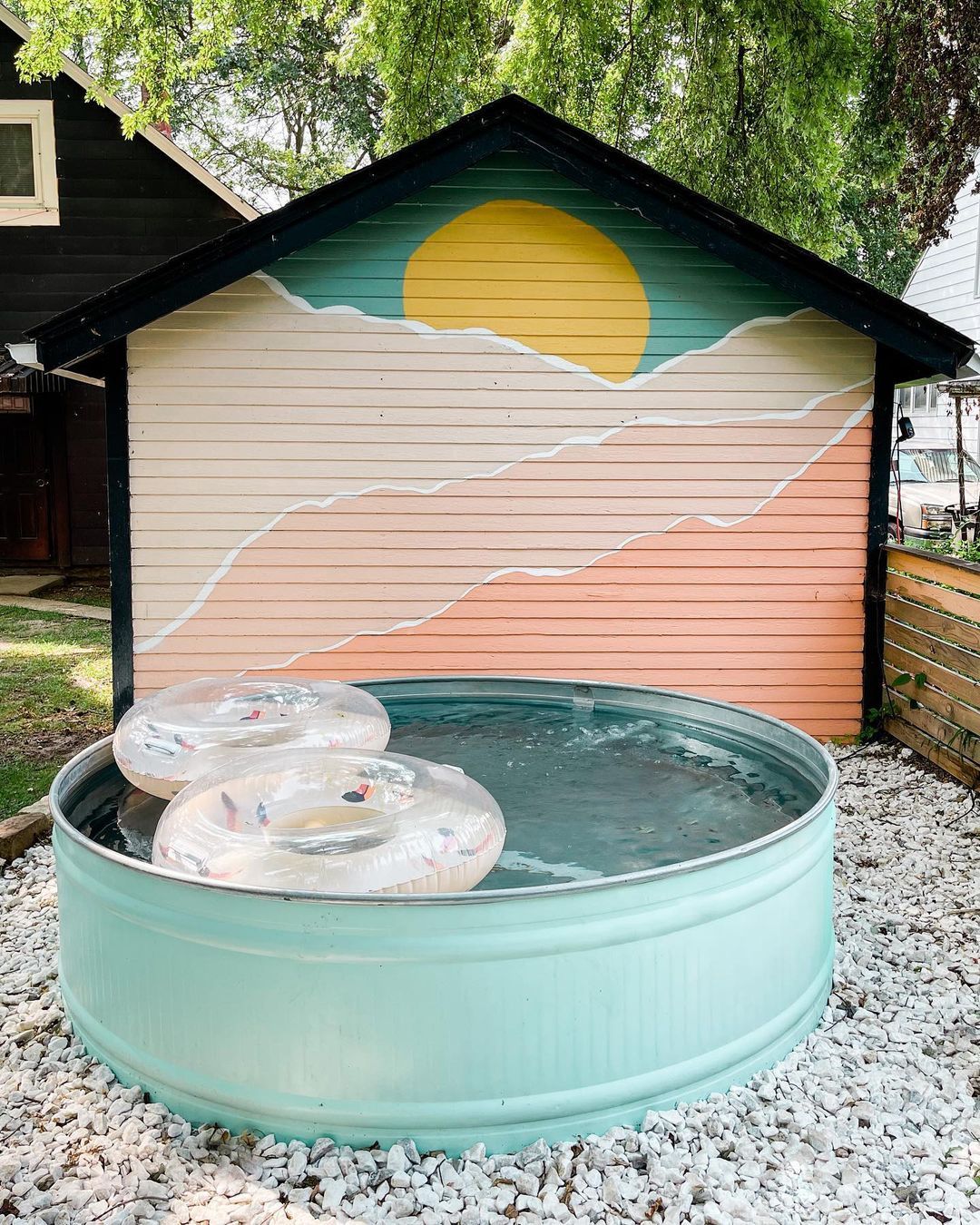 We can't all be blessed with picture-perfect backdrops in our backyard. But that's not to say you can't bring a dose of perfection to your space, just like this design by Jenna Hazel.
A lick of paint can do great things. If your backyard doesn't lend itself to Insta-worthy shots, try getting creative with wood paints. You could use a stencil, opt for a striped design or paint your back fence a bright color with one of these fence ideas. Any way you look at it, just be sure to pick a hue or design you'll never get bored of.
10. Make a stairwell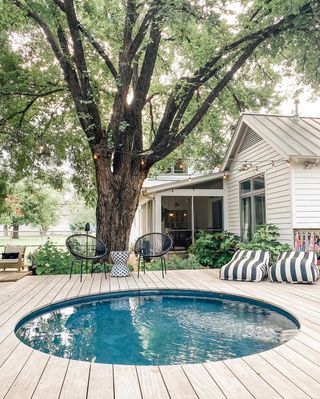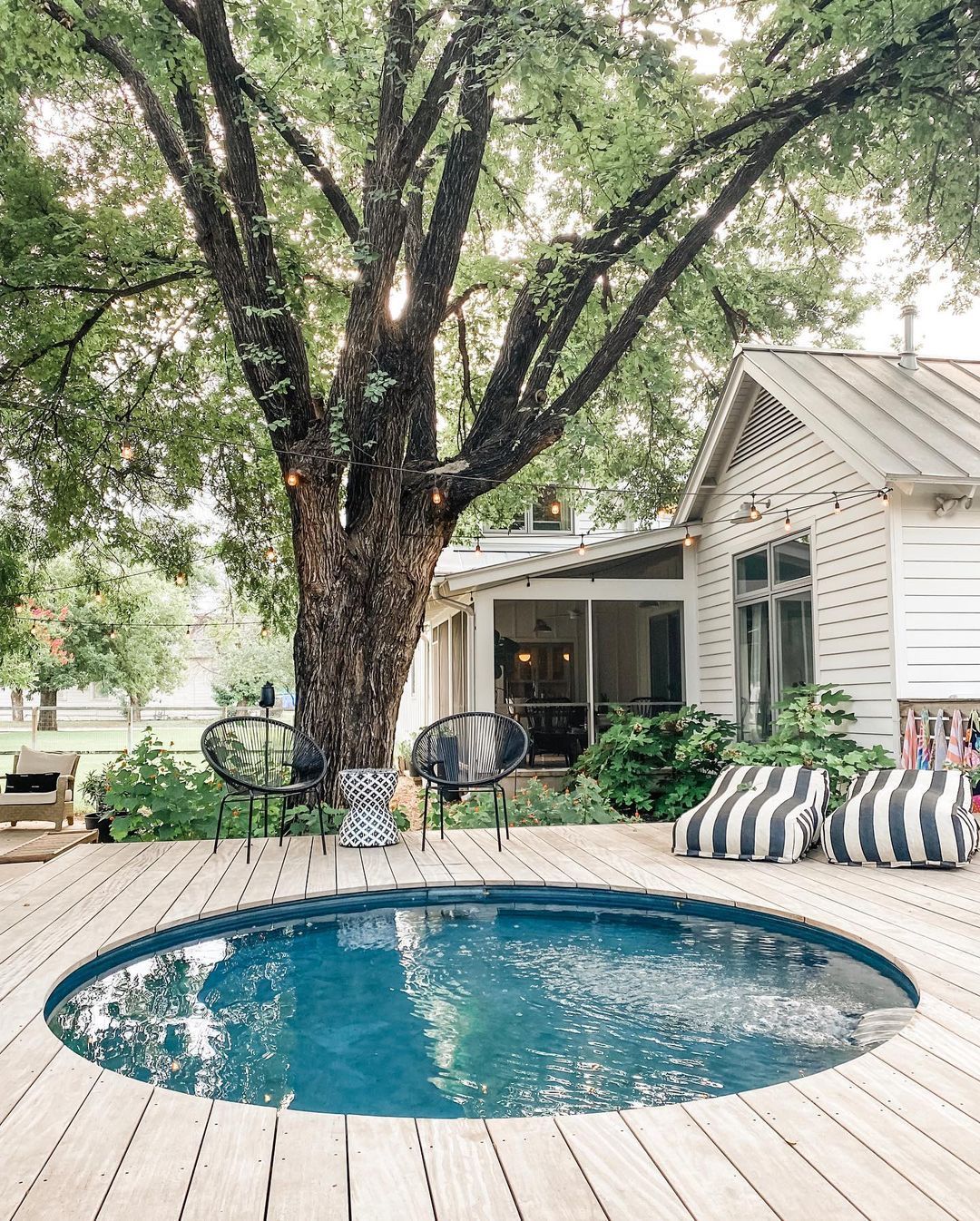 Above-ground pools are one of the best ways to cool off in your backyard without having to make any huge and costly design choices. Along with being much easier to install and dismantle if you intend to move and take your pool with you, above-ground pools give you the flexibility and fun any backyard needs.
And stock tank pools are just one example of above-ground designs. However, if you want to get the best of both worlds, you could consider adding a wrap-around deck to your design, just like this dreamy design from @Harvey_house_austin.
How do I make a pool out of a stock tank?
Creating a stock tank pool in your backyard is a lot easier than you think. Once you've chosen a tank from the likes of Tractor Supply, Home Depot or Amazon it's time to pick your location.
Next up, consider investing in a filter/pump combo that will help you fill your pool with fresh water and keep it clean. You can pick up a filter from Walmart or Amazon. Then, look out for a slow-release chlorine dispenser that will kill off any germs in the water.
Can you swim in a stock tank pool?
Stock tank pools are brilliant at recreating the look and feel of a swimming pool for much less. However, we wouldn't advise swimming in a stock tank pool.
Generally speaking, stock tank pools range from two to ten feet in length, they are usually no more than 24 inches deep and there are square, rectangular and round tank options to choose from.
This means they are perfect for taking a dip in to cool off on a warm day, but they are usually too small and shallow to swim in.