One of the best cordless vacuums will revolutionize how you vacuum your house: no more running out of cord length just before you get to that last corner, knocking over furniture as you drag the cord across the floor, or lugging a heavy canister vacuum up and down the stairs. 
If you've only ever used corded vacuums, you'll find the cordless life easier in comparison. But with no shortage of options on the market, finding the best cordless vacuum isn't quite as simple. Top brands like Dyson, Shark, and Bissell all offer their version of the cordless vac, each engineered to near-perfection.
To help aid in your search, we did our due diligence by trying, testing, and reviewing the best cordless vacuums on the market, then putting together a shortlist below. 
Are you wondering which vacuum brand came out on top? Continue scrolling to see whether or not we crowned your favorite pick the best cordless vacuum cleaning — as we present our top 9 picks below! 
Oh, and if you're finding that the cordless life isn't for you? Also, check out our best vacuum cleaner guide for a breadth of vacuum styles. 
What is the best cordless vacuum?
If you want the best of the best cordless vacuum cleaner, don't hesitate to buy the Dyson V11 Animal.  Not only does it feature a sleek and lightweight design, but this vacuum has a 40 minute run time as well as a capacity of 0.76 liters, and it's pretty great at sucking up everything from crumbs to pet hair and even leaves. Plus, it's also easy to empty.
Another cordless vacuum we love is from Shark — it feels like an upright, works like a cordless, and converts to a handheld. That versatility is just one of the reasons why we recommend the Shark Vertex Lightweight Cordless with DuoClean PowerFins. 
Keep scrolling to find out more about these two cordless vacuums and our other top picks, so you can be sure you're getting the best cordless vacuum for you.
Best cordless vacuum cleaners of 2021
The Dyson V11 Animal Cordless Vacuum gets our vote for the best cordless vacuum cleaner worth a splurge, thanks to its powerful suction and exceptional ability to transition between floor surfaces. It will easily work its way around the home on a single charge.
What we like about it
The Dyson V11 Animal has one of the best levels of suction around, and a high-efficiency filter to capture allergens. It also comes with a number of attachments for cleaning crevices and a variety of surfaces. This cordless vacuum is great for cleaning everything from the inside of your car to hard-to-vacuum stairs, so if you do a lot of spot cleaning, it's a worthy replacement for a standard vacuum.
Its most redeeming feature, though, is its weight (or lack thereof). Although not the lightest Dyson cordless vacuum cleaner, the Dyson V11 is suitably lightweight for carting up and downstairs, even for those who may struggle a bit with mobility. And unlike other super-light cordless vacuums, it doesn't compromise on power or running time.
This cordless vacuum is easy to empty, too: A single lever pull over the garbage can cleans this beauty in seconds.
Things to note
We love this vacuum. But if we had to nitpick, we'd call out the fact that on tougher jobs, the max power setting eats into the otherwise impressive battery life. Some users have also found that the filter is a little too efficient, which means you need to clean it pretty regularly.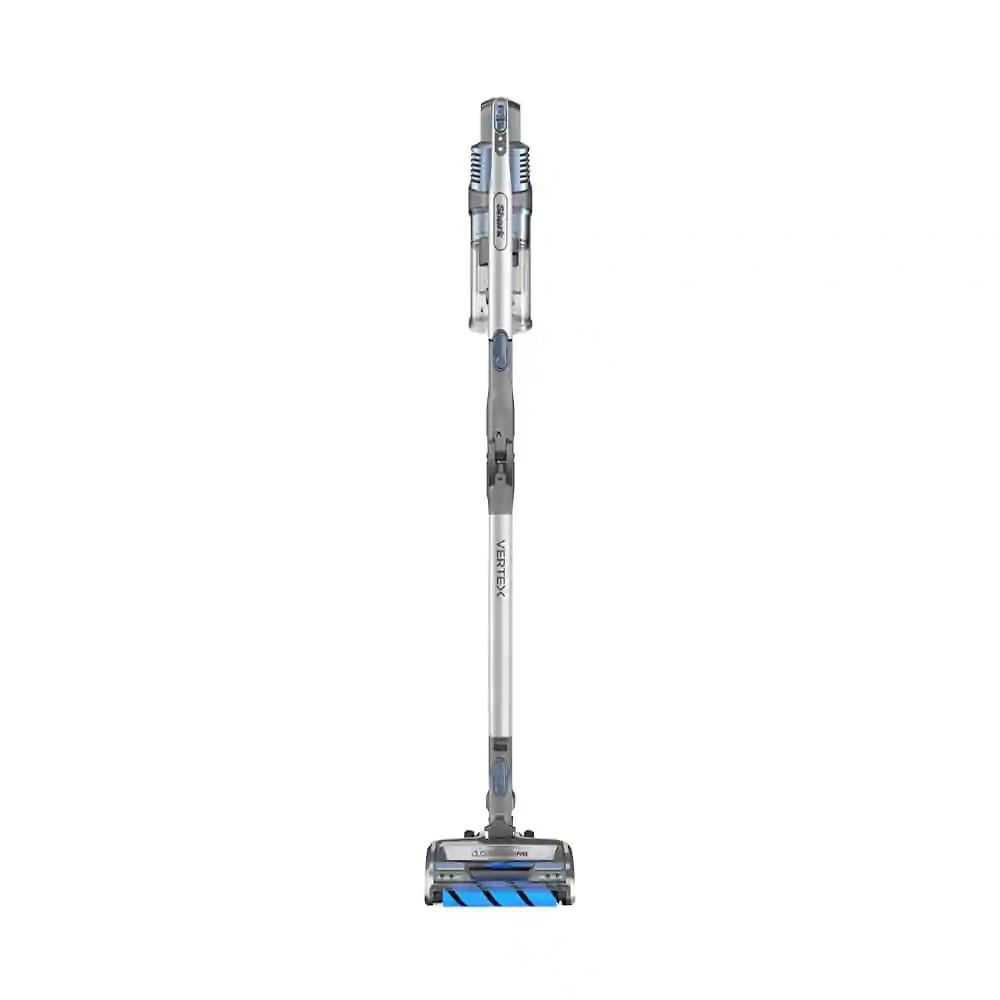 If you're in the market for a cordless vacuum for an apartment or a second model to keep upstairs, the Shark Vertex Lightweight Cordless Stick Vacuum is a powerful, lightweight model that conveniently folds down for easy storage in between use. 
What we like about it
This particular Shark features premium tech like its latest DuoClean Powerfins set up, Multi-Flex technology, and the Anti-Allergen Seal (washable HEPA filter) seen in the upright Vertex. 
It offers up to 60 minutes of charge, though the run time decreases as you work over the carpet, or activate Boost mode, at just 12 minutes. 
One of the Shark Vertex's best features is that it doubles as a handheld vacuum: Simply remove the handle from the stick and attach the crevice or pet tool directly to the vacuum head for easy maneuverability in the car, or while vacuuming furniture.
We also like how easy it is to store and charge. Granted, you want to keep your vacuum out of the way and out of sight, not all closets are equipped with outlets to charge. The Shark Vertex conveniently folds in half to tuck away in a closet and remains stable upright. Without the need for a wall dock, plug the power cord into the removable battery on the vacuum or fully separating the battery to charge on a countertop. 
Things to note
The canister capacity for this model is among the lowest on our list, which is why we recommend it for small spaces or spot cleaning. But reviewers note that it's unlikely to fill up before the battery life runs out. 
Real Homes Rated: 4.5 out of 5 stars
If you have a larger home to clean and want to do it in one pass, the Dyson Outsize should be a legend by this point, with a half-gallon dust capacity, up to two hours of runtime and twice the suction of earlier Dyson models. Seriously, the Outsize is meant to be the one and only vacuum you need in your home. 
What we like about it
Well, we've already touched on its lengthy runtime and roomy dust bin, but we'd be remiss if we failed to mention the Dyson Outsize's extraordinary performance. The vacuum has some pretty intense technology that makes it so powerful, namely the Dyson Hyperdymium motor that rotates at over 125,000 rpm combined with Radial Root Cyclone tech that generates forces of 79,000g to fling dust into the bin without clogging the filter. Moving on, the Dyson DLS technology automatically senses and adapts to changes in floor type, which further manages battery life, but if you want to control the cleaning, you can work in Eco, Auto, or Boost mode.
The High Torque XL floorhead cleaner is noticeably larger than the other Dyson V11 models and the headlights on it do a great job illuminating any dust or dirt you may have missed on the first pass. 
For so much power, the Dyson Outsize is also fairly lightweight, and easily converts into a handheld for maximum versatility. 
Things to note
Pushing $800, this is by far the most expensive vacuum on our list. But, if you want the best of the best for tough jobs that won't require you to stop to recharge or to empty the dust bin after cleaning a single room, this Dyson deserves your considerations. Though, we should also mention that the Dyson Outsize includes two batteries that function up to 60 minutes each, for a total of 120 minutes of cleaning time, and both can charge at the same time. 
Real Homes Rated: 5 out of 5 stars
Ready to disrupt everything you thought about cordless vacuums and price, is the Eureka RapidClean Pro Lightweight Cordless Vacuum Cleaner, clocking in at just over $150, ready to provide a reliable clean without dipping into savings. 
What we like
Beyond the budget-friendly price tag, the Eureka RapidClean Pro is built with the same thoughtful features you see in higher-end units: extended battery life (40 minutes), LED headlights, and easy swivel steering.   But what really caught our eye is one very thoughtful design feature. Eureka calls it the Easy Rest, with a unique groove that allows you to conveniently rest the vacuum on tables, countertops, and furniture without the danger of the vacuum falling over or scuffing your walls. 
It also includes a crevice tool and a two-in-one upholstery tool as well as easily converts into a 3 lb. handheld to maximize your cleaning routine. 
Things to note
At this price point, you do have to manage your expectations. You do lose out on hypoallergenic features like HEPA filtration— it uses washable foam filters—, and the vacuum only has two power modes: Normal and MAX. In between cleaning, it does take a fairly long time to charge too. It's also worth noting that it is top-rated on hard floors and for picking up pet hair and pulls its weight on low-pile carpets too, but if you're looking for a nice fluffing of your deeper pile carpets, you'll want to look elsewhere.  However, if you're looking for something basic for general upkeep of your home, the cordless Eureka RapidClean Pro will fit the needs of many. 
Tineco is a fairly new brand with a robust of cordless and category-changing smart vacuums that you're about to start seeing a lot more of. We particularly like it because it offers some extremely high-tech offerings at an incredible value, like the Tineco Pure One S11 Cordless Vacuum Cleaner. 
What we like
The Tineco Pure One S11 is one of its mid-range vacuum cleaners but has some top-tier features that helps it rank high on our list. 
Tineco's signature iLoop Smart Sensor technology detects hidden dust and debris and auto-adjusts suction power in real-time. You see it as an LED ring that changes from red to blue to indicate clean floors and guide you along. A true standout feature that gives a visual confirmation that your floors are getting cleaner.  The onboard  LED display and connected Tineco App monitor cleaning progress, battery levels, and suction performance for additional insight into your cleaning experience. 
We think the 40 minutes of runtime is more than enough to get you through your clean for quick pick-ups, and the .6L dustbin looks small but is suprisingly roomy. 
Things to note
The Tineco might not be the most powerful vacuum on our list, but it offers such a competitive price point with great features, it's a no-brainer for casual home cleaning.

If you're looking for a cordless vacuum cleaner with an impressive long running time and enough suction to vacuum up pet hair, then the Bissell IconPet Cordless Vacuum is for you.
What we like about it
The Bissell IconPet promises up to 50 minutes of fade-free cleaning, and it certainly delivered in our hands-on testing. It proved to be a hard worker on all floors, and the ability to turn the vacuum's handle/dust container into a short handheld unit is useful for cleaning stairs. 
The actual operation of this cordless vacuum is pretty seamless; it's intuitive to handle, the dust container is easy to empty, and its LED headlights work well in both modes (handheld and full-body vacuum). It also has a Smart Seal allergen system that helps trap dust and allergens inside the vacuum, and which can be washed under the tap.
Things to note
The Bissell IconPet is one of the heaviest cordless vacuums we've tested — although when you're using it in handheld mode that becomes a non-issue.
If you're someone who is looking for all the bells and whistles, look no further than the Samsung Jet 90 Cordless Stick Vacuum. Again, the $800 price tag is a bit steeper than we'd like, but when considering that it always works as a handheld vacuum, mop, includes both a turbo and regular suction, as well as an extra battery and charging station? It seems clear: This is a worthwhile investment you can't afford to miss. 
What we like about it
This cordless vacuum offers up to 60 minutes of uninterrupted cleaning before a recharge is required, and that is not all. Users will also receive a dual charging station that features a spare battery that can be ready to go in just under 3.5 hours; extending your vacuum's life has never been easier.
It also offers a lightweight design suitable to go around any home with ease; weighing in at a mere 6 pounds, it is easier than ever to not only pick up but operates. You will never have to fear a bulky vacuum weighing you down or causing any aches and pains; this lightweight design will go from the stairs to beneath sofas and even clean high cabinets and window blinds with no issues whatsoever. 
Remember how we mentioned it's perfect for getting into those tough cervices and corners? We were not lying – the telescopic pipe (featured on the vacuum), was designed to reach those awkward areas of your home and clean them in a matter of seconds. It also helps those of varying heights find the right level for comfortable use. 
Rotating more than 3,700 times a minute and paired with a 180° swivel flexibility, the Turbo Action Brush add-on will flawlessly clean dust, hair, and other debris plaguing your surfaces. 
The only feature more seamless than actually using this vacuum would be cleaning this vacuum. Users can keep debris from building up on the filter, thanks to its powerful multi-cyclonic system. Here, this trusty feature pushes dirt into the dustbin and off your ground! 
Above all, this vacuum claims to trap up to 99.999% of micro dust from pet dander, pollen, and any other non-living allergens for cleaner air in your home. Which is pretty good all things considered! 
Things to note
If you detest dealing with the dust bag, consider adding in Samsung's Clean Station, which automatically self-empties the dust bin into a sealed bag for hygienic, mess-free cleaning. 
Real Homes Rated: 5 out of 5 stars
We expect a lot out of cordless vacuums: they should have decent battery life, stand up to pet hair, and be easy to use. The LG CordZero A9 Kompressor ups the ante with the addition of a mopping kit, so you can vacuum your floors, and then follow up with a nice machine-powered mopping for sparkling, clean floors.
What we like
The mopping power nozzle outfit is a nice, niche feature, which aids with the initial sticker shock.  
However, another core function that sets it apart from the rest is the Kompressor, which basically compresses dirt, hair, and crumbs down inside the dirt canister, so you can go longer periods of time without needing to empty it. Two 60-minute batteries provide more than enough time to get you through your cleaning routine without having to pause as well.
LG's exclusive, Smart Inverter motor creates better cleaning performance, uses less energy consumption, and results in an extremely lightweight machine... just six pounds.   
Beyond, LG also offers a suite of features like a convenient vacuum stand that tucks away and charges without taking up too much space, a telescoping wand for maximum reach, as well as the stable of attachments that a luxury vacuum comes with. It also has a smart component with LG's ThinQ app for troubleshooting product malfunctions should the issue arise and monitoring battery and the filter. 
Things to note
Do not attempt to use the LG CordZero A9 on the carpet. Our editor-in-chief dealt with a broken brushroll when trying it over a kitchen runner. Fortunately, customer service was quite responsive. 
Real Homes Rated: 5 out of 5 stars
The iRobot Roomba 694 Robot Vacuum is one of the most efficient robot vacuum cleaners on the market — we even consider it one of the best options for dealing with pet hair. So if you are looking for a vacuum to give you the easiest clean ever, then this is for you.
What we like
Like all robot vacuum cleaners, this may not be a replacement for your regular vacuum cleaner; but it's great for keeping on top of the annoying little bits of dust and dirt that accumulate through the week. 
The iRobot Roomba 694 robot vacuum not only works well on hard floors, but it's also capable of picking pet hair off the carpet. An intelligent sensor detects what sort of sensor it's running on and adapts the suction accordingly. The low-profile design is very handy, too; the iRobot Roomba 694 can get under more furniture much more easily than most of the models on this list.
We also love that you can just leave it to run while you're away or asleep, then return (or wake up) to a cleaner home. If you're out of the house, you can check its status and set its cleaning schedule from your smartphone, or with the help of a smart assistant like Alexa or Google Home Assistant. 
The iRobot is also smart enough to return to its dock before its battery runs out; basically, it recharges itself. 
Finally, there's no need to worry about your expensive robot vacuum running itself off the stairs: It has special "Cliff Detection" sensors to keep that from happening.
Things to note
Since the Roomba doesn't have traditional beater brushes, you can't expect it to be as powerful or effective as some of the other cordless models on our list. And you certainly can't count on it as your only vacuum cleaner, because its round shape means it can't get into corners, crevices, or furniture like standard cleaners.
That said, a cordless vacuum is usually used as a second option to help you keep on top of the dirt in a larger home. This takes the effort out of those regular mini cleans and is particularly well-suited to people with lots of hard floors, which this model cleans very well.
How to choose the best cordless vacuum
If you have busy work, home, or school schedules in the family, you need a cordless vacuum cleaner that really gets the job done well — no second and third passes to pick up missed dirt, thank you very much. Here are a few things to consider when it comes to choosing the best cordless vacuum:
Battery life
This is one of the most important features of a cordless vacuum. All of our cordless vacuums have at least a 20-minute run-time; any less than that just isn't practical. If you vacuum more regularly than others, 20 minutes is enough for a quick zip around to spruce up your entire home.
Weight and maneuverability
If you want to really enjoy the freedom of owning a cordless vacuum, that vacuum should be light enough that you don't mind carrying it around. But be aware that there is some correlation between weight, power, dirt capacity, and battery life. 
If you intend for this to be your main vacuum cleaner, we recommend prioritizing battery life and suction power, so you can do a good job without having to recharge mid-clean. If this means a heavier machine, so be it. If you're only looking to do quick spot cleaning, light, and easy to move is the way to go.
You'll also want to make sure the cleaning foot of your cordless vacuum can easily get under furniture, and choose a model with the right attachments for cleaning any other surfaces you might want to tackle, like upholstery or curtains.
Have you considered a robot vacuum cleaner?
Most people choose a cordless vacuum for the convenience of quick and easy cleaning. If you have a larger budget, you could consider a robot vacuum cleaner.  Although you'll likely have to do touch-ups by hands for places the robot can't reach (like stairs and corners), it takes most of the labor off your hands.
Capacity
Dust bin capacity is usually under a liter. That might not sound like much, but that limited size helps ensure the machine is small and light enough to carry around. Also, as cordless vacuums are designed to be quicker and easier to maneuver, you might find you use them more regularly and have less dirt to tackle in the first place. 
Storage
All of these cordless vacuums are, by design, much more compact than conventional vacuums — so they're a great choice for small apartments and homes. Most will come with wall-mounted charging brackets that let you hang them in your cleaning closet or utility room, or a stand to store. 
When it comes to finding the right product, keep a close eye on the specifications we list for each vacuum. These will tell you:
How long the battery lasts on default mode
How long it takes to recharge
The dust bin capacity
What we think each model is best suited for
How much it weighs
How much should you spend on a cordless vacuums?
Cordless vacuum cleaners seem to range drastically in price, with a budget model usually costing around $150 to a premium model pushing $700, or more. To find the most sought after features like long-lasting battery life, HEPA filtration, lightweight design, and excellent suction, expect to pay around $350. 
Don't miss our guide to how to vacuum like a pro (yep, there are techniques to get it done quicker and better).