Knowing how to hang a wreath on your door is a staple decor hack that will serve you during the festive season year after year. The warmest welcome, wreaths are a super easy way to give your home an instant festive and requires no maintenance... the only legwork is hanging them in the first place!
Once you've chosen your perfect wreath, be it a frosty white, a simple Scandi one or a traditional festive number, it's time to work out how to hang it. This do it yourself guide is here to help, with styling solutions from heavy duty hacks to five second fixes.
Not picked your wreath yet? Check our pick of the best Christmas wreaths or give making a wreath yourself a go.
1. Hang your wreath with a ribbon
Cut a healthy length of ribbon (about 60inches) and loop is around the wreath so that at one end there are two open ends. Tie these ends in a knot or bow. Next, place a self-adhesive hook on the inside of your door, upside down. Finally, with your door open, hang the wreath over the door, hooking your ribbon loop around the upside down hook on the inside of the door... Voila!
2. Hang your wreath with a nail and string
Take an electric screw gun and drill a nail into your door carefully to avoid causing splits and cracks to your door. Make sure your nail is long enough to support your wreath and position it at the top of your door. Then, take a piece of string, loop it through the wreath, tie it in in a knot. Hang your string held wreath on the nail and Bob's your uncle!
3. Hang a wreath with a self-adhesive hook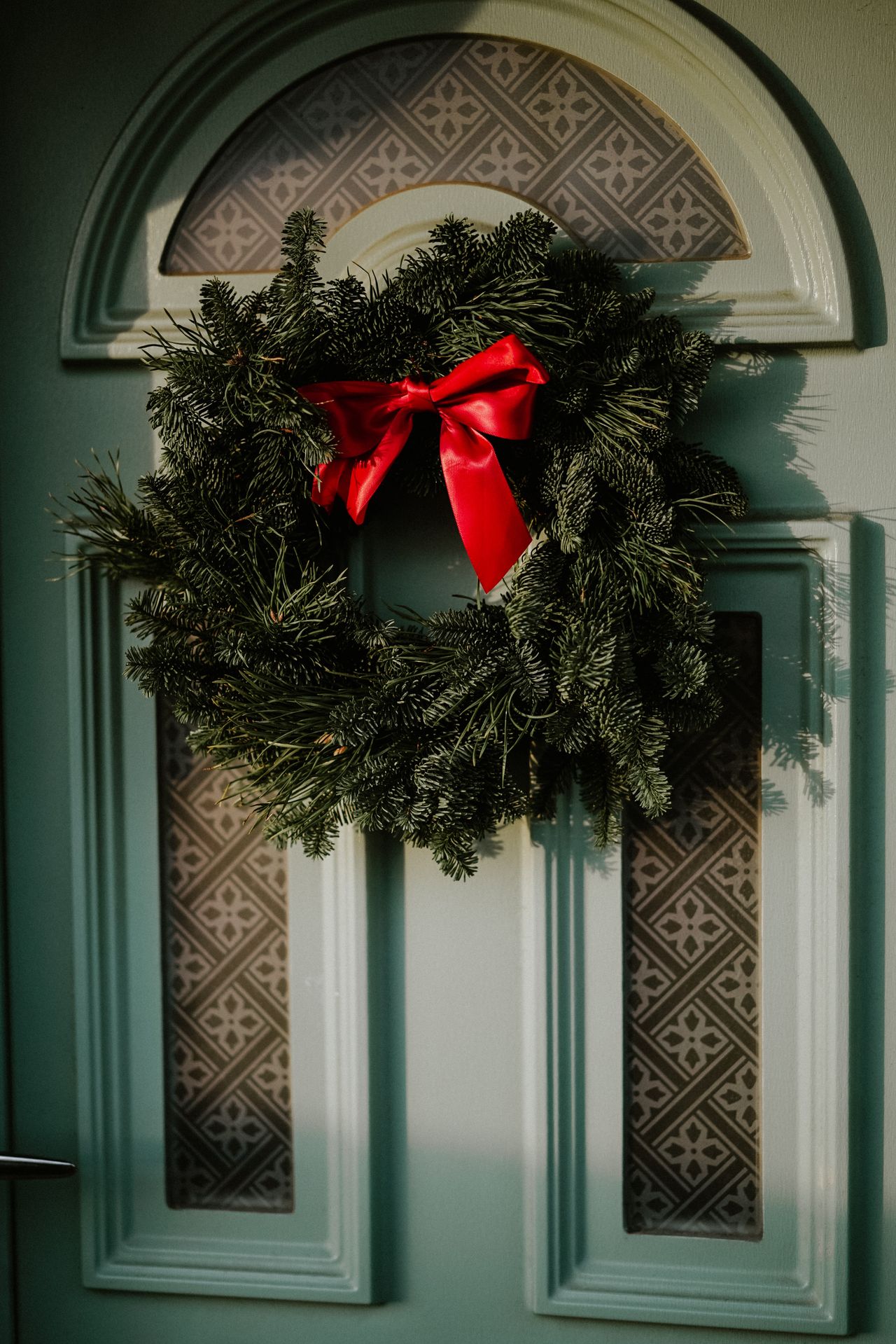 Self-adhesive hooks are practical, efficient and inexpensive, making them a pretty strong contender as wreath hangers go, if you ask us. Just clean your door to make the perfect canvas, stick a self-adhesive hook high up on your front door and hang your wreath from a piece of string, wire or ribbon. Easy peasy.
4. Tie a wreath to your door knocker
Tying your wreath to your door knocker does what it says on the tin and makes hanging your wreath a bit of a no-brainer! We don't really need to talk you through how to execute this one other than to suggest you match your ribbon to a bright colour in your wreath to add an extra pop of festive style.
5. Over the door wreath hanger
We're big fans of these super easy to use over-the-door wreath hangers, for their nifty design and reliability. Buy a heavy duty Metal Over the Door Wreath Hook that slots easily over any standard door and you're pretty much sorted! Adjustable and durable, this will do the trick without requiring any DIY skills or post-Christmas door TLC.