Shark Steam and Scrub mop: Quick Menu
The Shark Steam and Scrub Mop is a godsend for anyone who has ever had to deal with a mop and bucket. Floors get gross in every household, but it's fair to say that some might be more prone to 'ehem' neglect, than others. Sometimes you know who or what the culprit is, and other times you literally have *no idea* how that coffee stain appeared...
It goes like this. You spill coffee, you might wipe it up, but then, will you actually make the time there and then to reach for your classic mop and bucket, rinse it out, and refill it with some overly citrus cleaning product, before tending to what has now turned into a dry stain? Probably, not. We have better things to be getting on with.
However, when you have one of the best steam mops on hand, you might find yourself wanting to look after your floors more. Especially when you don't have to subscribe to buying chemical-ridden solutions. Yes, Shark claims will sanitize 99.9%* of household bacteria, using water alone, without damaging sealed hard floors. See how I got on using it over LVT flooring, and ceramic tile too.
*Sanitization studies were conducted under controlled test conditions. Household conditions and results may vary.
Shark Steam and Scrub Mop review
What I thought of the Shark Steam and Scrub mop
I'm going to hazard a guess that any homeowner or renter with a hard floor surface like laminate, vinyl, or tile will feel very strongly about this market-leading mop. It was the easiest to set up, with zero cleaner supplies involved, let alone chemical cleaners. In use, it's not particularly loud, and pretty easy to handle. Especially when you don't have to drag a dirty bucket of water around.
More importantly, it makes a distinct difference to all types of flooring and brings them up really nicely for a healthy sheen that you know is squeaky clean. We all noticed — even the cat reconsidered his Zoomies.
I also don't think it is the ugliest thing guests will find (even if it's left outside of your cleaning cupboard), which is always a bonus. And, I appreciate that you can wash the cleaning pads as you would other reusable household microfiber cloths, which ticks another box for eco-warriors like me.
Testing the Shark Steam and Scrub Mop
Camille is the former deputy editor of Real Homes where she covered a broad range of topics, including house tours, small space design, and gardens. She studied English language and Italian at the University of Manchester and during a year abroad studying linguistics and history of art in Bologna, Italy she started documenting her adventures and observations in a blog. Post-university Camille got more hands-on experience writing for websites, regional magazines, and PR companies, typically covering fashion, beauty, healthcare, and local events. Some years later, she launched into SEO and copywriting before focusing on more journalistic content.
Shark Steam and Scrub Mop specifications
Dimensions (in.): 14 x 6 x 47
Weight: 6.8 lbs
Wattage: 1120W
Capacity: 0.35L
Cord length: 8m
Warranty: 2 years
Includes: 4 x Dirt Grip cleaning pads, 1 x water filling flask, 1 x instruction manual, 1 x quick start guide
Unboxing and setting up the Shark Steam and Scrub mop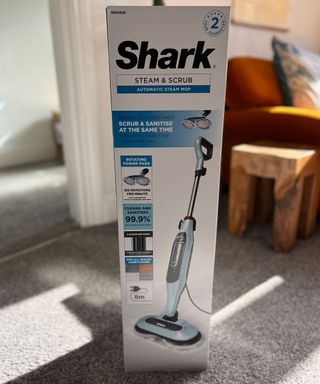 Unboxing was very easy. It was refreshing to not have a ton of plastic wrapped around the different parts, as everything was wrapped in paper and secured with minimal amounts of cardboard. Kudos Shark for nodding to the environment. I know Christina, our acting head of e-commerce, always applauds SharkNinja for this common-sense approach.
On opening the box first off, you will find an easy setup guide which if I'm being honest, is essentially, all you need to get this steam mop going. I am that person who likes to read an entire instruction manual, however — so I did just that.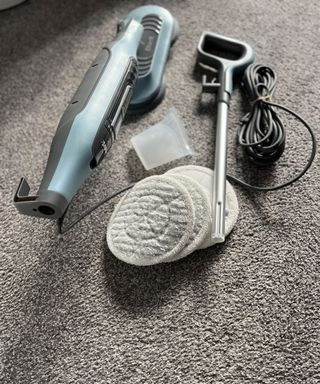 What I appreciated the most about this steam mop is that it is simple. Nothing felt too finicky and if anything — I actually quite liked the design. It's ergonomic and contemporary in a cool, icy blue hue. It got me in the mood for mopping, and I never thought I would say that.
In the box, you get the main body, floor head, mop handle, a filling flask, and two sets of Dirt Grip cleaning pads (extra soft scrub pads are available at the Shark storefront on Amazon). This model is corded, but wires can be swiftly wrapped around the body of the steam mop and held in place for easy storage.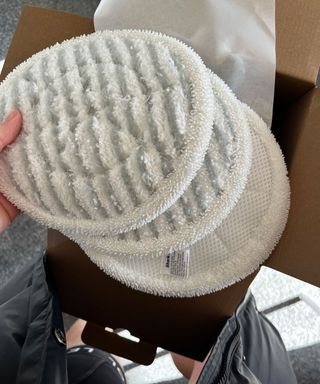 Setting up the Shark Scrub and Mop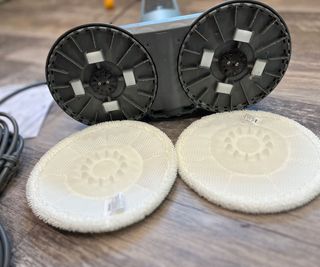 Setting up was blissfully simple. Start by lining up the cleaning pads with the bottom of the rotating disks on the body of the steam mop. The best way to approach this is by having them fabric side down and plastic slots looking up. When aligned, use a little pressure to secure the pads, they should click in quite easily. They did for me. Check they are secured so that they do their job properly when you switch it on.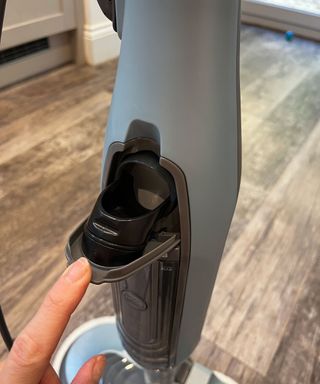 Next, fill the water to the max bar by simply pulling the lid down, using the filing flask. Shark recommends distilled water, especially if you live in a hard water area (like myself) to keep your appliance in good working order. Pure Life is under $2.50 at Amazon for a gallon.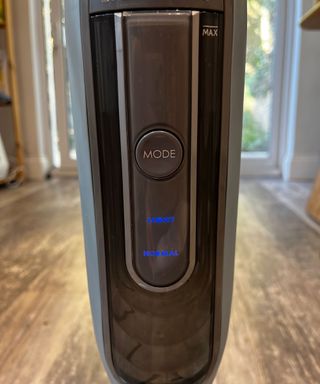 Then, it is simply a case of switching it on at the plug, this puts it into 'Standby mode', and the two automatic steam settings lights will blink on. Select the one you want using the 'Mode' button.
Using the Shark Scrub and Mop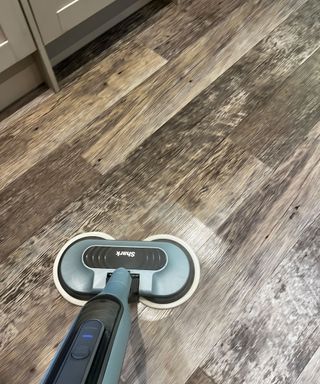 To get going, gently pop your foot on the mop head and pull the handle towards you. Then, start moving the machine gently in a back and forward motion across your floors.
Cleaning vinyl floors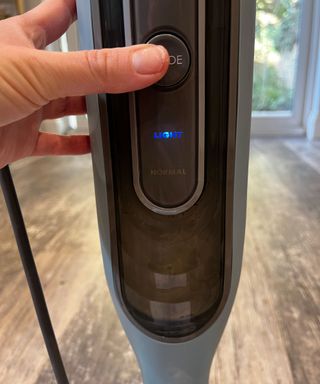 I put this mop to work to clean the vinyl flooring in my kitchen. First off I vacuumed using my Shark vacuum, and then I chose the 'light' setting as recommended for use on vinyl, and hardwood, as well as for cleaning laminate flooring, in the manual.
It was easy to push around, you want to use a back-and-forth motion, but I would still keep a firm hand on the handle as it could very much take off – it has got some power behind it. The floors were looking pretty buffed up, immediately, and well, it took less than ten minutes for me to clean the entire kitchen.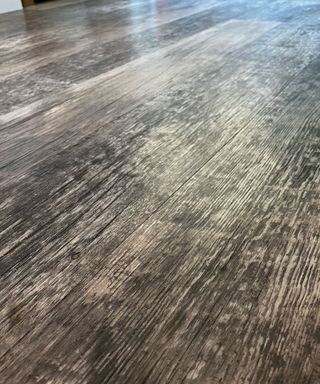 I went over particularly dull areas a couple of times, having success with stains like coffee, but less so with some dated rust stains from a pet bowl (guilty). I let them dry for a little while, and on returning, it lifted the room. The space looked great and there was a nice natural clean, fragrance in the air, which I much prefer to a chemical scent.
Cleaning tile floors
To clean tile surfaces in my half-bath and main bathroom, I selected the 'normal' setting as it is recommended for use on tile, marble, and stone. The mop passed over the tile and grout really well, and surface stains left pretty quickly without having to spend a particularly long time going over them.
And I was done in both of these rooms in under 20 minutes. I did have a little trouble getting around some small corners and crevices in these rooms, simply because of the shape of ours, but overall the curves of the Dirt Grip pads reach most areas pretty well.
Using the sanitizing feature
To take the Scrub and Steam into 'sanitizing' mode, you want to put it on the 'deep' setting. It produces steam after 30 seconds (be careful — it's hot), then once it has heated for three minutes, it will be at which point you can start sanitizing. Using the same back-and-forth movement, but applying more downward pressure, Shark advises going over floors and/or chosen areas, eight times. I did this in the smaller bathroom, which gave good-looking results. They weren't that visually different from a simple steam clean twice over, but they did look nice, and I knew it was clean for guests needing to visit the restroom.
Cleaning and maintaining the Shark Scrub and Mop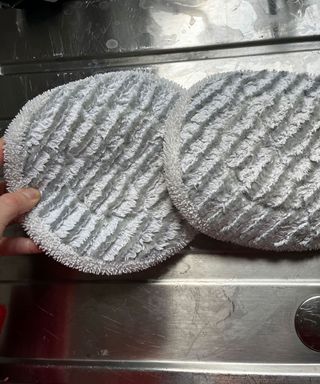 When you're done with the steam mop, you want to unplug it and wait for the pads to cool before unclipping them and storing the machine in an upright position – an easy job. To clean this cleaning appliance, Shark recommends emptying the water tank which feels a little awkward as you would need to flip it on its side over the tub or sink. Thankfully I don't tend to really have enough water in there to merit emptying it out after I'm done with it.
The cleaning disks can go in your washing machine. Shark doesn't recommend using fabric conditioner, which seems appropriate. I washed mine with some microfiber cloths in an eco setting at 100 degrees Fahrenheit. They turned out clean, not as bright white as when they came out of the box, but your floors may be kinder than mine.
Is the Shark Steam and Scrub mop right for you?
Any household, especially a busy one with kids, pets, friends, and family coming in and out, will enjoy using the Shark Scrub and Steam mop on hard-sealed floors. It's a total no-brainer to use and requires little to no effort, not to mention zero cleaning products, to refresh and sanitize floors very quickly. For the cost, it's a nice investment to up your household cleaning game.
Not for you? I've picked out three other options we've tested...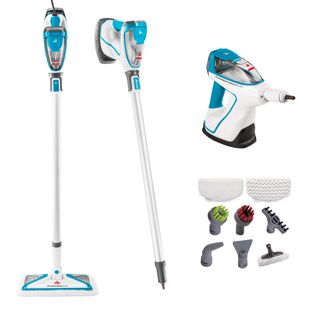 For small spaces
Bissell PowerFresh Slim 3-in-1 Steam Mop (2075A)
Cable length: 25 ft.
Water tank: 12 oz
Heat-up time: 30 seconds
Weight: 6.4 lbs
If you're a small space dweller, then this Bissell steam mop is perfect for you — it's so easy to store in a closet and it comes with a huge range of tools. Despite its size, you can use it to clean everything from your floors to your stovetop and your bathtub. We would suggest avoiding it if you live in a somewhat larger home, though, as it has a smaller water tank than you might need.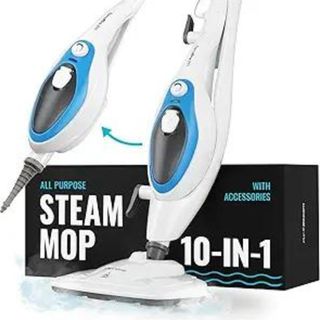 An Amazon favorite
PurSteam Therma Pro 211 10-in-1 Steam Mop
Cord length: 15.6 ft
Water tank: 11.5 oz
Heat-up time: 30 seconds
Weight: 2.2 lbs
Amazon reviewers don't lie when they say that this steam mop is amazing. Plus, it's lightweight and easy to use! For less than $70, it can clean every inch of your home including your carpets and your clothing, and it comes with four different attachments. It can also transform to be a handheld steam cleaner with total ease. The best part? It heats in 30 seconds, just like our other picks.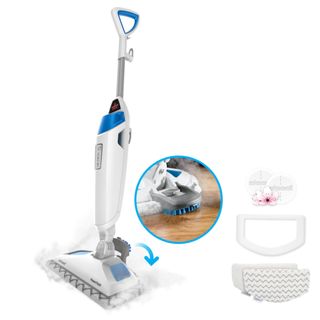 Under $100
Bissell PowerFresh Steam Mop (1940)
Cable length: 23ft
Water tank: 16oz
Heat-up time: 30 seconds
Weight: 6.2 lbs
A powerful steam mop doesn't have to be expensive, and Bissell's PowerFresh Deluxe Steam Mop is proof of that. Costing less than $100, it's safe on sealed hard floors and it has a special Easy Scrubber feature to scrub your floors clean and tackle crevices, floor grout, and tough stains. It doesn't convert to a handheld model, though, so you won't be able to use it to clean anything other than your floors, just an FYI.
Where to buy the Shark Steam and Scrub Mop
The Shark Steam & Scrub Mop can be bought directly from Shark, as well as all good retailers, including Amazon.
How we tested the Shark Steam and Scrub Mop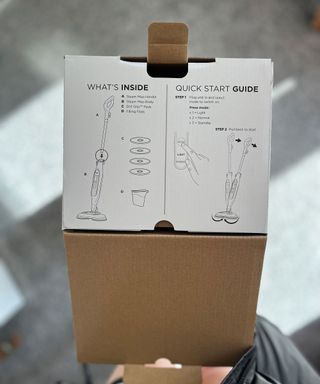 Shark sent me the steam mop and I tested it in my home for several weeks before writing this review. I used the following criteria to test and evaluate it:
Unboxing: I evaluated the steam mop's packaging, including the overall condition of the mop when it arrived at my home. I considered the use of sustainable materials in the packaging and gave extra points for the lack of polystyrene. I also considered how easy the unboxing and setup process was.
Operation: In testing the steam mop's operation, I considered the many different ways that buyers might use it and replicated those. I tested it on laminate floors, skirting, and areas where my pet frequents, looking for a consistent and quality performance.
Ease of use: Manual mopping is hard enough, so I looked to the steam mop to make the chore easier. I gave extra points for features like a lightweight design, easy maneuverability, the ability to fit underneath furniture, and buttons and attachments that are simple and easy to operate.
Ease of maintenance: I also weighed factors like the amount of maintenance the vacuum needs and how easy that maintenance is.
---
I like to mark the end of my cleaning regime by lighting one of the best candles. So take a look at these premium-smelling waxes to bring dust-busting and sweeping sessions to a close.