Recently started working from home every day? A lot of us are in the same boat right now, and it's going to take some getting used to if you usually head into the office. Don't sweat: with these best buys, you can up your performance levels and keep yourself motivated. And, of course, you don't need an actual home office to make them work (corner of the living room for us, at the moment).
Whether you need a new chair to ease backache while working, you can't bear another minute of being hunched over a laptop so are after a laptop stand, or, you're looking for a compact coffee machine to avoid countless trips to the kitchen to refuel – this is our ultimate working from home guide. Below are 10 best buys to up motivation and jazz up your makeshift workspace, or, update your current home office with some brand new buys.
Check out our home office ideas page for more ideas, hacks and product recommendations.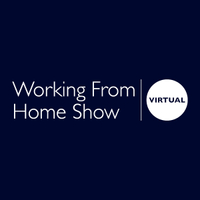 Don't miss the UK's first virtual Working From Home Show, which will take place on July 30 & 31. Whether you're a business owner or employee, you'll be able to join interactive seminars, watch product demonstrations and visit exhibitors with products that will make working from home that little bit easier.
Register your interest now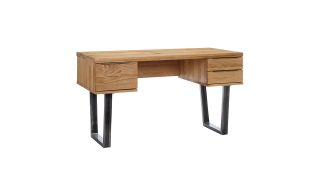 Sturdily built and beautiful, this solid oak desk from John Lewis takes our top spot for best desk. Its rustic distressed wire-brushed wood and welded iron legs are totally on-trend, but the high-quality construction and heft mean it's built to last. You get three deep drawers that are perfect for storing papers and stationery, as well as a cupboard that will fit your laptop so you can pop it away at the of the day.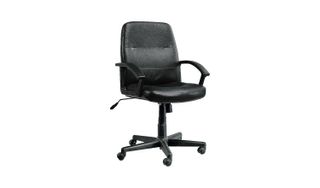 If you want the best office chair for support and don't have loads of room for a really bulky model, this Argos Brixham desk chair could be the answer. For starters, this Argos desk chair is just £50. Not only do we think it looks like it costs more than that – the design is sleek and simple and the faux leather doesn't look cheap and shiny at all – but it's really supportive and provides a comfortable perch for hours, too. And then there's the bonus that if you have a small home office but are after a desk chair that provides plenty of support, with this model you get both: it's small and supportive. The seat height is easy to change, swivels like a dream, but something you don't often get with cheaper desk chairs is an adjustable backrest. The backrest on the Brixham can either be set to tilt with you as you move throughout the day, or you can lock into a place that suits your seating position best. We approve.
Click to shop more desk chairs at Argos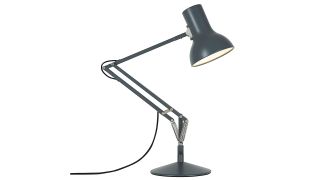 The original and best, the Anglepoise Type 75 table lamp takes over 80 years of innovation and packs it into the perfect light for offices. With its endlessly adjustable stalk and focused light, it manages to look both classic and modern, as well as allowing you to focus in on the finer details of the task at hand. Helpful and handsome, this iconic design earns our top spot for superior design and perfect performance. We rate it the best desk lamp you can buy.
Note: it takes an E27 60W bulb.
Shop more desk lamps at Amazon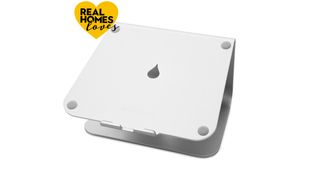 The clever patented design of this laptop stand is ultimately what gives it our top spot, but we also have to mention how good it looks, too. Made to match Apple products, the Rain Design mStand is a handsome companion for the MacBook Pro or MacBook Air. The top surface features rubber pads to keep the brushed metal outer of the laptop from getting scratched, and the 360-degree swivel base makes adjusting your position or working (or shopping, or booking a holiday) with a partner easier. The aperture at the back also allows any cables to be neatly organised, so there's no compromise on aesthetics if you keep your laptop set up at all times.
Shop more Rain Design products at Amazon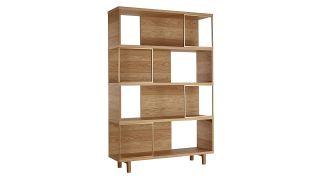 This contemporary home office shelving unit from John Lewis & Partners is both stylish and functional. The designers have chosen to use both oak and oak veneer to give it a sturdy, hardwearing structure which is perfect for storing files, books and other necessary office items. The boxes at the end of each shelf can be used to frame a lamp or ornaments, so you can extend your unique taste to your home office. It's easily our pick of the best home office shelving unit.
Shop more storage solutions at John Lewis & Partners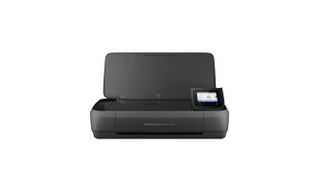 A compact printer isn't what you need for super quality photo print outs, but for everyday usage and some general colour printing thrown in, the HP OfficeJet 250 is one of the best small printers available. This small printer can (obviously) print, as well as scan and copy. You should have no problem carrying out your business admin. And, when out visiting clients, you can print on premises, too – the HP OfficeJet 250 is just about small enough to pop into a rucksack. It's easy to set up, only takes 90 minutes to charge up, and it's wireless, so you can easily print from phones and other mobile devices.
Shop the full range of small printers available from Amazon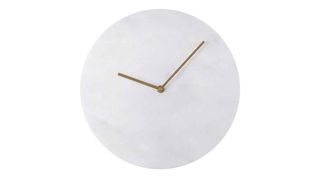 Every home office needs a clock, and what better than this sophisticated Lamonte one? Made from real marble with brass coloured metal hands, it'll look gorgeous hung on your wall, and will ensure both you, and your clientele, aren't ever late again. It also comes in black and grey if you're going for a darker colour scheme.
Shop more home office accessories at La Redoute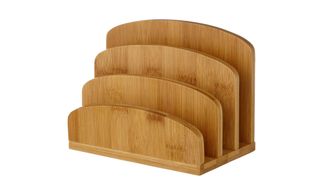 Those who love a bit of bamboo will love this letter rack. It is stylish and a great way to organise your post and other bits and bobs. It would look equally as good in a hallway as in a home office and would fit nicely on a desk so that you can make sure everything has a place.
Head over to John Lewis & Partners for more desk storage and accessories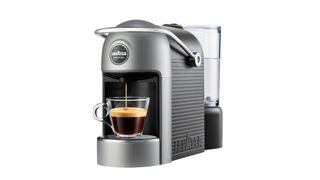 This little coffee machine from Lavazza gets our vote for the quietest model on the market, plus it produces a decent cup of coffee too, making it great for home offices.
It is quick and the coffee tastes amazing. It only takes Lavazza pods, but fortunately their coffee is of supreme quality and even capsule-machine skeptics will enjoy a cup from this machine. This stylish coffee machine produces both single and double espressos with a smooth, rich crema. Use compatible milk pods alongside its range of preset coffee settings to create your own drink, whether it's a cappuccino or a latte. While some pod coffee machines are notoriously noisy – not what you want in a home office – the Lavazza Jolie Plus definitely isn't. Apart from being super quiet, it is also unobtrusive in size. It does only have a 0.6ltr capacity tank, so it's perfect for individual usage and a smaller tank means it takes up less space on your desk – win, win. The only drawback is the restrictions around the pods you can use. The machine requires Lavazza capsules and while some companies create compatible pods, the branded ones are recommended. We were happy to hear that Lavazza has recently launched some compostable capsules. Check out their Eco Cap capsules.
Click to shop more pod coffee machines at Lakeland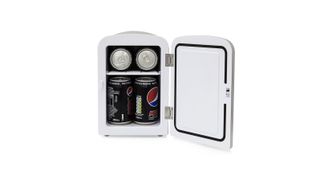 Buy a mini fridge to pop under your desk to prevent trips to the kitchen for drinks and snacks that ultimately end with you doing all the washing up in the sink, wiping down the sides, putting a wash on and clearing out your kitchen cupboards. This thermoelectric mini fridge has both cooling and heating capabilities, which might sound a bit mad, but you'd be surprised how it can come in handy! Users found its four litre capacity to be the ideal size for a few cans of fizzy drink or a bottle of milk for those all-important cups of tea or coffee. That it looks very smart, with its stainless steel finish and pull-clasp closure, and that it can be taken on the road using the top cart handle and 12-volt input, is a bonus.
Find more mini fridges for sale at Amazon
More home office ideas:
Why you can trust Real Homes Our expert reviewers spend hours testing and comparing products and services so you can choose the best for you. Find out more about how we test.