A woman has shared her incredible collection of vintage Pyrex and KitchenAids on TikTok, and the clip racked up 1.5 million views. It was the first video to be posted on her account, and it's fair to say it blew up.
It certainly seems that retro kitchenware is having a comeback as we embrace nostalgic, colorful pieces in our own homes.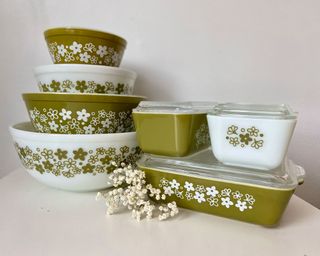 In the clip below, the vintage Pyrex lover shares her stunning collection, which is organized by color. Think Netflix's The Home Edit bookshelves, in glass-fronted kitchen cabinet form.
And this isn't all of it, there are more cabinets holding black Pyrex items in another room, and boxes of extra pieces stored elsewhere.
She says that she collected the Pyrex bowls and dishes over six years, picking them up for $1 - $10 each at garage sales. Her collection also includes some rare pieces from the UK that are a little harder to track down.
The astounding collection is in fact stored in IKEA Billy bookcases with the OXBERG glass fronts, which she tweaked with some Amazon handles.
'I'm obsessed and I don't even know what Pyrex is,' one commented
'I love your collection! I also collect Pyrex! It's nobody's business how many you have! We can't ever have too much Pyrex! You go girl!' said another.
'I literally said OMG when I stumbled on this account. I miss Pyrex being CHEAP,' wrote a third.'
Judging from the reaction alone, we think a resurgence of vintage kitchenware is inevitable. The #pyrexlove hashtag now has over 134,000 posts on Instagram, and we're searching for it much more than we were last year.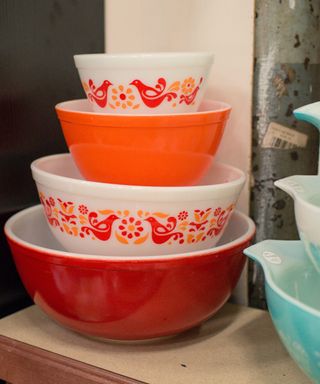 Etsy notes a 30% increase in searches on its website for kitchen vintage items within the home and living category in the last three months (compared to the same time the previous year).
But why are so taken with these colorful columns of old-fashioned kitchenware you'd find at your grandparent's house? First, there's the satisfying, neatly ordered display of dishes that one TikTok user likened to those of a museum. There's something pleasing, even reassuring about the carefully curated display.
Then there are the dishes themselves and their nostalgic associations. They're vintage collector's item pieces that hark back to an era long before 'Covid-19' found its place in the dictionary. It's also simply a joyful example of someone embracing their 'thing'.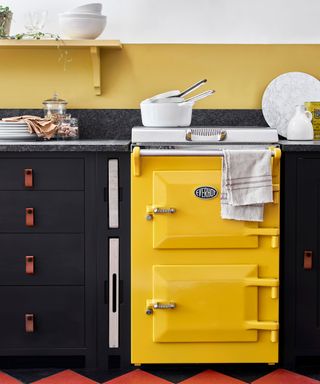 For more traditional kitchen ideas, head to our roundup of retro kitchens. Plus, if your cabinets aren't looking quite as orderly, our kitchen storage ideas piece is brimming with solutions no matter the size of your space.
Excuse us while we head off to browse Etsy for some rainbow Pyrex of our own.