Vanessa Hudgens' Halloween looks always amaze me — but this year, it's her scary decor that has piqued my interest. She's styled her small entryway with spooky pieces that are easy to replicate in any home.
The actor is known for her breakout role in High School Musical as Gabriella Montez. More recently, she has starred in The Princess Switch and Tick, Tick, Boom. She is also popular on Instagram, with over 51 million followers.
If you're looking for simple but stylish Halloween decorating ideas for your home this season, Hudgens' entryway provides plenty of fun inspiration. I've spoken to interior design experts to find out why it's such a great example of budget-friendly Halloween decor.
Why Vanessa Hudgens' Halloween decor is perfect for smaller entryways
Scoping out small entryway ideas for Halloween? It is the first place that party guests will see (and the only place that trick-or-treaters will see — so it's a good idea to put some thought into it. "I love how this Halloween decor is subtle, but still decidedly festive," says interior design expert Kathy Kuo.
Kathy Kuo is an interior design expert and founder of Kathy Kuo Home, which is a premiere e-destination with a beautifully curated collection of luxury furniture and decor. Kathy Kuo Home also offers an interior design services menu.
It also has serious impact, despite being in a small area. "Vanessa Hudgens' Halloween-themed small entryway is an ideal example of how to build a spooky and festive ambiance in a small place," says Andra DelMonico, lead interior designer at Trendey. "Using black and white colors, scary skeletons, and pumpkins generates a cohesive and frightening look that is on the spot for Halloween."
Andra DelMonico is the Lead Interior Designer for Trendey, which proves home design inspiration and ideas for decorating every room in the house.
Hudgens has created a simple look by combining three elements that are classically Halloween-themed. "I love adding one large decor item — in this case a life-sized skeleton — and then smaller items to go with it, like the pumpkins," says Melony Huber, interior design expert and founder of La Peony. "It visually is nice to look at, as they complement each other and complete the spooky theme."
Melony Huber is a fashion and interior design expert, co-founder, and design director of La Peony, which is an ethical women's luxury brand.
Huber adds that Hudgens has followed a great rule of thumb by adding different sizing of items to add dimension and layer decor. "The fact that all of the pumpkins are hand carved with different designs, and the fact that they vary in size, is a nice touch that keeps this entryway decor from looking repetitive," agrees Kuo.
Carved pumpkins are a really easy way to create spooky decor — and they won't take up storage space afterward either, as they will need to be thrown away after a few days. The skeleton is also an easy and fun decoration. Sit it down on your entryway bench like Hudgens, or even pose it on a small accent chair, if your entryway is big enough.
For those looking for small entryway decor that'll last even beyond the spooky season, a black gothic floor lamp like Hudgens' is a chic choice that's timeless. Not only will it brighten up your hallway, but it will also add an atmospheric glow.
Get the look with these three buys
Want to bring Hudgens' Halloween look into your space? Here are three budget buys that will help you do just that.
The prices below were correct at the time of publishing this article.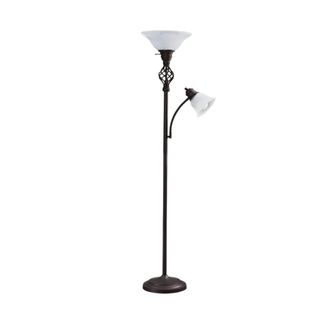 Statement piece
1. GyroVu Torchiere Floor Lamp
Price: $59.99
This is the closest alternative I could find to Vanessa's floor lamp. I love the goth-style lighting, which pairs perfectly with the dark base. It's also just the right size for placing in the corner of a small entryway.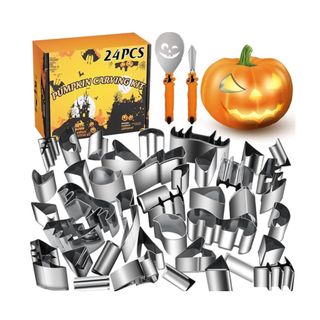 So easy
2. WANNTS Pumpkin Carving Kit
Price: $26.98
Want to make your pumpkin look super Instagrammable, but don't have a steady hand? This kit comes with a variety of eyes, nose, and mouth stainless steel cutters, so you can still get creative while cutting its shapes out neatly.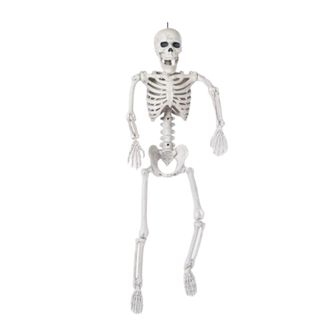 Fun
3. Hyde and Eek Boutique Posable Halloween Skeleton
Price: $10.50
Make your guests jump with this spooky skeleton, which provides the perfect prop for picture opportunities. It can be fully posed, so you can have it in a scary pose, or even just have it lounging back and chilling.
---
Looking for even more low-effort Halloween home ideas that will wow guests and visitors? These Halloween window decorating designs are so cute and will show everyone on your street that you're serious about the spooky season.