Once you catch a glimpse of the new Drew Barrymore cookware set and kitchen appliance color, we're certain you'll be green with envy — in the best way possible.
As the holidays get underway, we spend plenty of time crafting our table into 'Gram-worthy perfection, but we cannot forget about the tools that turn those grocery store finds into a full-fledged meal. They need to be functional, and if it just so happens they're gorgeous to boot, even better. Luckily, Drew's collection doesn't skimp on looks or performance.
We'll go so far as to say this gorgeous new hue is a must-have for a small kitchen. Even better? Interior designers reveal how to style the gorgeous shade in your own abode.
Meet the new Drew Barrymore cookware set and kitchen appliance color
Thyme green is the latest offering in the beloved Beautiful Walmart collection, and it's giving us all the warm and cozy vibes. It is available in the 20-piece ceramic non-stick cookware set, three-quart air fryer, and mixer, among other items. Just several weeks after the Beautiful By Drew Barrymore living room collection launched, the lifestyle guru decided to gift us with this colorful culinary masterpiece, and it just so happens we're looking for the checkout cart as we speak.
If you're anything like us, you're probably eyeing one of everything. Our review of the Drew Barrymore Beautiful Air Fryer offers a complete rundown of the fan-favorite product, while our guide to Beautiful Kitchenware by Drew Barrymore provides a price-by-price breakdown and description of what each product entails, if you need a little help making a decision. Keep in mind, this color won't be available forever, so if you're seriously considering the limited-time drop, now's the time to act.
Shop Beautiful's Thyme Green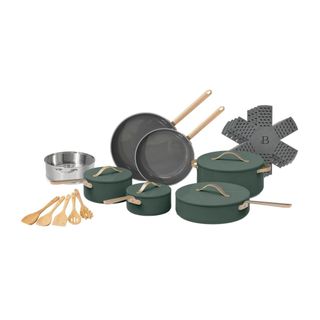 All in one
Beautiful 20pc Ceramic Non-Stick Cookware Set
Price: $149
The set includes an eight-inch and 10-inch frying pan, a three-quart sauté pan, a two and three-quart saucepan, a five-quart Dutch oven, five utensils, and four cookware protectors.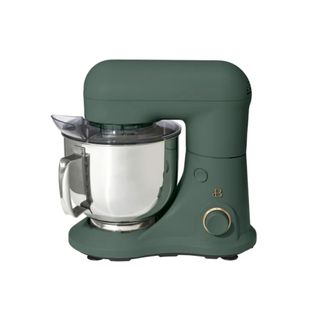 Up to 9 dozen cookies
Beautiful 5.3QT Tilt-Head Stand Mixer
Price: $99
Dimensions: 5.3 QT
Includes a 300-watt mixing system, 12 optimal speed settings, and tilt-head design. All accessories are removable, dishwasher safe, and BPA-free.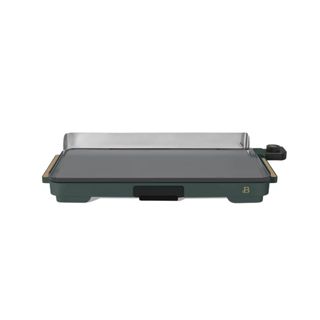 15 pancakes at once
Beautiful XL Electric Non-stick Griddle
Price: $49.99
Dimensions (in.): W12 x L 22
An extra-large, non-stick griddle with soft matte premium finish, a detachable stainless steel backsplash, and a 1500-watt heating system.
How To Style Thyme Green
If you're feeling inspired by thyme but aren't exactly sure where to start, allow the experts to help you get your feet wet.
"Using shades of dark green in the kitchen has been one of the most popular interior trends this year," says Michael Rolland, managing director at The Paint Shed. "The color can create a moody and dramatic atmosphere, but when working with dark green as a kitchen color, it's important to first assess your space."
Ready to get started? Of course you are. Thyme is ticking, after all!
"Play with contrast," says Chantelle Hartman Malarkey. "This green tone can totally hold down the fort of being the solid neutral, and you can incorporate a design elsewhere! You can also go for a more organic approach and add some earthy hues and tones to your kitchen along with these appliances."
Michael Rolland is the managing director at The Paint Shed, which is considered the UK's most recommended independent paint retailer.
Chantelle Hartman Malarkey, a.k.a. the Lifestyle Alchemist, is an interior designer, photographer, home chef, hosting expert, and blogger who shares ideas about family travel hacks, beauty must-haves, delicious recipes, among other topics, with her followers.
Interior designer Danielle Perdue, the founder of DK Home, also gravitates toward the shade for its "pop of color and energy," but emphasizes the importance of small details when working with this emerald-like tone.
"Add similar colored accents such as rich green plants to complement them," she says. "Dark green also works well with woods and this will add texture. A footed bowl or cutting board are great items to style with."
Danielle Perdue is an interior designer and the founder of bespoke design firm DK Home, which specializes in casual sophistication and creates family-friendly environments.
Teri Simone, the head of design and marketing at Nieu Cabinet Doors, takes the vision a step further by focusing on the colors of the kitchen cabinetry.
"Paired with light countertops and brassy hardware to tie in with the appliance handles, the pops of countertop color will become a focal point," Simone notes. "Alternatively, if you want to step into a moody vibe, pair the dark green appliances with black or dark green cabinetry for a look that's monochromatic and oh-so-dramatic."
Teri Simone is the head of design and marketing at Nieu Cabinet Doors. She works closely with American and Canadian customers to help them achieve their dream spaces and is an expert in creating functional yet beautiful kitchen design solutions. She's also collaborated with design expert Bobby Berk and home design/DIY influencers such as Angela Rose Home.
What's extra-special about thyme is the comfort we can take in the color, and how it offers an inviting atmosphere, according to interior designer Bree Steele of RJ Living.
"These colors also pair great with wooden elements, either in cabinetry or open shelving," she says. "It's an elegant way to add some warmth to the space. Go practical with a fresh herb garden on the windowsill or just pick some decorative trailing plants."
Bree Steele is an interior designer and trade accounts manager for the Aussie interiors brand, RJ Living. She has over nine years of experience in the design industry and has styled 100+ residential homes and investment properties.
---
Consider yourself a foodie? Expert tips for designing a small kitchen will elevate the look of your favorite room in the house.