Marie Kondo's latest venture feels like years in the making. Following the success of her books that started it all and Netflix show, "Tidying Up," it was only a matter of time that she would release a line of home organization products to compliment her KonMari Method. We don't have to wait much longer as Kondo just announced a new partnership with The Container Store for an organization collection that will arrive in stores and online in January.
The Container Store x KonMari line will include over 100 sustainably sourced products using premium materials including bamboo, ceramic, recycled fiberboard, and wood certified by the Forest Stewardship Council. With an elevated aesthetic that stays true to the Marie Kondo brand of keeping things tidy while sparking joy, we're sure this collection will appeal to her fan-base, and beyond.
"I wanted a sustainable line that would spark joy and deliver the versatility and expertise The Container Store is famous for," Marie Kondo said in a release. "I am so proud of what we have created together and thrilled that we were able to infuse aspects of my Japanese heritage into the collaboration."
Until we're able to get a sneak peek of the collection, if you're looking to "tidy up" right now, we rounded up a few items from The Container Store we think Marie Kondo would approve of. Plus, some of them are on promo as part of The Container Store's Closet Must-Haves Sale.
Looking for more news on cleaning and organization? Click over to our Cleaning Hub for tips, deals, and more.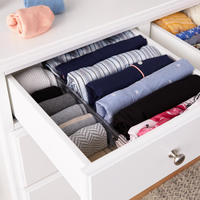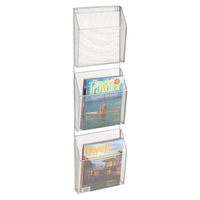 Silver Mesh 3-Pocket Wall Organizer | $39.99
Desk organization doesn't have to be so difficult. Marie Kondo suggests using these classic file organizers as a way to keep schoolwork in line for each child when it comes to at-home learning.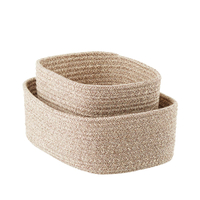 Light Brown Laguna Cotton Fabric Storage Bins | Was starting at $9.99, now starting at $7.49
A big part of the KonMari Method is categorizing items and keeping like items together. Use these smaller baskets for keeping socks, underwear, and other accessories in one contained place. Marie Kondo also emphasizes using baskets that spark joy for garments, because these are the items that interact with your body.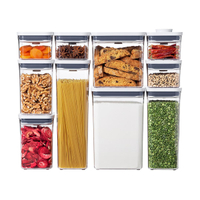 OXO Good Grips POP 10-Piece Canisters | $99.99
Decant branded products into these iconic OXO Good Grips POP containers that are pleasing to the eye, easy to open, and keep pantry items fresh. Another focus from Marie Kondo is to divide items into frequently used and infrequently used to keep your most used products within easy reach.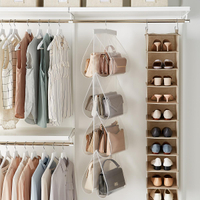 PEVA 8-Pocket Purse File | Was $9.99, now $7.99
Another one of Marie Kondo's tips is to store smaller purses within larger ones —just don't forget they're in there. Once that is sorted out, use this hanging purse file to keep your bags contained, while the PEVA construction makes it easy to see the bags you own.
Read more...