Tidying and organizing have become well-loved topics of discussion over the years. Between Marie Kondo's The Life-Changing Magic of Tidying Up and Instagram-turned-Netflix darling The Home Edit, finally tackling those problem rooms or clutter collections have never been more en vogue—or accessible.
Whether you're familiar with the organizational finesse that Clea and Joanna of The Home Edit have become known for or you're just looking for a quick and easy way to tackle a cluttered room or corner, here are some of our favorite storage organizers on Amazon—from closet organizers to aesthetically pleasing food storage containers.
These highly rated storage solutions were made to adapt to your existing habits and flow and will make getting and staying organized easier than you could imagine (even if you're not exactly the most tidy person).
Storage solutions have you stressed out? Be sure to check out our best bedroom storage ideas if you're ready to get your problem areas under control once and for all.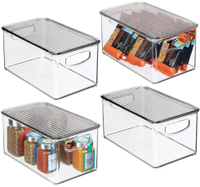 mDesign Plastic Stackable Storage Box with Handles | Was $54.99, now $39.99
Clear plastic or acrylic storage containers are a great option for anyone who likes to see exactly what they're working with at all times. There's no way clutter can get lost or forgotten about in these—and they happen to look great when stacked neatly in the kitchen pantry. Currently on sale for under $40, these are a quick and easy way to give your pantry or fridge an overhaul.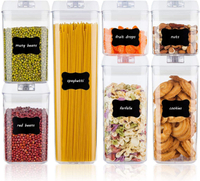 Vtopmart Airtight Food Storage Containers | Was $35.99, now $30.59
Looking for something to clean up the visual clutter that comes with packaging and commercial dried goods storage? Skip the cereal and snack boxes and opt for a set of airtight containers instead. Not only do these look significantly better in your pantry, they actually allow you to buy in bulk and avoid wasteful food packaging all together—if you so wish.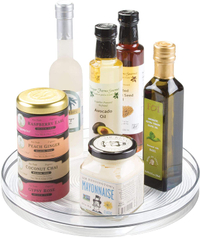 iDesign Linus Turntable Kitchen Organizer | Was $20.49, now $16.99
Clean, minimal counters make a huge difference—especially if you're working with minimal counter space. But that doesn't mean you can't have all the essentials out for daily use. This turntable kitchen organizer is both aesthetically pleasing and highly practical—and is currently on sale for less than $20.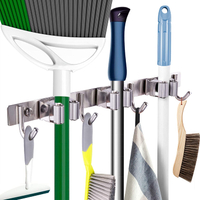 Piyl Mop Broom Holder Heavy Duty Hooks | Currently $18.80
If you're not maximizing your wall space already, prepare to be amazed by this heavy duty broom holder. The wall-mounted storage organizer takes all of your mops, brooms, and stick vacuums and gets them off the floor and onto the wall, freeing up valuable pantry space in the process.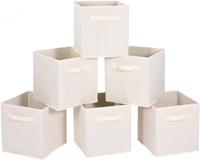 MaidMAX Cloth Storage Bin with Dual Handles for Home Closet | Currently $26.99
This cloth storage bin set fits perfectly into cube-sized shelves, making it a great option for anyone looking to store less visually appealing items—like power cables and other tech items—while still having easy access to everything inside thanks to the dual handle system.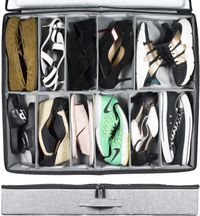 storageLab Low Profile Under Bed Shoe Storage Organizer | Currently $34.99
Looking for a simple solution for your seasonal shoes and boots? This conveniently-sized organizer fits perfectly under most beds while the clear top allows you to easily scan for your shoes without having to pull the whole thing out and dig around.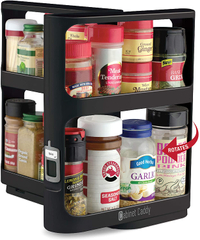 Cabinet Caddy Pull-and-Rotate Spice Rack Organizer | Currently $38.99
This pull-and-rotate spice rack organizer by Cabinet Caddy makes it easy to organize your seasoning situation without having to downsize any of your spices. The low profile design is both elegant and practical, holding up to 20 spice jars.
Read more: