Amazon's Prime Day sale is almost over, but there are still plenty of opportunities to grab a bargain elsewhere. Walmart is running a great summer sale at the moment, and we're really liking what's on offer in the garden section. If you were to get just one thing in the Walmart sale, though, we highly recommend this gorgeous rattan patio set. Versatile, durable, and stylish, it ticks all of the boxes for what a garden furniture set should be. And it's got $160 off right now. We're sold.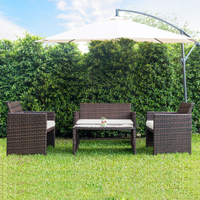 Gymax 4 PC Rattan Patio Furniture Set | Was $360, now $200
The modern, angular design of this rattan set makes it perfect for the contemporary garden or deck. We like the comfy sponge-filled cushions, and there's an extra provided for the ultimately luxurious outdoor living experience. The coffee table is perfectly proportioned and very useful. Our favourite garden set of the season.
Find more great deals at our deals hub page.