One of the best parts of autumn, besides gorgeous changing leaves, crisp weather, and maybe those pumpkin spice lattes, are well, hearty fall dishes (like this chicken casserole recipe we recently featured).
And to accomplish said recipes, you're gonna need cookware that effortlessly goes from stovetop to oven to table, like this gorgeous Staub pan with a glass dome top, which is currently more than half off at Sur La Table.
It's a cast-iron pan built for versatility, from braising short ribs, sautéing vegetables, and baking casserole to composing beautiful fruit cobblers and much more. And it's already seasoned, so you can start cooking right when it arrives. It's actually considered to be a heritage design from Staub archives—created in collaboration with professional chefs— with a vintage shape that keeps easy handling in mind. Oh, and it's oven safe, dishwasher safe, and freezer safe, making this is one of the most reliable pieces of cookware you can own in your kitchen.
"Now that we are locked down, I've been watching a lot of cooking shows and videos and see it everywhere! I couldn't ignore it anymore and splurged on this braiser," said one recent reviewer. "I will never look back! It has made browning meats a breeze and I have already braised beef short ribs in wine. It's made cooking fun!"
"This pan goes beyond expectations!" another enthused. " Also a great Paella pan, which I make weekly. The cast iron interior makes for a real crispy bottom, which we all fight over." (And who doesn't love a crispy bottom?)
So, what are you waiting for? Get your own Staub cast iron pan at this steal-worthy price for memorable dishes to come.
Stocking up in the kitchen? Check out our list of must-have kitchen essentials for all our favorites.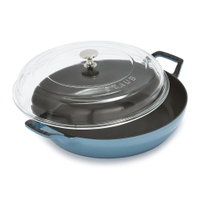 Staub Heritage All-Day Pan with Domed Glass Lid, 3.5-QT| Was $357, now $149.96
Get the performance and timelessness of a cast-iron pan with a slightly textured interior for better browning and searing with the addition of a tight-fitting domed glass lid that seals in moisture and allows you to keep an eye on your food. Choose from French blue, cherry, or black at almost 60 percent off.
Read next...