Discovering this hidden gem at Aldi has once again reminded us that Aldi is no one trick pony. This chindi Aldi rug ticks every box for us right now, feeding our current bohemian interiors obsession. The boho chic interiors trend has not subsided this summer and Aldi has noted it, providing us with this beautiful 100 percent cotton rug. With four different colourways, all as beaut as each other, this is a purchase you won't regret. And the best part? It is only £5.99. So grab one for your hallway, put one to the side of your bed – hey, you could even use it in the kitchen to add some texture to an otherwise 'hard' space.
Keep scrolling to be wowed by the crazy-low price point... you can always count on Aldi to deliver on the bargain front! You should also head over to our dedicated deals hub to find loads more brill buys that won't break the bank!
Honestly, would you just LOOK at that rug and try to resist the temptation to buy it... It's only £5.99 and nobody would ever guess. We love a chindi rug because they're relaxed but stylish, offering a shabby chic touch to any space. Choose between Kirkton House Beige/Black Chindi Rug, £5.99, Kirkton House Blue Chindi Rug, £5.99, Kirkton House Grey Chindi Rug, £5.99 and the much sought after (and therefore, sold out online) Kirkton House Multi Chindi Rug, £5.99. They're selling out super quickly online, but they hit the stores yesterday so you should be able to get your hands on one if you're fast. Oh, and don't forget it's sponge clean only!
Can't get the Chindi Aldi rug? See these similar buys: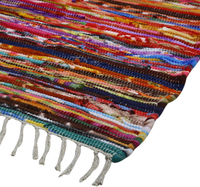 Rag Rug Chindi Multi-Colour Recycled Nylon Handmade | From £5.29 on Etsy
This is a fab choice if you're looking for a textured rug to add some depth and warmth to your room due to its thick and heavy weight. Carefully woven and tightly hemmed, this rug is high quality and durable.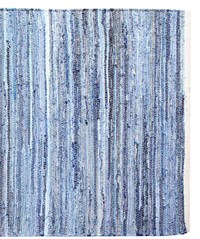 Recycled Cotton Handmade Denim Chindi Floor Rug | From £7.99 on Amazon
We're in love with this denim colour and the way it can cool down the look of a room with its calming water-esque tones. As they are made of recycled fabric, no two rugs are the same and that makes this piece even more special.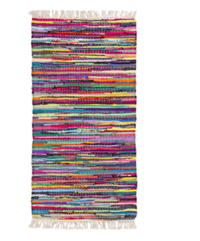 Cotton Yellow/Pink Rug | Was £31.99, now £19.99 from Wayfair
This is a pretty dreamy rug, we must say. We love the tassels and how bright each colour is. This would be the perfect way to jazz up dull or simply neutral interiors. Wayfair has done the chindi rug proud with this fab model.
Read more: