As the weather warms up and we're all spending more time at home, it's the perfect time to send the kids outside for a little backyard fun. Even better: there are a ton of awesome outdoor kids toys on the market that'll make their time outside so fun you might not be able to get them back indoors again. (Not really a con, right?)
Heck, you might even want to grab yourself an iced coffee (glass of wine?) and a patio chair and join 'em in the sunshine. (Check out our list of the best patio furniture sales for help with the latter).
We've rounded up some of the best outdoor kids toys you can buy online, broken into sections for little kids, big kids, and all ages, below.
Looking for things to do while stuck at home? Check out our list of Target game deals.
Outdoor kids toys for little kids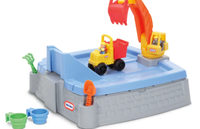 Little Tikes Big Diggers Sandbox | $49.99 at Kohl's
What's cooler than a sandbox? One with a built-in digger attachment. Have your kids set up their own construction site with the included sand cup, construction worker figurines, shovel, rake, and dump truck.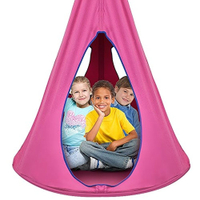 Kids Nest Swing | $77.99 at Overstock
Or, make hanging outside even cooler with this swing-fort combo. Your kids will love this hideway as a spot for imaginative play, reading a book, or taking a little alone time (hey, they probably need some, too).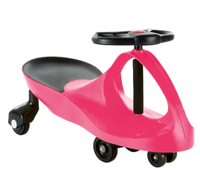 Hey! Play! Zigzag Ride-On Vehicle | $30.99 at Kohl's
The more you swerve these fun ride-on toys, the farther they go. Perfect for racing down the driveway or cul-de-sac. Better yet, take them to an empty parking lot to keep your social distance and really let 'em rip.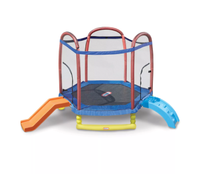 Little Tikes Climb & Slide Trampoline | $317.99 at Target
There are few things that make kids of all ages happier than a trampoline. We like this one because it's fairly low to the ground and surrounded by a net, since the E.R. is the last place anyone wants to end up, especially these days.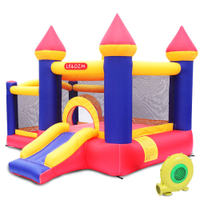 Outdoor kids toys for big kids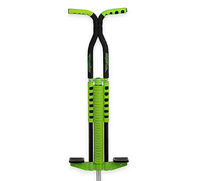 Flybar Master Pogo Stick in Green | $54.99 at Bed, Bath & Beyond
Give your kids ages nine and up the gift of a little retro entertainment while they're stuck at home with this classic pogo stick. If you're up for it, tap into your inner kid at challenge them to a jump-off (you may just earn some street cred).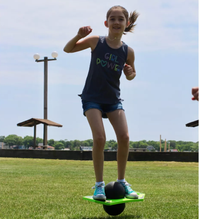 Flybar Pogo Trick Board | $27.99 at Target
Or, try out this new take on the old classic. Flybar's Pogo Trick Board combines balancing and bouncing, and comes with a grip-taped deck, ball, pump, and two pins. This is best for kids who are ages six - 13 or so, or those under 160 lbs.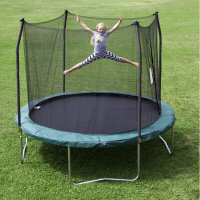 10' Round Trampoline with Safety Enclosure | $229.99 at Wayfair
Bigger kids will love burning off steam on this 10' trampoline. We still suggest an enclosed version to help prevent accidents, and this one comes with a net.
Outdoor kids toys for all ages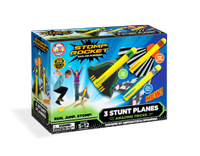 Stomp Rocket Stunt Planes, set of 3 | $30.99 at S&S Worldwide
For an inexpensive, but still highly entertaining outdoor kids toy, check out this stomp-rocket set. Kids of all ages love it, and it packs extra energy burning oomph if you have your kids race to retrieve their rockets in the yard.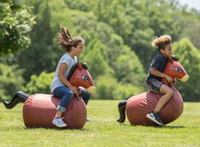 Inflatable Hope & Go Horses | $44.96 at Target
This is a set of two, which means: Hopping horse races! The first kid to make it around the perimeter of the house twice gets to choose the next movie you watch on Netflix.
Read more: