Outdoor trampolines have been known to entertain children of all ages for hours on end, which is exactly what we all need right now.
But as much as we feel like we'd pay anything at this point to have our kids happily occupied for a few hours each day, shelling out upwards of $1,000 for a backyard toy is still a pretty tough pill to swallow. So instead, we've rounded up some of the best backyard trampoline deals so you can keep the kiddos engaged without breaking the bank.
(Note that at the time of publication, all of these trampolines are available, but outdoor trampolines are almost as hard to come by online these days as hand sanitizer and Clorox wipes, so we'll update inventory as regularly as we can).
Outdoor trampolines under $500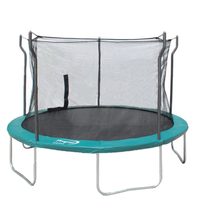 Propel Trampolines 12' outdoor trampoline with net | was $349.99, now $179.99 at KMart
This outdoor trampoline is sizable and comes with a net (key for safety, because the last thing anyone needs right now it an avoidable trip to the ER). This is the cheapest model we've found, but note that shipping is $69 unless you live near one of the few remaining KMart stores, in which case you can pick it up for free.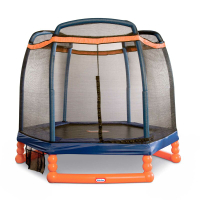 Orange/Black 7.5' Hexagon Trampoline with Safety Enclosure| $319.99 at Wayfair
If you have young kids, this 7.5' trampoline from Little Tykes is a great pick. It's low to the ground so there's less worry about falls, and the size is all you need for kids under 10 (or under 100 lbs).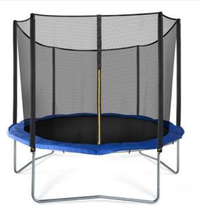 Jumpsport Skybounce 10' Trampoline with Safety Enclosure| $429 at Alleyoop
This outdoor trampoline also comes with its own enclosure. Note that there is limited supply of these trampolines available for East Coast shipping, but they are currently sold out for shipping to the West Coast.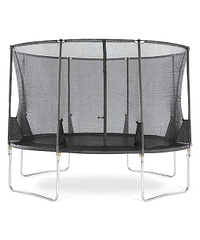 Plum® 12' Space Zone II Evolution Springsafe® Enclosed Trampoline| $499 at Zulilly
Another trampoline that's 12' in diameter, this one also comes with an enclosure and ships in 8-14 days.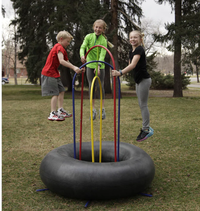 Ninja Jumbo Jumper Trampoline | $188.49 at Overstock
While it's not a classic outdoor trampoline, this version from Overstock is a good option if you're looking for something on a budget.
Read more: