In a bid to make our homes less attractive to intruders, Ring – who are most famous for their smart video doorbells – have announced the launch of their first affordable DIY home security system. And what better timing?
With winter just around the corner and crime rates set to increase as opportunists make the most of longer, darker nights, this is the time to start thinking seriously about your home security set-up.
Far from gimmicky or a privilege reserved for the rich and famous, home security systems not only aid the capture of criminals, but have been proven to deter would-be intruders from even attempting a break-in in the first place.
However, with such an array of home security systems available – we've written a whole guide detailing the best – you may be wondering what it is that's caught our eye about this new release from Ring.
Well, aside from being low-cost, easy to install and commitment free, this new offering from is also totally customisable to suit any style of home. Discover more below...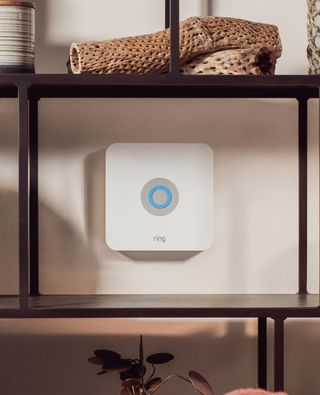 Celebrating National Smart Home Month
It's National Smart Home Month and we're doing everything we can to cut through the jargon and leave our readers feeling excited and informed when it comes to all things smart home tech.
So, what is the Ring Alarm? And how will it benefit you? Here's five reasons why we think it might be the best home security system currently available:
For the latest smart home news, advice and info, head over to our jargon-free page: The Hub
1. It's smart enabled
As with the Ring Video Doorbell and Ring Security Cameras
, you'll need to start by connecting the Ring Alarm to the super handy Ring app, which you can download from the app store on to your smart phone. This allows you to control your entire home security set-up from any location, through your smart phone, which is perfect if you're looking to keep a closer eye on your home while on holiday or visiting relatives this festive season.
2. You can install it yourself
What dramatically cuts the cost of this home security system, compared with similar models? The DIY element. As professional installation isn't required, you can simply install it yourself, wherever suits, no fitting costs incurred. Love it.
3. And take it with you when you move house
What's more, it's just as easy to take each element of the Ring Alarm down as it is to set it up in the first place. So, if you're a renter, or don't see yourself living in your current home forever, there's no need to worry about having wasted any money on a home security system that you can't take with you. Hurray!
4. You can customise your home security system to suit your needs
Ring Alarm comes complete with a base station – which connects the other elements of your home security system to the internet – as well as a keypad, a contact sensor, a motion detector and a range extender, all for less than £250/$199.
And once you have your kit in hand, it's super easy to set up each element in a space that best suits your security needs. Got a flat roof with window access? Or a set of French windows that aren't totally secure? Work Ring Alarm around your home's weak spots for the ultimate home security set-up. Nice.
5. Security cameras aren't an essential
Perfect for those who like the idea of smart home security, but don't feel comfortable with cameras, Ring Alarm covers all of the home security bases for an instantly safer home, without a camera being necessary.
That said, it's just as easy to connect Ring Alarm to an existing Ring Video Doorbell or Ring Security Cameras, if you'd like the best of both worlds.