If you're running out of food storage containers – you're not alone. No, we're not talking about those cheap and flimsy takeout tubs, but rather, those durable vessels that get used to store bulk cereal, stews and dried goods.
We're all changing our grocery shopping and food prep habits to save money and avoid food wastage. Even if you're not stockpiling food (which experts agree we shouldn't be), most of us are trying to limit our grocery store trips and perhaps buying more than we normally would get us through a long stretch of working from home and entertaining guests.
More time at home also means more time to meal prep. Or, perhaps you've stocked up on fresh produce which you have no hope of finishing before it goes bad, or you've had to opt for bigger bags of dry ingredients than your pantry was prepared to take. Either way, a few simple food storage solutions can help prevent waste (and unnecessary trips to the store).
There are offers on containers of all shapes and sizes to fit happily into your best chest freezer or cupboard, and we're here to find you help with the best food storage for your needs. Meal-prep options first: let's dive right into the good stuff.
---
1. Rubbermaid Brilliance leak-proof food storage containers with airtight lids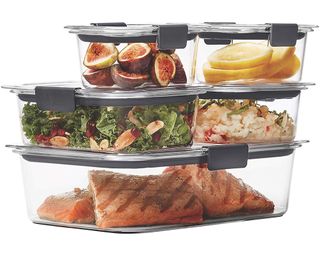 Rubbermaid Food Storage Containers | Pieces: Set of 5 Clear, leak-proof, and airtight, with built-in vents under latches allow splatter-resistant microwaving, this pack of five comes with two 1.3-cup, two 3.2-cup, and one 9.6-cup container, plus lids. These food storage containers are ideal for a variety of occasions and events including work lunches, snacks, meal prep, parties, vacations, and impromptu picnic trips.
---
2. Rubbermaid medium food storage containers, 3.2 cup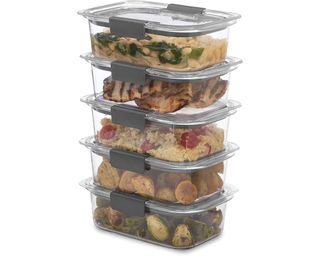 Rubbermaid medium food storage containers, 3.2 cup | Pieces: 5 pack
These containers stack perfectly to save space and stay organized in the pantry, fridge, or freezer. They're the perfect size for a complete and healthy portion - ideal for meal-prepping.
---
3. Greener Chef glass food storage containers with bamboo lids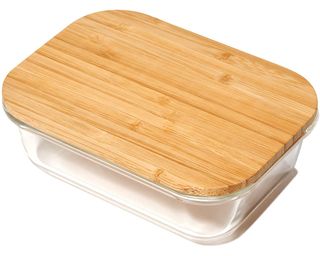 Greener Chef glass food storage containers with bamboo lids | Pieces: four-piece value set
These ones are stylish and sustainable, made of durable glass with bamboo lids. The bundle comes with four differently-sized containers, and they have a lovely space-saving design for when you're not using them.
---
4. Debbie Meyer GreenBags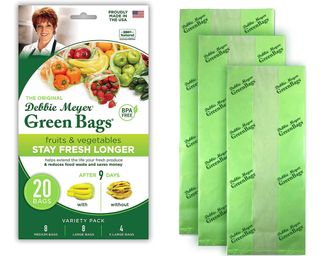 Debbie Meyer GreenBags | Pieces: 20
Amazon reviewers cannot get enough of these green, BPA-free bags. They extend the life of perishables such as fruit and veg by up to nine days, helping to cut down on food waste, and they're reusable too! So say bye-bye to bruised, mushy, and sad wilting salad and root veggies sat in the crisper. With 8 medium, 8 large, and 4 extra-large bags, you've no excuse to store everything from cute berries to colossal cauliflowers!
---
5. Rubbermaid Brilliance pantry food storage containers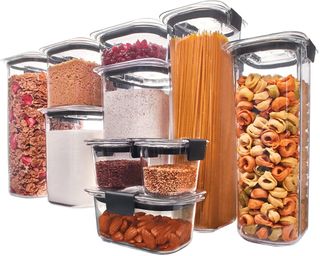 Rubbermaid Brilliance pantry organization and food storage containers | Pieces: 8 pack
This eight-piece set has a variety of sizes, with a capacity going up to 20-cup storage size. It'll accommodate spaghetti, cereal, and other pantry essentials. Great for de-cluttering that space.
---
6. Shazo food storage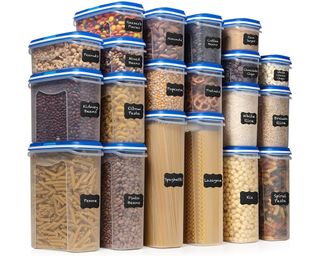 Shazo food storage | Pieces: 20 pieces
We saved the best 'till last - this 20-piece container set is immense, offering slim, airtight, and stackable storage solutions perfect for any pantry.
---
Is it OK to store food in plastic containers?
If you're wondering how to organize a pantry, there's no hard or fast rule and both plastic and glass each have their own respective benefits. While glass looks more luxury and less likely to absorb odors, it's not practical in busy family homes where kids might drop and smash the vessels.
'To help save time, money, and food waste, store your sundries in labeled, clear glass or plastic containers in a cool dry place within the kitchen cupboard or a pantry to keep the temperature consistent,' says Kathryn Hall, founder, and chief organizer, of Kath & Kin.
'This not only keeps the contents fresher for longer, but the clear labelled storage jars allow you to see when your stock is running low, avoiding overspending on the food shop and leading to less waste, which is better for the environment.'
Is it better to store flour in glass or plastic?
'Store your baking ingredients and tea, coffee, and sugar in labeled, clear glass jars to help you see quickly whether you need to re-stock,' says Hall.
'They also keep the contents fresh and aromas locked in. The clear jars also save you rummaging to find what you are looking for and avoids bags of flour tearing, keeping your pantry storage clean and organized.'
What are the benefits of airtight food storage containers
Aside from the obvious benefits of sealing food, and being able to transport it, airtight containers can prevent pests from getting access to your favorite cookies and cereals. Mold and rodents are one thing, but prevention is better than cure when wondering how to get rid of pantry moths naturally, so investing in vacuum-tight vessels will stop critters like maggots and larvae from lurking.