If you've found yourself subbing out iced lattes and light jackets for hot drinks and big coats, it's clear that winter is coming, whether you like it or not. While we can deal with umbrellas and boots, switching out summer duvets for enormous winter bed covers, with higher tog ratings, feels a bit extreme.
James Higgins, the CEO of sustainable bedding company Ethical Bedding (opens in new tab) has taken a look at temperature stats over the past two years to reveal what he thinks is the best, exact date, to switch to your best duvet for winter this year. But is there any truth in it and what tog should you go for at this time of year? We investigate.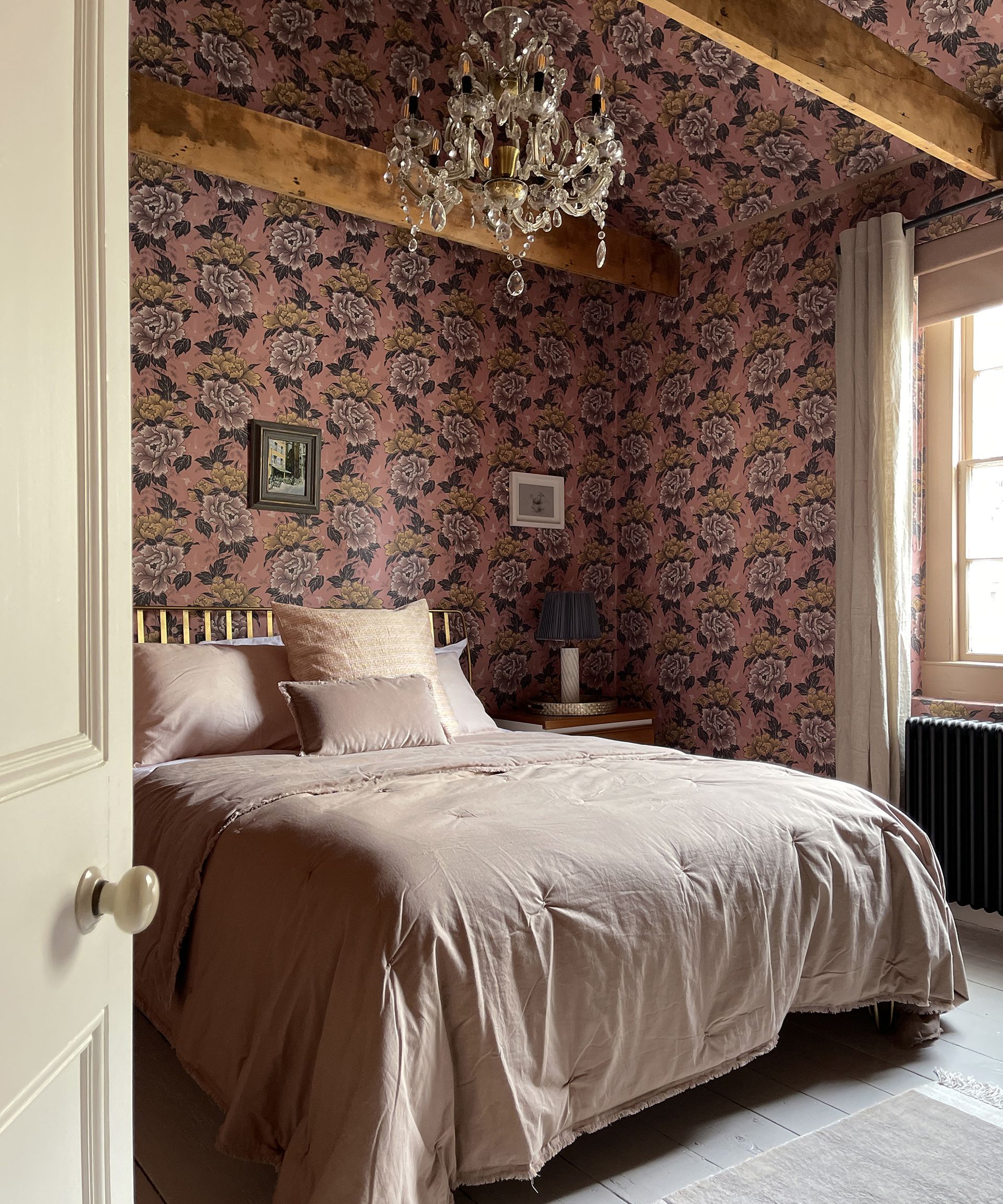 Why and when to change to a winter duvet?
Looking at UK weather reports by Statista (opens in new tab), there has been a steady rise in UK average daily temperatures since the 1960s.
Despite this, when the seasons change, there are still significant drops in temperature, and Higgins notes that the figures for 2021 show that average daily temperatures fell by 25 per cent from August (16.1 degrees Celsius) to October (12.1 degrees Celsius). Whether you sleep hot or cold, that big difference will be noticeable come bed time.
As a result, this year Higgins thinks swapping out your duvet earlier could be wise, 'We would advise that people looking to swap their duvet tog a little earlier in preparation, which would be Sunday 25th September.'
'The 25th is the ideal date to swap your duvet tog as it's a couple of days before a predicted and historically recorded average temperature drop. As a Sunday it's also a great day to get your house into order before the week ahead and you won't be caught off guard for any large climate changes towards the end of the month.'
'The best two togs to take into the winter months are usually a 7 or a 10.5. The best tog for you entirely depends on the type of sleeper you are. If you are naturally a warm sleeper or have a smaller, cozy, room that retains heat, then a 7 is enough to take you into the colder months. If you have a larger or draughty room then a 10.5 might be the best fit. The difference between the two togs is the thickness of the filing in your duvet and sometimes the material. Polyester is a more breathable material so you may need a higher tog to get the same effect to the likes of down feather which retains heat better, and requires a less intense tog level.'
Need some recommendations?
Simba Hybrid Duvet with Stratos
The best duvet
Tog: 10.5
Filling: Recycled PET bottles
Cover: 100% cotton
Sizes: Single, double, king, super king
Wash: 40°C
Tumble dry: Low
Real Homes rating: 5 out of 5 stars
(opens in new tab)
Woolroom Organic Wool Duvet
The best duvet for winter
Tog: 7–10 tog equivalent
Filling: 100% organic British wool
Material: 100% unbleached organic cotton
Sizes: Single, double, king, super king, emperor
Wash: 30°C
Dry: Do not tumble dry
Real Homes rating: 5 out of 5 stars
The best all-season duvet
Tog: 1 x 10.5 tog and 1 x 4.5 tog
Filling: Hollow fibre
Material: 100% cotton
Sizes: Double, king, super king
Wash: 40°C
Tumble dry: Low
Real Homes rating: 5 out of 5 stars
Outside vs inside temperature
But should we be more focused on the temperature of your actual home, and bedroom more specifically? After all, with the cost of living crisis in our minds, we're all thinking twice about switching the heating on, if at all, which as a result will impact how cool our bedrooms are at night, especially if upgrading home insulation is out of the question.
According to Dormeo, one of Europe's most trusted bedding brands, 'A 13.5 tog winter duvet (opens in new tab) is perfect for the colder months, depending on how low the temperature drops in your bedroom overnight.'
Dormeo encourages you to maintain a bedroom temperature of 18–21 degrees overnight also and to increase your bedding tog to 15 when your home gets colder.
As for the date of when to do this, if you're trying to reduce energy costs, as Higgins implies, perhaps the earlier the better.
What our bedding expert says
'There is no set rule when it comes to switching your duvet for the season,' says Louise Oliphant, eCommerce writer and sleep expert at Real Homes.
'Aside from basing this on when the weather changes, I'd recommend swapping out your summer bedding for more cold weather-appropriate pieces when you find yourself becoming chillier at night.'
'Rather than reaching for your itchy blankets at the back of the cupboard or putting on an extra pair of socks to sleep in, having in a winter duvet should be first on your to-do list.'
Tog talk
Oliphant explains: 'It's true, thicker duvets of higher tog ratings can make all the difference to keeping you toasty at night. Tog refers to how effectively a duvet can retain heat, so opting for a duvet of around 10.5 tog in the coldest of months will provide the extra insulation you need. So don't wait until Christmas comes, as soon as you're not getting your best sleep, invest in one of the best duvets for winter.'
There are other factors to consider also, such as the size of your room and ventilation. So if you have a small bedroom design, and prefer a warmer room, the snug dimensions could be favorable.
'If you have quite a small room or a room with only one window, it is easier for heat to become trapped overnight meaning you may not need as thick a duvet tog as those with larger, more draughty rooms. In this case, I'd advise sleeping with a tog of 7 instead of 10.5 as it will better help your body control temperatures in a smaller space.' Adds Higgins.
If you're strapped for cash, layering soft throws can be a good stopgap. While, if your budget permits, consider investing in a complete fall bedding set to cozy up your space furthermore.
Of course, if you're particularly chilly an electric blanket could be a great choice. And keep an eye on the weather and temperature either via an app on your smartphone – or get Alexa (opens in new tab) (or another smart speaker), to do the work for you!
How to shop for the right tog
When shopping duvets, it can be helpful to know what the different tog ratings mean. The scale ranges from 1 to 15, with 1 being very cool and 15 being the warmest – most duvets start at 4.5 FYI.
Here, Higgins outlines the five most popular tog ratings so you can see which one suits your sleep style.
4.5 tog – a 4.5 tog rating is designed to keep you cool at night, and is ideal for anyone who suffers from night sweats.
7 tog – a 7.0 tog rating is still on the cooler end, but offers a little more warmth if your room is air-conditioned or you keep a fan on at night. It's also ideal for when the temperature begins to start fluctuating between seasons and is often chosen for year-round bedding.
10.5 tog – slightly warmer, a 10.5 tog rating continues to offer enough insulation to keep you toasty when it's cold without becoming unbearable in the heat.
13.5 tog – 13.5 tog rated duvet is ideal for cold-weather bedding, but might become a little too much when the temperature starts to crank up. Consider buying a cooler quilt that you can swap over for summer.
15 tog – 15 is the highest tog duvet rating, and, again, might feel a bit too much in the heat. You should almost definitely consider buying a thinner duvet, so you have a cooler option.