Shopping for the best coffee maker for your lifestyle can be a struggle—you want something that will provide coffee shop quality beverages at home while also fitting into your budget (and counterspace).
That said, as it turns out, you don't have to spend on a premium priced machine to get cafe quality espresso at home. In fact, as Chef Curtis Stone pointed out, the best Italian-style sips may actually come from an understated little tool. "I've been a Bialetti Moka devotee for years," the Australian chef told Food & Wine in an interview. "Sometimes I think I might have a caffeine problem because it's meant to brew espresso, but I use the 12-cup size version and drink the entire thing in one go."
Whether you're looking for a quick dose of espresso first thing in the morning, or you like to sip and savor multiple cups of coffee at a time, the Bialetti moka pot is a great option for anyone who wants to bring a taste of Italy into their morning routine.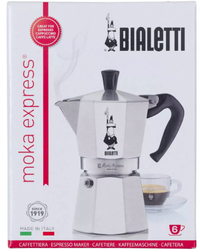 Bialetti Moka 6-Cup Espresso Maker | Currently $34.99
Invented by Italian engineer Alfonso Bialetti nearly a hundred years ago, the Italian moka pot quickly became a staple in Italian coffee culture—and for good reason. The easy to use espresso maker makes a rich and creamy Italian-style coffee in minutes and doesn't take up any counter space whatsoever. The unique design is equally practical and aesthetically pleasing, making it a great option for anyone looking to upgrade their coffee routine without investing too much cash.
While we're already team Curtis when it comes to the moka pot being a kitchen essential, here are some of the Italian coffee maker's standout features:
A single serving makes up to six cups at a given time, in less than five minutes time
The high quality polished aluminum ensures your moka pot will last the long run
Very easy to clean and disassemble after use
Includes a patented safety valve for ease of use
Designed and made in Italy
Includes a two year warranty, in case anything happens
For more kitchen must-haves, check out: