Do you tidy like Marie Kondo? If you fell for the KonMari method back when she first hit our TV screens, you'll be familiar with the rules for tidying. But just in case your focus has slipped a little since your first Marie Kondo-style decluttering and organising efforts, here's a little reminder.
First, you need to discard before you tidy. Keep only the items that spark joy. You should also tidy by category, and within your category items of similar uses and similar sizes should go together.
All of which brings us to: your undies. Marie has shared on Insta the approved method of storing bras and pants, and we can see its total adherence to the tidying rules. Undies are a category, the bras (similar size) go together, the pants (similar size) go together... As for the joy part, Marie explains, 'Undergarments may be invisible from the outside, but should be stored in a joy-sparking display because they come in direct contact with your body.'
Your mission? Sling out the washed-too-many-times, greying or fraying in your underwear collection, as we can guarantee they won't create a display like Marie's and nor will they be sparking joy. Then, once the discarding is over, keep your remaining bras and pants in the Marie Kondo-approved fashion shown just below. We've found some brilliant organiser dupes to get you started, then head to our storage hub for more tidy ideas.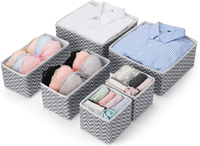 MaidMAX Set of 6 Dresser Drawer Organisers | £11.99 on Amazon
The zig-zag finish of these organisers may be less serene than the Marie Kondo-approved design, but they'll enable you to pull off a display that's equally lovely. You'll get six containers in the set: two each of every size.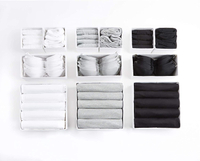 Eco Home Store Large Drawer Organisers | £21.99 on Amazon
Made from cotton, the 12 individual baskets in this collection will allow you to organise bras, pants, and T-shirts. They can be folded flat when they're not in use.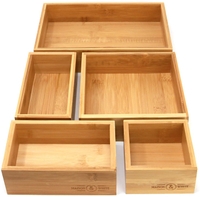 Maison & White 5-Piece Bamboo Drawer Organiser | £21.49 on Amazon
Made from bamboo, these boxes are attractive and tactile. You'll get a range of sizes in the set, and you can configure them to suit your drawer and your undies.
Ticent & Co Underwear Drawer Organiser | £12.99 on Amazon
If your folding isn't up to Marie Kondo standard yet, you might like these organisers which have separate cells for the items you stash. There are four boxes in the set, and they're made from moth-proof fabric.
More top storage ideas: