From coal holes to crawl spaces, a lot of houses and terraces from the turn of the 20th Century and earlier have some form of basement space. Utilising this void can be an incredible way to magic up space from seemingly nothing. Of course, taking on such a renovation is not for the faint of heart.
No matter the size of your basement ambition or the scale of your basement ideas, from simply waterproofing your cellar to a full-blown house wide deep excavation or extension, there are three core elements that should drive any basement conversion plan: Light, water and access.
Why are these elements so important?
Light, or the lack of it can be a real concern in a subterranean space. If you work with this limitation rather than against it, creative solutions to bring natural light in and a beautifully considered lighting scheme will really enhance the space, a million miles away from the dead light feeling that a grid of spotlights would give.
Access is not only how you get into the new basement, critically it is how you would escape to the outside in the case of an emergency.
Water, or keeping water out of your new basement is crucial. Waterproofing or tanking as it is called comes in many forms and the system is dependent on the ground conditions that you are excavating.
How you bring these considerations together should be part of the initial design process alongside the structural scheme. A carefully considered design will not only greatly enhance your new basement but can also be a cost saving exercise too.
Light and access in a basement conversion
Light and access can go hand in hand. If you think of the proposed space in terms of level change, rather than one deep box shape, by incorporating a split or mezzanine level this area can still benefit from natural light than perhaps the deeper excavated areas of the basement. By splitting the space like this, it will not only reduce the amount of excavation needed and therefore the cost, but also the usability of the new area created.
If you can incorporate a skylight, then always look to install a glazed opening that doubles as a fire escape. In that way it will maximise how you can use the space. As you must ensure you have a direct route to the outside, by doubling up a skylight as your escape access, means that main stair serving the basement does not necessarily need to be an enclosed structure. You can then look at the style of the main stair as part of the design of the basement as a way to bring down light, create a double height space and by using the stairway as a design feature it can elevate the space, the stair and its balustrades for example being integral to the overall style of the space.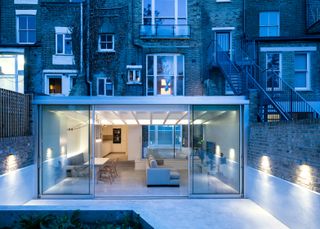 Addressing water in a basement conversion
Water, on the other hand, is a constant problem. The finished basement structure is subject to varying levels of pressure from the ground water present in the surrounding excavated area. This is known as hydrostatic pressure. The design of the tanking system for a proposed basement is dependent on the size and impact that this hydrostatic force exerts. The more water trying to get in through your basement walls and floor, the more complex the tanking system needed.
In most retrofit basement builds, surface applied waterproofing will eventually get pushed off the walls by the hydrostatic pressure and will fail. In these situations, the tanking system essentially allows the ground water to permeate through but is not allowed to contact the inner skin of the finished build. A waffle-like waterproof membrane allows the residual water to seep down into a perimeter drain and then is mechanically pumped out. Obviously, this is a costly installation but utilising this system, it can be a great opportunity to add a kitchenette or even a small basement shower room. If your budget does not stretch, just by adding blanked off pipe and drainage will allow you to easily connect for any future upgrades.
Water as humidity is also an issue in basements. Air flow tends to be extremely limited in subterranean spaces, but designing in skylight vents, double height spaces and clerestory windows if possible are great ways to encourage natural, stack ventilation. Where this isn't an option, then mechanical ventilation is a must. Rather than going for a cheap axial fan and hoping for the best, ensure you specify a near silent centrifugal extract system. These low decibel centrifugal type fans are often twice the price, but the way they circulate and remove the stale air is far superior to the axial kind you hear buzzing away in an old bathroom.
Physically removing the moisture in the air by incorporating a dehumidifier will hugely benefit the air quality too. Dehumidifiers can be standalone units or some of the top of the range fans incorporate warm dried air as well as circulation. Incorporating an infrared heating system will not only fit seamlessly into your design as ceiling, wall or even mirror panels, but this form of heating also does not increase the humidity like a normal radiator can. In addition, using natural materials such as lime-based finishing plaster in opposed to gypsum plaster can actually help absorb moisture and lead to a naturally more healthy and high air quality in the new space.
Looking where to concentrate your budget and where you can make savings will ensure that the design and style of your proposed basement build will be incorporated seamlessly into your home for years to come.
As for all builds, you must ensure that your proposals comply with up-to-date building regulations and the design and subsequent building works are signed off by your chosen building control office.
About the author
Laura Jane Clark is the principle of Lamp Architects. She studied in Glasgow at the Mackintosh School of Architecture and also the Liverpool School of Architecture, qualifying in 2007. Working on site and getting hands on with building has always been extremely important After leaving University, she worked with a construction company for several months prior to starting as an architectural assistant with Guy Greenfield Architects in London. "Working on the tools and getting a basic idea of what site work entailed, gave me a really good foundation for developing detailing, site visits and working closely with the construction team. I think working on site is really important for anyone wanting to become an Architect, especially female Architecture trainees."
Laura set up her own practice, Lamp Architects, ten years ago and her passion lies in innovative house designs, small scale redevelopment and micro-regeneration of long abandoned and brown field sites. After featuring in the first episode of George Clarkes Amazing Spaces on Channel 4 with the derelict underground public toilet conversion into a flat, she has appeared as an architect on two series of Ugly House to Lovely House, a judge on Shed of the Year for 4 series and is currently one of the architects on BBC2 Your Home Made Perfect with Angela Scanlon.
Laura is also currently renovating an old derelict Georgian House outside Glasgow and builds and designs her own furniture and interiors in association with Universal Cloud Cover.