NGL, I'm a stan for my Original Our Place Always Pan. So, when I was asked to be one of the first 50 to try out their newest non-stick fry pan, your girl was stoked. I literally had "What Dreams Are Made Of" (yes, from The Lizzie McGuire Movie) living rent-free in my head for a couple of days. Spoiler alert: I am obsessed with it. And I actually prefer it to my OG Always Pan, which I really didn't expect to happen. Also an unexpected surprise? The fancy new Always Pan 2.0 has 25% off its price tag for the first time ever, meaning it's only $115 RN. It's your time to invest.
Selena Gomez is the gourmet girl boss and face of the brand, and if that's what she's serving her meals in then I want a seat at this dining table, too. I'm digging deep into all the amazing new features below, and all I can say is that this ovenproof amigo is *chefs kiss.* Here are four reasons I love my new pan, and why you should upgrade yours...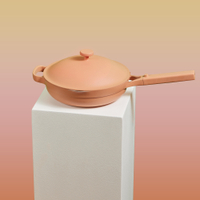 Always Pan 2.0 | Was $150, Now $115 (save $35) at Our Place
Given its multifunctionality, the Always Pan 2.0 is already a great price at $150. However, Our Place currently has a spring sale on RN, making this baby just $115. IDK about you, but I've spent that much just on a week's worth of groceries before. So this long-term investment is completely justified (especially when on sale).
4 reasons to buy the new-and-improved Always Pan
1. It's now oven safe (up to 450°F!)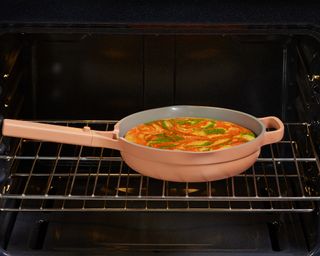 Breaking news: You can stick the Always Pan 2.0 in the oven. Now, don't get me wrong — I love my small air fryer. But there's something about bringing a cute vessel to the table and letting everyone dig in. Unplugging my convection oven and dumping it on the dining table doesn't really have the same appeal, IYKWIM.
Plus, you know what I'm thinking? Fewer dishes to do when I'm making my stovetop-to-oven recipes! Morning Shakshuka just got a chic update. I can already see the Instagram grid posts that I'm going to be double tapping. *Insert heart eyes emoji*
The lid looks a li'l different, too with the underside of the modular steam-locking cover having had a mini makeover.
2. It replaces up to 10 pieces of cookware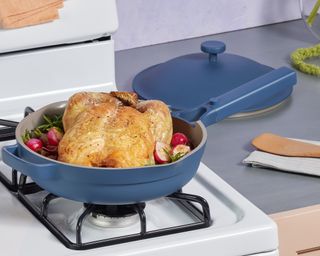 This piece of non-toxic cookware is a certified 10... literally and figuratively. So you can finally get rid of that ugly (and bulky) saucepan set that's def not serving. The original aesthetically-pleasing accessory saved you from playing Jenga with eight cookware staples, but now you've essentially got yourself a dutch oven and cast iron skillet that can withstand high heat with this 10-in-1 MVP.
Psst! It's worth noting that although Our Place already had a cast iron version of the Always Pan, this came with a clear lid. The new product comes with a color-matched cover.
3. There'll be no sticky situations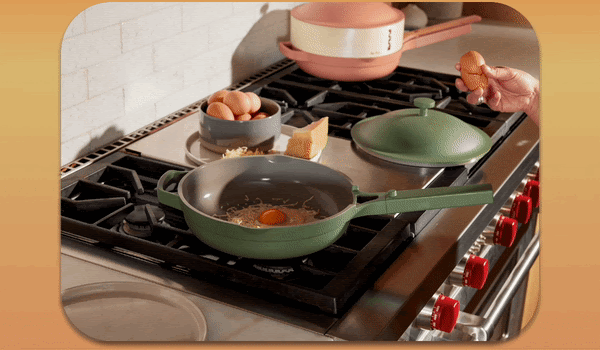 I loved playing a game of slip and slide with my fried eggs on the weekend with my current charcoal-colored Always Pan, but the woman and immigrant-owned brand have officially bossed it with a brand new type of coating on the cast iron cutie.
The new ThermaKind ceramic coating (made from sand, water and alcohol) on the Always Pan 2.0 is 50% longer lasting and exclusive to Our Place. So really, there's is no need to burn sage or recite affirmations — creating a toxin-free space just got easier.
4. It's made from post-consumer recycled materials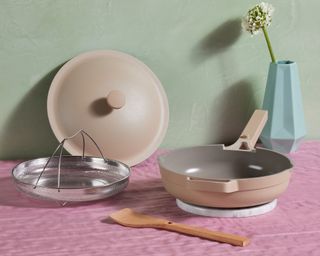 ICYMI, a lot of companies are doing this now, but Our Place has used 100% certified post-consumer waste to create the conductive aluminum core on its pans. Yup, that metal soda can you're sipping from could be auditioning for its place on "Always Pans Got Talent" to create the perfect sear.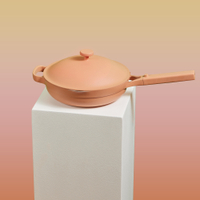 Always Pan 2.0 | Was $150, Now $115 (save $40) at Our Place
Introducing a new and improved version of the internet's favorite pan! While the iconic silhouette, design-forward colors, and comes-with-everything approach to accessories remain the same, there are some major improvements that make it worth the small investment! Save money as a VIP!