Cast iron skillets were a kitchen staple in our grandmother's time, and though they fell out of favor for some years, there has been quite a resurgence as of late. It's no surprise why – cast iron skillets can flavor your dishes in a way that most other pans cannot.
We've put together a list of the best-of-the-best cast iron skillets on the market, making sure to provide you with a variety. If you're feeling a bit iffy about buying a cast iron skillet because of myths surrounding cleaning and care, we created a simple guide about cast iron care at the bottom of this buying guide to put you at ease.
Give cast iron skillets a chance, and we're sure you'll fall in love with them as much as we have! Start with one of the following 8 cast iron pans below, and before you know it, you'll have a growing collection.
Round our your cookware collection with the best non-stick frying pans.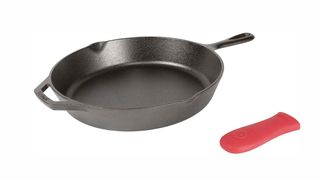 More than 70,000 Amazon shoppers are on to something. That's the number of buyers who deem Lodge's Pre-Seasoned Cast Iron Skillet the best cast iron skillet in terms of performance and value. Lodge is a leader in cast iron cookware who has proven that you don't need t spend a fortune or compromise on quality.
Lodge pans arrive pre-seasoned, with the non-stick improving with each use, though you are responsible for its upkeep. This 10-inch pan is great for everyday use from searing steaks to frying eggs. It's even deep enough for frying. However, if you're looking for a different size, either bigger or smaller, we're pretty sure you'll find exactly what you've been looking for.
It does have a slightly shorter handle than we're used to, but the helper handle makes carrying easy, as does the addition of the silicone handle holder to prevent accidentally burning yourself.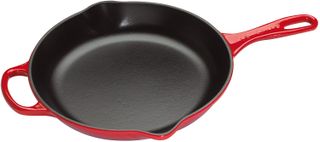 In 1925, the Le Creuset pioneered enameled cast iron through an innovative glazing process where they were able to coat cast iron in lovely colorful, chip-resistant enamel. The result is a wide range in color tones and the benefits of cast iron cooking – heat retention and induction – without the drawbacks like perpetual seasoning or care. Le Creuset enameled cast-iron signature skillet The strong enamel interior requires minimal oil use and resists staining, dulling, and wear and tear. You can even put this enameled cast iron skillet in the dishwasher for faster cleanup, but to keep it lasting longer, we're sticking to handwashing.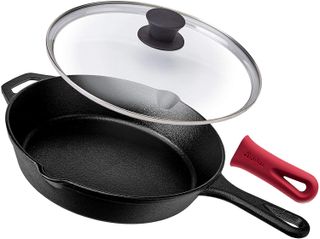 Cuisinel eats, sleeps, and breathes cast iron cookware, so you can trust that they have a great product in their 10-inch pre-seasoned cast-iron skillet. Not too small and not too large, this skillet is the perfect size for baking a batch of cornbread or grilling a couple of steaks. Like most other cast iron skillets, it does a great job with heat distribution and retention and has been pre-seasoned upon arrival.
How it differs from other brands is that this skillet comes with a silicone hot handle and a tempered glass lid that are oven safe up to 350 degrees! Whether you're using it on a stove, in an oven, or on the grill, you don't have to worry about the lid shattering or the silicone handle melting off. This makes it perfect for those who are new to cooking with cast iron to ease them into the experience. Also, take note -- if you need a bigger or smaller size, Cuisinel offers the same skillet in 8-inches and 12-inches and a rack for storage.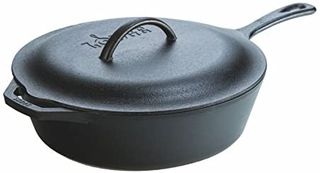 Lodge's 5-quart cast iron skillet is great for people with large families or those who like to entertain big groups. It has two handles and is 12 inches in diameter. What makes this the best deep skillet is that it's four inches deep which is nice if you're cooking fried chicken or bread and want extra inches in depth to catch grease or cook more food. The cast iron domed lid is a bonus as it has tips on the underside that helps liquid condense, drip on the food, and moisten it to perfection.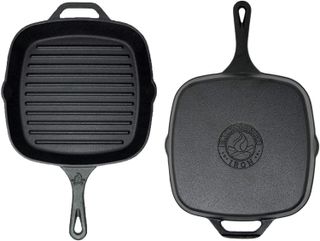 There's something about grill lines on food that makes it taste better. To get that caramelized vegetable or sweet, juicy meat flavoring without a grill, go with the Backcountry cast-iron 12-inch square grill pan. Shaped in a square, this cast iron skillet is ribbed, providing a barbecue-like sear when cooking meats over a fire, on the stovetop (even induction stoves!), or on a grill. You can even use it as a panini press if you grab yourself a cast iron grill press.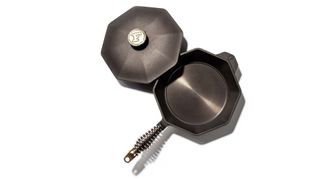 The octagonal-shaped Finex Iron Skillet isn't just for looks. While most skillets tend to have two-pour divots on the side, it can be a bit tricky to pour soup, sauces, or even grease out of a skillet, especially when it's hot. The Finex skillet utilizes a it has a multi-pour design with eight points to pour, which provides you with ample control in the kitchen. On top of that, they designed a Speed cool handle which is a spiral handle made of 300 series stainless steel. The innovative design keeps the handle cooler for a longer period of time and helps it quickly cool off once heated. It was inspired by vintage wood stove door handles for a stylish flair that blends form and function.
Out of the box, the Finex has a satin-smooth, easy-release cooking surface that is pre-seasoned with Flaxseed oil. When cooking, the thick-wall design provides even heat distribution and better retention for searing performance. Those golden edges and sear marks have never looked better.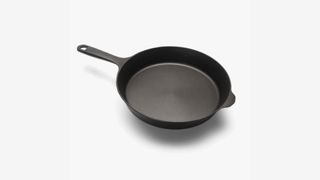 While we're big fans of cast iron, we're not the first to admit it's pretty heavy to handle. Factor in a full pan, and well, your cooking session has turned into an unanticipated workout. In favor of all things light, we love how Field Company mixed modern engineering into heirloom-quality pieces that are lightweight and easy to handle.
The #8 is Field Company's original and most popular size, is a 10 1/4" fry pan that weighs just 4.5 lbs. because machine polishing from manufacturing helps reduce the weight of the cast iron, increases the fineness of the form, and provides a smooth cooking surface. It also arrives ready to go and fully seasoned with two coats of grapeseed oil seasoning.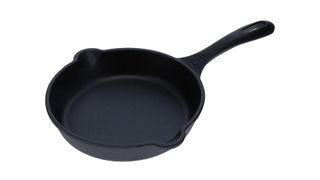 Sometimes, all you need is a little something small to accomplish the best recipes, Enter the Victoria 6.5-inch mini cast iron skillet. It won't take up a lot of room in your kitchen (or your camping bag) and is the perfect size for cooking an egg, appetizers, dips, or a pastry puff. Many reviewers rave over the smooth quality of the surface and enjoy the fact that it has been pre-seasoned with 100% Non-GMO flaxseed oil.
What is the best cast iron skillet?
Why you can trust Real Homes Our expert reviewers spend hours testing and comparing products and services so you can choose the best for you. Find out more about how we test.
The Lodge Cast Iron Skillet is a long-time favorite for its high-quality design and affordability that appeals to cooks of all backgrounds. But if you're looking for a unique design, rather than the classic style of the Lodge cast iron skillet, you might want to go with the FINEX 10" Cast Iron Skillet with Lid which has a spiral stainless steel handle that cools quicker and eight points around the pan's hexagonal shape for easier pouring.
8 Thing to know about cast-iron skillets:
1. They're affordable and durable.
Want something that isn't going to easily break, wear down, or cost an arm and a leg? That's what you'll get with a cast-iron skillet. If you take good care of it, you could pass it on to generations to come.
2. It takes longer to heat up...
If you're on a time crunch, a cast-iron skillet isn't the best pan of choice. It does take much longer than regular pans to heat up, but when it does, it offers a very thorough and even heat across the pan. Plus, it maintains heat which is great for certain recipes or foods, like when you want a nice layer of char on your meats.
3. ...and can take longer to cool.
Cast iron skillets do take a long time to cool thanks to their incomparable heat retention, which isn't a problem for most recipes unless it calls for a quick reduction in heat to obtain a certain result.
4. They're heavier than other frying pans.
Cast iron skillets are heavy, so be prepared to handle the weight when you're taking it out of the oven or carrying it to the sink.
5. Endless possibilities of recipes to cook:
The real question is: what can't you cook in a cast-iron skillet? Whether you want to bake, braise, broil, roast, sauté, sear, or pan fry – cast iron skillets can do it all.
6. What does 'pre-seasoned' mean?
When you see that cast iron skillets have been pre-seasoned, that means that the manufacturer applied oil or wax on the cast iron to prevent it from rusting while sitting on the shelves.
7. Cast iron skillets need a full seasoning.
You'll need to season a cast iron skillet once you've brought it home – even if it's been pre-seasoned. Don't worry, it's quite easy. Spread oil (like olive oil, vegetable oil, canola oil, etc.) on the cast iron skillet – inside and out. After you've heated your oven to 350 to 400 degrees, place the skillet upside down in the oven for about 45 minutes to an hour. You may want to line the bottom of the oven or the bottom shelf with aluminum foil to catch oil drippings.
8. How to clean cast iron skillets
You can usually clean cast iron skillets with just hot water, however, a little bit of dish soap isn't going to hurt. Never place it in the dishwasher (only enameled cast iron can be put in the dishwasher).
To prevent food from sticking on the bottom, clean it with a paper towel while the pan is still warm, and then clean it in the sink. You can also purchase special brushes to clean cast iron skillets. Be sure to dry the skillet completely when you're done and then lightly coat it with oil to keep it well seasoned and to prevent rust.