Is it getting hot in here, or is it just the new Caraway Stainless Steel collection? For culinary wizards looking to take their talents and temperatures up a notch, the fan-favorite brand has gifted shoppers with a new twist on its four-piece cookware set.
We'll be honest: searing and sizzling never looked quite so good. We adore Caraway's ceramic set and its beautiful hues (particularly Sage) but there's just something about this new line that screams, "Yes, Chef!"
Since small kitchen ideas not only require clever storage hacks and design ideas, but also the best types of cookware, this news is definitely worth perusing. Without further ado, it's time to learn all about the four-piece Caraway Stainless Steel Collection.
Caraway Stainless Steel Collection: Quick Menu
What to know about the Caraway Stainless Steel collection
Fancy that Martha Stewart skirt steak recipe? Maybe a side of asparagus? You'll need the right tools to get cookin'.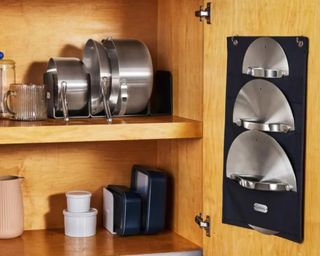 Where to buy the Caraway Stainless Steel collection
The four-piece Caraway Stainless Steel Collection is now available on the brand's website for $695 (reduced from $845) and includes a 10.5" fry pan, 3 qt saucepan, 4.5 qt sauté pan, a 6.5 qt Dutch oven, and pan and lid storage — essentially anything you could possibly need for your culinary endeavors. The brand touts the line as "cookware made to last a lifetime" and includes all the ingredients you'd like: non-toxic materials, oven-safe and burner agnostic features, 5-ply steel, and a lightweight feel.
But if you're thinking of ways to organize a small kitchen to make room for this glorious addition, do know that the collection will be "released in drops with incredibly limited inventory," according to the brand. The first drop has already sold out, but the second drop is underway and will ensure that you receive your goods in time for the holidays.
Should you prefer to get only one or two items rather than the whole bundle, new stainless steel items are sold separately, and mini options are available as well:
What do stainless steel pieces do?
Stainless steel pots and pans are a bit more versatile than their counterparts, and they're known for being less heavy than cast iron items, yet more functional than non-stick offerings. This particular set aims for "healthier cooking at higher temperatures." Though they're known for working with just about anything, stainless steel is beloved by those who like to cook meat. Yes, it's safe to consider it a small-kitchen must-have.
Why should I buy the Caraway Stainless Steel collection?
Aesthetics aside — we don't need to make a case for that — this limited-drop collection is one that will last you years to come and help you work through any impending family gatherings. It's an investment piece that works hard and looks good in the process. And as mentioned, the offerings are versatile for just about anything you're thinking of whipping up.
---
Thinking about adding one—or all—option to your cart? Part of having a collection like this means maintaining it, so learn how to season a stainless steel pan before getting the food ready!