Love cleaning? Mrs Hinch mega fan? You'll be pleased to know that Amazon have slashed the price of this cleaning product bundle we've spotted, then. Better get stocking up while you can. Complete with everything you'll need to clean your home from top to bottom, this cleaning kit comes with a cleaning solution to kill bacteria on everything from glass to carpet and sofas, wooden furniture, kitchens, shower and bath and your toilet. This also makes a great buy if you've recently moved home and are in need of all new cleaning products – it comes with some of the best cleaning products around included. Or if you're sending someone off to uni (hahahaha, joking).
This Ultimate Home Cleaning Kit by Harpic includes eight items from popular names such as Harpic, Cillit Bang, Vanish, Windolene and Mr.Sheen. We're talking Vanish's gold carpet cleaner that can kill stains in just 30 seconds, Cilit Bang's universal degreaser which removes grease from your kitchen with ease, Mr.Sheen's multi-purpose polish which can be used to clean pretty much every single surface around your home – while leaving a pleasant smell behind – and even Harpic's power plus toilet cleaner that kills 99.9 per cent of germs and removes limescale.
Usually £18.66, this cleaning bundle comes with eight items included and is now just £15.49 – that's 17 per cent off. You could wait until Amazon Prime Day to buy, but god knows when that's going to be this year. Buy now to use when doing your end of summer clean, or, if you are already well-stocked, it's a good idea to keep extras in the garage, should you run out...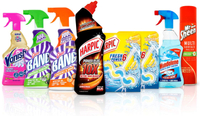 Ultimate Home Cleaning Kit | Was £18.66, now £15.49 at Amazon
Tackle stains and dirt throughout the house with ease thanks to this ultimate cleaning kit. Even better that it's on sale – it's a waste of time heading to your local shop, queuing, wearing a mask and buying all of this when you can click buy now and it can be delivered fast. A great buy for soon-to-be University students, too, while it'll keep your mind at bay to have should people start stock piling cleaning products again.
Click to shop some of Mrs Hinch's favourites...
Also read: