For an organized life (the sort we all hanker after), the items we use every day should always be at hand. That includes the beauty products, perfumes, and more that many of us keep in our bathrooms, on chest of drawers, dressing tables and so on.
But the things we see every day should enhance the loveliness of our homes, too, otherwise they'll just look like so much clutter. And, as all Marie Kondo followers know, clutter is a no-no.
Fortunately, though, you can score Marie Kondo points with your beauty faves. How? Well, first, you're not going to be using it if it doesn't spark joy. Secondly, you have categorized by keeping it all together. And, thirdly, these items will indeed be similar sized.
Also fortunate is the fact that many of our beauty buys are stylishly packaged for even more joy sparking. If they're not? It's easy to decant essentials like cotton wool into pretty glass jars that look great on display.
Also key to a beauty product display to meet Marie Kondo standards as the one shown below does? An attractive tray on which to arrange your collection. We've found some top dupes to help you put these bathroom storage ideas into practice (although note always necessarily in the bathroom!).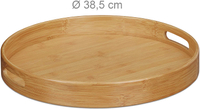 Relaxdays Round Bamboo Serving Tray | £24.07
Get the look Marie Kondo shared with this pretty tray. You can arrange all your daily essentials on the round surface, and it can be simply wiped clean of dust with a damp cloth.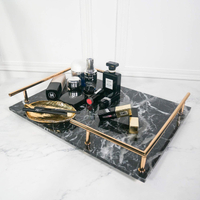 PuTwo Decorative Tray | £29.27
Marble is so on trend, and this tray will deliver all the style of the real thing. The luxe design is ideal for showing off your loveliest make-up and more. The base of the tray has a non-slip pad to keep it in place on any surface.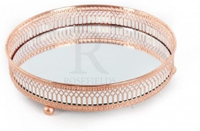 Sifcon Copper Mirror Plate | £14.02
A tray with a mirrored base adds pretty reflections to your display. We like the copper surround of this design which adds a warm metallic note that's perfect for the bedroom just as much as a bathroom.
Dawoo Golden Mirror Tray | £19.99
Want a little glam for your bedroom? The combination of a gold finish and mirrored glass should suit you down to the ground. At H5 x W30 x D18.7cm this tray will fit onto a chest as a neat bedroom storage idea or on a dressing table.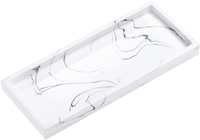 Fun Lites Vanity Tray | £10.99
If you like the idea of limiting your display to a select few items, check out this marble-style tray. It's H2 x W23.5 x D9.5cm so it could fit on to a bathroom windowsill as an alternative to keeping it in the bedroom.