Whether you love it or loathe it, working from home is back. And with the New Year rolling around, we really need some satisfying desk organization in our lives.
Marie Kondo has revealed the one item that will keep your desk looking oh-so neat, plus, it'll stop you from constantly looking for your charger. There are endless home office organization ideas out there that will make you look forward to sitting down and ticking off your to-do list.
As far as organization sensation Marie Kondo is concerned, you need a compact container for storing all of your tech.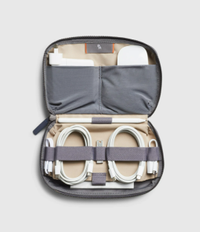 Tidy Tech Kit | $59.00 at KonMari
Keep USB keys, laptop chargers, a spare phone charger, memory cards, and camera batteries all in one place with the KonMari Tidy Tech Kit. Buy for yourself or the content creator in your life.
Now, we know it's not sexy, but it sure is practical. When we asked Marie Kondo which storage items we should all be investing in, she said all home offices/kitchen tables need a Tidy Tech Kit.
'This organizer keeps all your cords, earbuds, and chargers in one place,' Marie explains. We're feeling less stressed already.
'Whether you have a home office or work remotely, this kit helps you "shut down" for the day by putting everything in its place after you're done for the day,' Marie Kondo adds. Marie Kondo also swears by this bathroom storage item to restore order in your bathroom cabinets – and these Marie Kondo tips for organizing your closet.
One of our main WFH gripes is how hard it is to switch off when there's no geographical distinction between work and home. Zipping up and stowing away your laptop charger, headphones etc. might be a helpful ritual to tell our brains that work time is over.
Considering a couple of home office design ideas to revamp your space might also help you to be productive and to switch off at the end of the day.
In keeping with the KonMari approach, this little tech case helps organize 'like with like'. The best bit, in our opinion, is that when you unzip the pack, it lies flat. So you can see everything that's inside and access it all easily.
With different sized compartments, it keeps larger items like a mouse and laptop charger separate from those small items that we're always misplacing. Picking up one of these will hopefully mean less time panicking because you've lost your charger, and less time spent untangling your headphones.
A place for everything and everything in its place, as the saying goes. The tidy tech pack is made from sustainable fabric created from 100% recycled PET bottles. Nice.