In an ideal world, the bathroom would be a calm, clean, and spa-like place we love being in. But the reality is rarely quite so zen.
With Christmas around the corner, our cabinets and shelves will soon be fuller than usual, but Marie Kondo is here to help. We asked the world-famous home organizer which bathroom storage ideas everyone should invest in.
For a bathroom that sparks joy even on sleepy nighttime trips and days when there are five minutes to get ready, she recommends one key piece: a glass storage jar.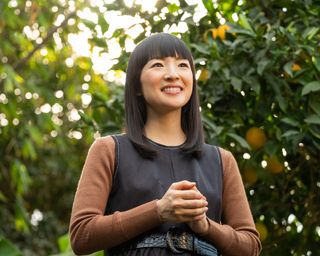 Marie Kondo bathroom storage item
Marie Kondo suggests buying some sleek, sealable glass storage jars for the bathroom. On the KonMari website, there are two versions, a small and large jar with a wooden lid (see below). Unlike the Marie Kondo kitchen tidying hack, this is very easy to implement!
'These containers add a touch of elegance to everyday items like cotton swabs,' she tells us. 'It is a small solution that brings me joy in my bathing ritual,' Marie adds.
It's a very simple idea, but one that will help to keep things orderly. Plus as they're quite lightweight and minimalist, a few of these jars would look great nestled together among any other bathroom shelving ideas you have, such as succulents and candles.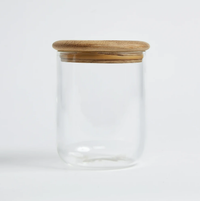 Large Sealable Glass Storage Jar with Wood Lid | $28.00, at KonMari
Keep everyday bathroom essentials where you can see them with this large glass jar. It has an acacia wood lid and is totally airtight.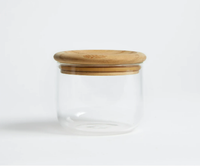 Small Glass Jar with Sealable Wooden Lid | $25.00, at KonMari
For more compact items, use this small jar on bathroom shelving or in your cabinets to keep things organized. These canisters can also be used in the kitchen for storing dry food.
Marie Kondo's bathroom storage item suggestion shows that it's worth spending money on storage boxes and baskets that we actually like looking at. If they're made of high quality, tactile materials, we're a lot more likely to use them.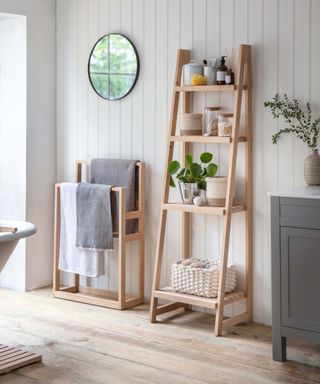 So if you're as keen as us to make it look like your bathroom's had the Marie Kondo treatment, have a good clear-out and consider picking up more (pretty) storage jars for the items you do keep.
Before you know it, you'll be tackling the closet — check out how to do KonMari folding for elite levels of organization. How do you keep your bathroom organized?