It's impossible to prepare delicious meals in a chaotic kitchen. If we don't start with a clean and clutter-free space, we end up making way more mess as we go.
If you find the kitchen a tricky space to stay on top of, cleaning and decluttering expert Marie Kondo has shared a kitchen idea to help keep things neat and tidy – but it's not for the faint-hearted....
Marie Kondo's tidy kitchen hack
The world-famous tidying expert and author of The Life-Changing Magic of Tidying says we shouldn't store anything on the countertop areas around the sink or stove.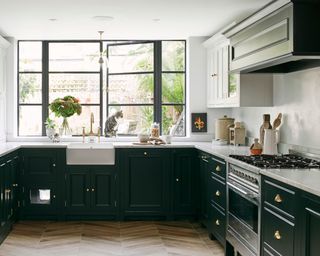 Yes – that means no coffee maker near the tap, no olive oil ready to heat in the pan for frying onions, no salt and pepper for extra flavor, and no Instagrammable layered chopping boards. It also means storing washing up sponges, dish soap, hand soap and so on out of sight, or perhaps on a shelf.
Organizing consultant Marie Kondo shares her somewhat extreme tidying advice on an Instagram story dedicated to keeping the kitchen in order. For a kitchen that sparks joy, she tells fans, 'Don't store anything on the counter near the stove or sink.'
She goes on to say that we should decorate our kitchen in a way that makes cooking fun, and to be sure to store all utensils in one place. We can get on board with this last tip as it makes cooking much easier, but we're not sure we have the discipline to maintain totally empty countertops.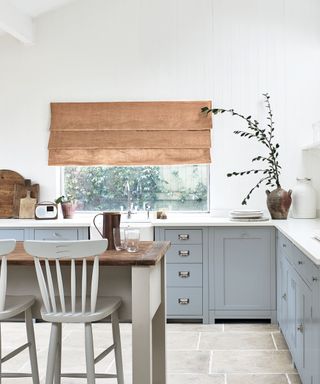 Even the most stylish of kitchens have a few pieces on display - what's wrong with a vintage glass butter dish or ceramic coffee container? Following the clutter-free KonMari method in the kitchen will definitely make cleaning the kitchen super easy, but day-to-day, we reckon we'd find it hard to achieve.
But that doesn't mean we're not inspired! When it comes to how to organize kitchen cabinets in a way that stops them descending into chaos, it's well worth buying some transparent storage baskets. We recommend picking up a clear Lazy Susan 2 Tier Turntable on Amazon for storing away olive oil, frequently used spices and condiments in a kitchen cabinet.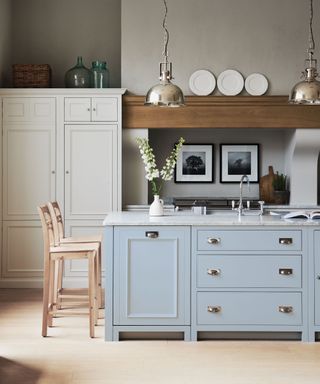 The spinning storage solutions make everything easy to grab while cooking, and the height of this particular Lazy Susan makes the most of the vertical space in your cabinets. Having a tidy up just before you get groceries will also keep on top of things and give you a chance to clean out any spilled food.
The world-famous KonMari method started by Marie Kondo isn't limited to your home though, with lots of ways to Marie Kondo your garden – from using clear boxes in your shed to storing according to frequency of use.