IKEA may be reopening around the country, but (as much as we love getting lost in a maze of Swedish design) it's not your only option if you're looking for a stylish new sofa without spending a fortune.
We checked some of our favorite sofa sources and found all sorts of gorgeous options on sale, from a West Elm sleeper sofa to a Crate & Barrel beauty that's $900 off, these stylish sofas are all on sale for under $1,000.
Decorating your living room? Check out our list of the best small living room ideas, or visit our guide to the best sleeper sofas.
Stylish sofas, all on sale for under $1,000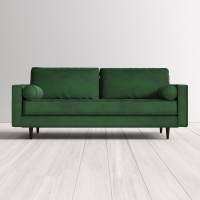 Ravi 88" Square Arm Sofa | Was $1350, now $655 at All Modern
If your living room could use a pop of color, check out the Ravi sofa from All Modern. It comes in six hues, including pale pink, navy, Emerald green, and more.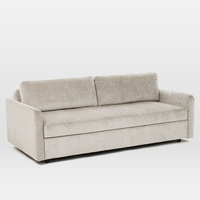 Skylar Apartment Sofa | Was $1899, now $769.99 at West Elm
Looking for a slofa? This click-clack style sleeper sofa folds flat into a bed, so you can accommodate guests even without a spare room. Even if you weren't looking for a sleeper sofa, this stylish, silver-y velvet couch would be a sophisticated addition to any space.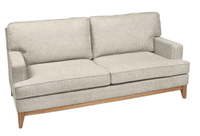 Pierformance Linen Tweed Track Arm Sofa | Was $999, now $799 at Pier 1
Sadly, Pier 1 is going out of business. But we're taking solace in the fact that the entire store is on sale, including this stylish, neutral track-arm sofa. Its a cleaner take on a classic English roll arm, so it feels both traditional and modern. Perfect if you like a little bit of both. The upholstery is a performance fabric, too, so bonus if you have kids, pets, or a wine cellar full of reds.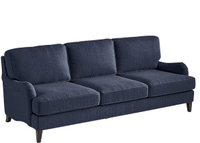 Pierformance Roll Arm Sofa| Was $999, now $799 at Pier 1
For those who prefer a more traditional look, Pier 1's Pierformance Roll Arm Sofa is a totally timeless design, and it's still available on the Pier 1 site in five colors.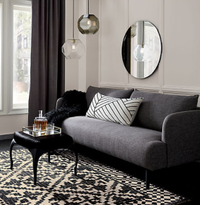 Ronan Grey Sofa| Was $999, now $899 at CB2
Prefer a more contemporary look? This sleek, grey CB2 sofa is a great pick for small spaces thanks to its low-profile. Also: The rounded arms are the epitome of on-trend right now.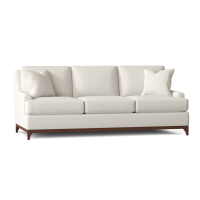 Kaylyn 89" Recessed Arm Sofa| Was $979, now $899 at Wayfair
This sofa from Wayfair comes in 154 fabric options, and dozens of them are on sale for under $1,000 right now, including a number of neutral hues. Prefer a fancier fabric like linen or a printed upholstery? Prices go up to $1119.99 - $1259.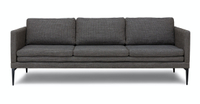 Triplo Meteorite Grey Sofa| Was $1099, now $899 at Article
This charcoal grey sofa from Article is a textbook midcentury design with an of-the-moment upgrade courtesy of metal "stiletto" legs. We picture it in a Manhattan loft (or anywhere you're trying to evoke an cosmopolitan, chic feel).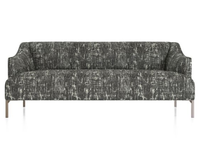 Skylar Apartment Sofa | Was $1899, now $949.97 at Crate & Barrel
This modern apartment sofa has petite proportions but big style, thanks to it's abstract print. It's an over-scaled tweed in a neutral palette, so if you're pattern shy, this is a good way to dip your toe in the waters.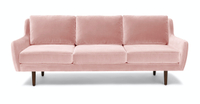 Matrix Blush Pink Sofa | Was $1299, now $1019 at Article
This one misses the under $1,000 mark by 20 bucks, but we couldn't leave this blush pink beauty off the list.
Read more: