We don't know about you, but we're finding the kitchen rugs trend hard to ignore. A Persian or jute rug thrown down between a kitchen unit and island just works. Beautifully.
See also: 65 kitchen ideas – pictures, decor inspiration and design ideas for your next makeover
We spoke to some experts for their tips on how to embrace the trend and keep rugs in high traffic areas looking good for years to come.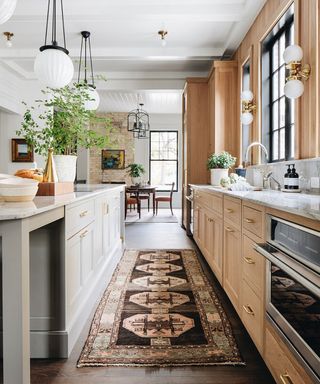 Introducing textiles in the kitchen softens the space, helps with the acoustics, and brings an unexpected texture into a room full of sharp corners and robust materials. Kitchen rugs also play into the clever design trick of including items in that you don't typically expect to find in the heart of the home, from vases and lamps to books, radios and vintage knickknacks.
Stunning as they may be, we can't help but think that they'd be a total headache to keep clean. Home staging expert Jennifer says otherwise...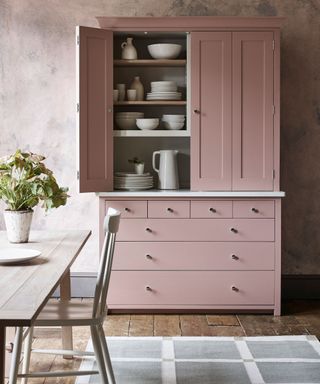 Opting for a flat weave rug in a stain-resistant material - or investing in protective sprays that repel liquids will make it far more practical. Jennifer Burt from home staging and design company Mississippi Maximalism recommends buying a washable rug, and giving it a deep clean once a year.
'The new technology of these is stain resistant and has a waterproof barrier,' she explains. Alternatively, you can 'use a vintage rug with a pattern that already has some wear and tear.'
Jennifer makes the point that with an old rug, 'the character is already there, so more stains won't hurt the look.' Not convinced? Neither is Bri Bell, a kitchen design expert from Frugal Minimalist Kitchen.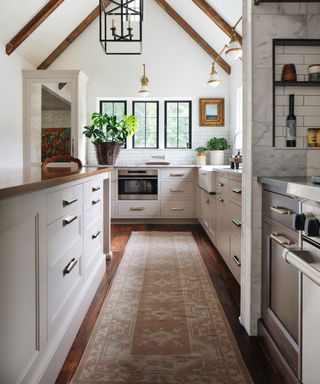 She tells us that she doesn't recommend them to most clients. 'There are always going to be crumbs and spills in the kitchen and with a rug, you now have to clean two surfaces every time - both the rug and the floor.
'If you really love the look and don't mind a bit of extra cleaning, I highly recommend getting one that is completely machine washable,' Bri says. 'There's nothing worse than having things in high traffic areas of your home that are too precious and make you not able to fully use the space for fear you might ruin something in it.'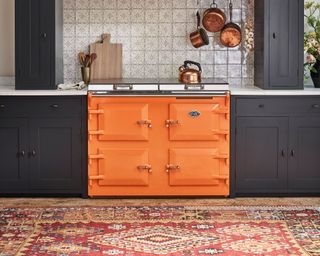 We totally agree. A neutral rug we can throw in the washing machine, or an old rug picked up at a flea market makes the kitchen rugs trend very doable. Bookmark our how to clean a kitchen step-by-step guide for when it's time to give the kitchen a deep clean.
See also: 10 killer kitchen rugs to jazz up your kitchen – snap up these deals now
They're a gorgeous open plan kitchen idea to delineate zones, and bring some comfort while we do the washing up. Try positioning a rug in a less 'busy' spot in the kitchen, and if it does suffer some spillages, it's so not the end of the world.