If you're blessed with a small bathroom, there are plenty of bathroom ideas to create the illusion of more space. Interior designer Joanna Gaines shared some small bathroom design tricks - including the wonderfully extravagant idea of installing an antique chandelier.
In a YouTube clip, Fixer Upper star Jo talks us through the design choices she made in a very small family bathroom. One thing she has used is a large light fixture to flood the space with light.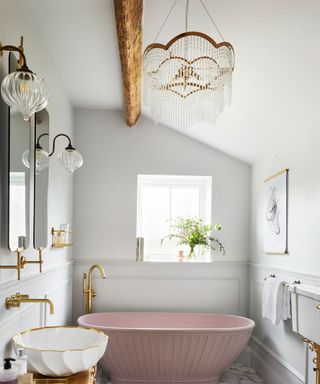 'It was really important to make the space light and airy, because it's only 45 square feet,' she begins. 'One of the biggest things I find in small spaces is there's not enough lighting.
'so I always encourage people, if you have some room in the budget, add extra lighting.' In this bathroom, Joanna has also used a vanity light over the bathroom mirror, pale tiles on the floor and a white subway tile in the bath area.
She also introduces different textures, like a white, ruffled shower curtain, so that even though it's in a neutral color, it adds visual interest and layers.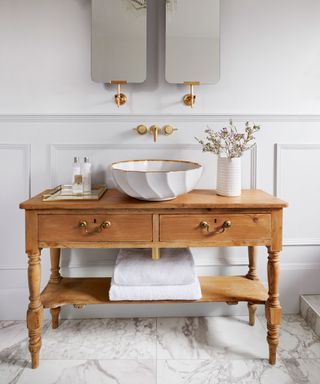 'I also did an antique chandelier to add interest, which gives plenty of light,' Joanna adds. 'And what does light do? Light makes things feel bigger, so that's the trick.'
A key thing to note is that the chandelier is a pale cream color, blending in with the wood panelled ceiling above. If the light was gold or black, it could feel much more bulky in the tight space.
Ideally, we'd all have luxurious hotel-style bathrooms with large windows, ample storage and a dreamy free-standing tub. But in the meantime, extra lighting will help to visually enlarge our small bathrooms.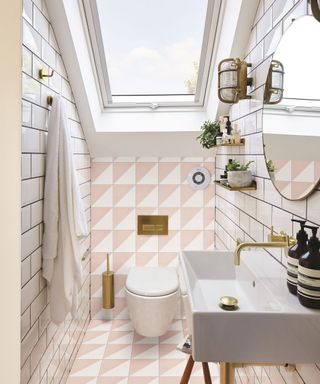 You do need some overhead space in your bathroom to install a chandelier safely, and always get advice from a qualified electrician. For more ways to give your bathroom a revamp, head to our bathroom paint ideas piece.
See also: 15 bathroom lighting ideas to brighten your space beautifully
A chandelier in the bathroom is pretty unexpected, and this bold design choice shows confidence in your decorating skills.