Getting your working from home set up spot on has been a task a lot of us have faced this year. We've had to adapt our way of working and as a result of that, adapt our homes to accommodate the fact most of us no longer can go into our offices. Whether you have a dedicated home office or work from your dining table, ensuring that the space makes you feel productive is key. So when we saw that myjobquote.co.uk has team up with Lee Chambers, a Psychologist and Wellbeing Consultant, to learn more about the colors we should be using in our home offices, we were intrigued.
Turns out the top colours are not at all what you would expect, in fact quite the opposite. Keep scrolling to find out what colours you should be using to boost productivity and the ones to avoid. For more home office ideas check out our gallery.
The best colours for your home office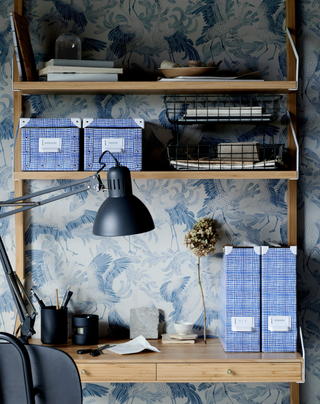 So what colour should we be painting our offices?
'Yellow is seen as the colour of creativity and is often used in innovation labs and creative spaces." explains Lee. 'An interesting feature of yellow backgrounds is that they increase information retention, which is helpful for highlighting key learnings and important information. If you have a creative job, yellow is definitely a solid choice, but be mindful of the overuse of yellow as a background and as a space, as it does induce eye fatigue.'
'Blue is known as the official colour of productivity. It promotes calm concentration and emotional balance that helps to keep you in a state of flow. However, too much blue can leave you a little too relaxed and blunt your innovative streak, so consider adding some warm colour accents.'
Yellow and blue hey? Don't worry, your home office doesn't need to look like a child's bedroom who is still obsessed with Minions. Introduce these brighter colours in more subtle ways – paint a feature wall in a deep teal, add a mustard yellow cushion, keep it simple.
The worst colour for your home office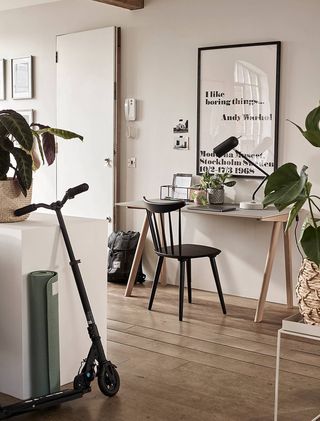 You ready for this one? Prepare yourself. The worst colour you can paint your home office is... grey. *Gasp* But we loooove grey we hear you shout! Apparently though, greys, whites, and beiges can encourage sad and depressive feelings. According to a study these neutral colors are to be avoided in spaces you want to feel productive and energised.
'Interestingly, a University of Texas study concluded that offices without a splash of colour, especially those in neutral white, grey and beige tended to induce some sad and depressive feelings, especially for those identifying as female.' says Lee.
Despite this, the same survey still showed that 54 percent of people work in a predominantly white room. In second place is beige followed by grey. So it's clearly time to get the paintbrushes out people and start adding some colour to our home offices!
Read more: