Aaaaah H&M Home, we can always rely on you to come through with the goods from the homeware heavens. So, it's no surprise that all of the lovely new pieces for 2021 have not let us down. We didn't really need an excuse to refresh our interiors for the New Year after the year we've had but the New In section of H&M has only encouraged our shopping habits.
Keep scrolling to check out our favourite pieces from the new collection, from tableware must-haves to lighting and cosy cushions to snuggle up with in 2021. In true H&M style, this collection serves minimalist chic with an edge on a budget.
For more inspiration to give your home an on trend update, head over to our 2021 interior trends feature.
1. Beige cushion covers for a soft neutral feel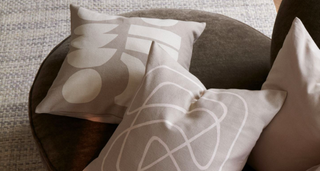 Cotton cushion cover | £3.99
These cotton cushion covers that are in the new H&M Home collection will revamp your living room space without distracting from your interiors. The neutral colour scheme is Scandi and the material is organic cotton canvas.
2. Floral porcelain teacups for a Grandmillenial style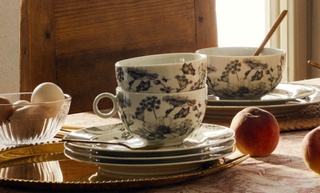 Porcelain cup | £3.99
If you don't have a killer set of teacups, these porcelain floral models from H&M are a fantastic choice. Giving a nod to Grandmillenial interior design with its traditional vibes without neglecting the timelessness of the white and grey colour scheme.
3. A black glazed stoneware plate for a sophisticated chic table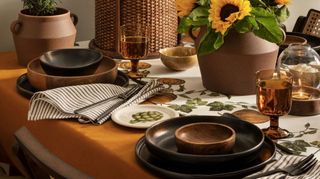 Large stoneware plate | £9.99
Stoneware is a beautiful material to use in a country kitchen space because of the way it balances rustic charm with elegance. Natural and simple, these black plates will totally transform your kitchenware and dining table set up.
4. A boho chic textured tasselled cushion cover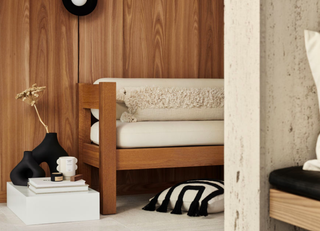 Tasselled cushion cover | £19.99
It's all about texture and H&M has totally captured this concept in this gorgeous feature cushion. The monochrome colour scheme is simple while the tasselled design gives it a splash of boho-chic interest. Refresh your bed or sofa with this model today.
5. A statement pendant light for your kitchen island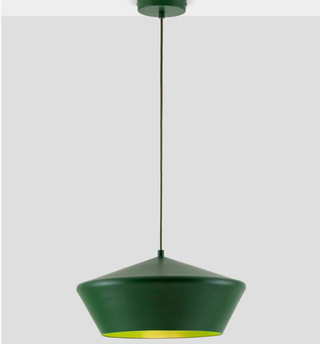 Wide metal diner pendant | £79.99
Add some bold flair to your interiors with this statement pendant lighting solution in a forest green. It's also available in white and brass if you fancy a more industrial or monochrome colour scheme. Pendant lighting is a gorgeous option over a kitchen island or dining table.
6. A calming sage green cotton tablecloth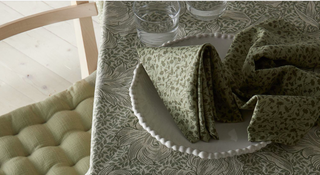 Patterned tablecloth | £12.99
We're living for sage green interior design at the moment and this printed tablecloth is giving us serious looks on that front. The organic cotton weave makes this cloth a soft texture and gentle aesthetic while the pattern adds intrigue, muted by the calming colour scheme.