Thank you H&M Home, thank you for showing us that no matter how stressful the outside world is getting, you can still have a zen-like space to escape to in your home. That's what this new bed and bathroom collection is all about, creating a soft and calming space that instantly makes you feel more relaxed and restored. Who wouldn't want that?
So we've been inspired by H&M's collection to provide you with some easy (and of course affordable) ways that you can make your bedroom and bathroom the most soothing, cosy and peaceful of places to retreat to after even the longest of days....
For more bedroom ideas head over to our hub page.
Actually looking for more bathroom ideas and decor tips? We've got you covered too.
1. Add texture, and maybe an H&M rug too
A really easy way to create a cosy, inviting bedroom is to go to town on texture. We are talking pillows, cushions, throws, rugs, the more textiles you pile up on your bed the more you have to hide under to escape the world (joking... kind of).
H&M has some really gorgeous, affordable soft furnishings that can quickly add this texture to your bedroom – we love the colour palette of this new collection too, very soft and muted. Layer up a darker-hued washed cotton duvet (opens in new tab) with a lighter printed duvet cover (opens in new tab) and pillows to give the overall look a bit of a lift.
2. Treat yourself to new H&M bedding
If you are after just one buy to give your bedroom a zen-inducing update, new bedding is always the answer. Treat yourself to H&M's gorgeously soft linen duvet set (opens in new tab) which comes in an array of calming, neutral hues that will complement any bedroom colour scheme you currently have going on.
3. Declutter your bathroom
Because clutter is stressful and you just can't feel zen when you're surrounded by half-used shampoo bottles, stray pieces of floss and an overflowing washing basket. Luckily H&M has some very cute (and very practical) bathroom storage solutions that will instantly make your bathroom a more calming space. We love this laundry basket (opens in new tab), it adds a bit of texture to a bathroom, and the soap dispenser (opens in new tab) and matching toothbrush mug (opens in new tab) look like belong in a luxury hotel we are so not cool to stay in but they are just £12.99 each!
4. These fresh towels are a good idea
Just like new bedding, fresh towels are an easy way to update your bathroom. Giving it a more luxurious and very spa-like feel. H&M's towels (opens in new tab) start from just £3.99 so you don't have to spend much either. We love the mix of the classic grey and white towels with the burnt orange, it's a great way to add a little colour to your bathroom.
5. Upgrade to a H&M shower curtain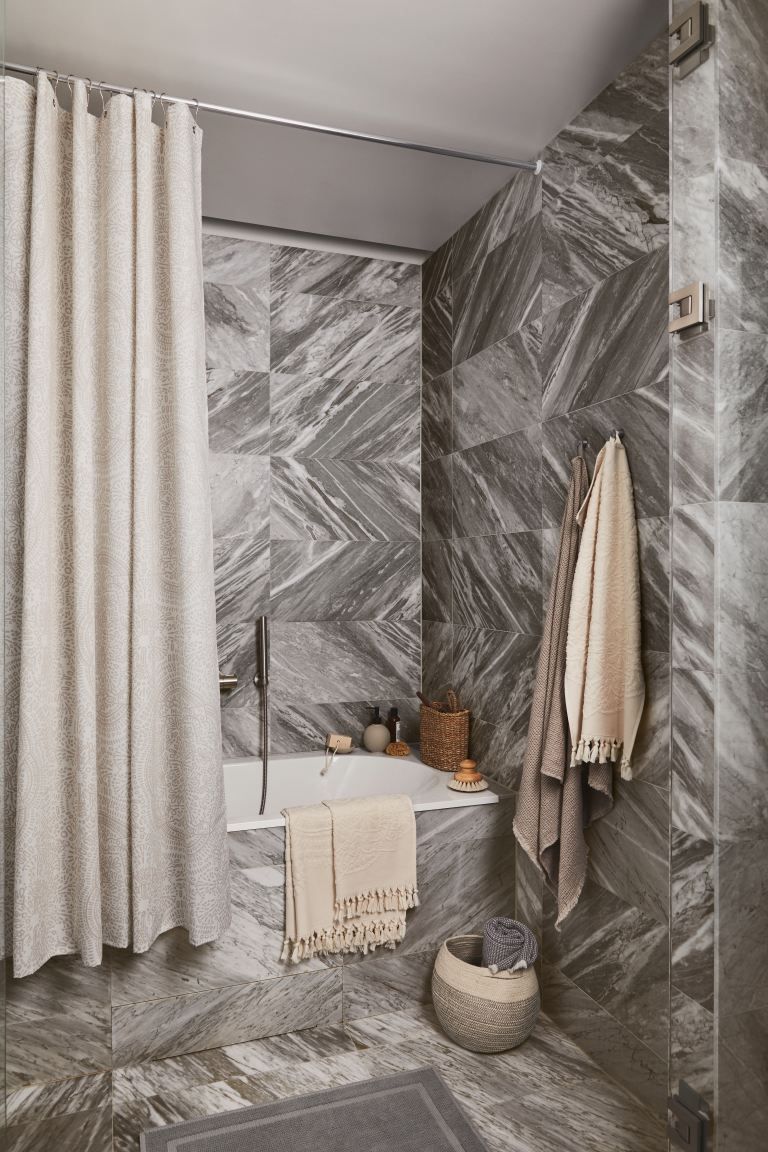 You may be so used to your yellowing, slightly mouldy (yum) shower curtain that it looks like part of your bathroom decor right now, but you will see such a difference once you switch it (please switch it!). This delicate, printed shower curtain (opens in new tab) is just £24.99 and it could be all your bathroom needs to feel fresher and far, far more inviting.
Read more: