A garden shed sale is a lifesaver now we are all realising that over winter our garden has become a bit of a dumping ground. It's time to get things in order so we can enjoy our outside spaces in the months to come. Who needs a summer holiday when you have a gorgeous, clutter-free garden to relax in? Don't answer that...
A good garden shed isn't cheap, though – and the more extra features it has (e.g. log storage, insulation, weatherproofing), the pricier it will be. Luckily, there are great deals to be had across a range of our favourite garden retailers.
From small storage units, to simple sheds and larger summerhouses, we have found a selection of great offers from various places to take the legwork out of your shed hunt. If you are looking for the very best garden shed check out our guide, but first, scroll down to see some quality sheds at the most affordable prices.
The best garden shed sales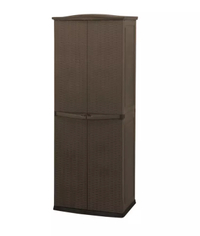 (opens in new tab)
Faux Rattan 627L Garden Utility Cupboard |Just £100 at Argos (opens in new tab)
Not a classic shed but this buy is amazing if you have a corner you can squeeze it into. Perfect for small spaces, but those with a big garden might find it handy for storing spare tools by the patio if your big shed is at the end of the garden. It has an impressive storage capacity of 627L.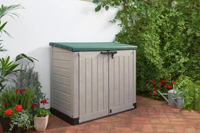 (opens in new tab)
Keter Store It Out Max 1200L Storage Shed | Only £120 at Argos (opens in new tab)
Cheap and cheerful – and, dare we say, very good-looking – this Keter shed (opens in new tab) is made from durable plastic, though you wouldn't know it by looking at it. It's lockable and large enough to store garden furniture, tools, or your bins.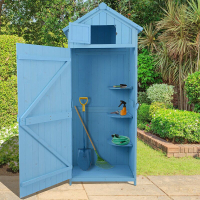 (opens in new tab)
Wooden Tongue & Groove Tool Shed | Was £159.99 now £123.99 at Wayfair (opens in new tab)
Some of us just need a small space for tools and this is perfect. It is big enough for all the essentials, and you could up storage for smaller tools and pots by installing hooks or shelves.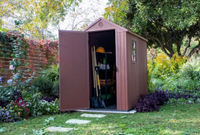 (opens in new tab)
Keter Darwin 4 x 6 Plastic Shed | Only £280 at Argos (opens in new tab)
Another affordable plastic option by Keter, the Darwin shed (opens in new tab) requires zero maintenance, is properly weather resistant and comes with a 15-year guarantee. In other words, you'll never need to replace it, and it looks good in any garden setting, meaning you can take it with you if you move.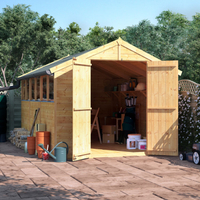 (opens in new tab)
BillyOh Master Tongue and Groove Apex Shed | From £315 on Garden Buildings Direct (opens in new tab)
This wooden shed is available in multiple sizes, starting from 4x6ft and ranging up to 16x8ft. It comes with out without windows and you can choose to have it treated with a number of paints and stains in various colours. Delivery is included and with short lead times you could have it as soon as Friday.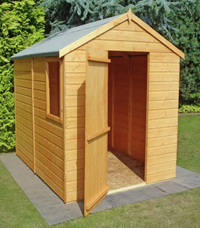 (opens in new tab)
Homewood Wooden 7 x 5ft Shiplap Shed | Only £410 at Argos (opens in new tab)
Prefer the look and feel of real wood? The Shiplap Shed (opens in new tab) by Homewood boasts a high quality, glazed window and a floor, and is ready for painting or staining. Large enough to fit a bike.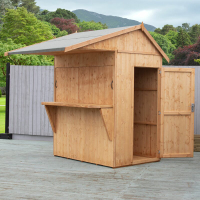 (opens in new tab)
Shiplap Reverse Apex Wooden Shed | Was £669 now £549.99 (opens in new tab)
Is it a shed? Is it a bar? We're not totally sure but you can definitely use it as both! Store all your garden paraphernalia neatly away but keep the front and the open hatch as an at home bar.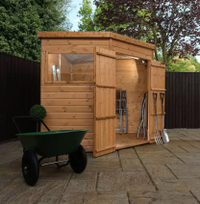 (opens in new tab)
Mercia Wooden 7 x 7ft Shiplap Double Door Corner Garden Shed | Only £575 at Argos (opens in new tab)
A shed that fits neatly into the corner of your garden? We can definitely get on board with this. Space-saving yet spacious, this clever corner design is made from pressure treated timber that guarantees the outbuilding against rot. The larger-than-average window is a bonus.
More garden storage essentials: