Considering getting the Aldi gazebo everyone's talking about? Well you will need to get it now before it sells out.
Gazebos make a useful addition to a larger garden, giving you shelter from rain and hot lunchtime sun, but they're not exactly a cheap purchase. Which is why we've rounded up the most affordable gazebos out there – including Aldi's – priced from low to high, for you. And they're all available to order online right now for delivery straight to your door.
The best gazebo deals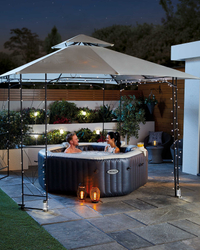 Gardenline Decorative Gazebo | £99.99 at Aldi
This handsome, large gazebo has a heavy, full PE roof and powder coated steel construction, and comes with a three-year warranty. The canopy measures 2.9m x 2.9m x 2.7m – large enough for a hot tub of a large garden lounge set.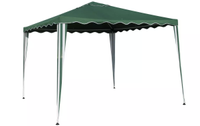 Argos Home 3m x 3m Garden Gazebo | £65 at Argos
Argos have some gazebos that are so cheap they needn't be on sale! This one has fab reviews and it such a great price. Although if you are after something even cheaper, check out this bargain from Argos that's just £25 – maybe not amazing quality but would do for one summer.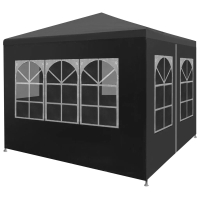 Steel Party Tent | Was £78.99, now £66.99 at Wayfair
Let's be honest, we were sold at 'party tent'. This gazebo is made of UV- and water-resistant material, so you can rest assured it won't melt away to nothing if there's a rain shower. There are three side panels with decorative windows and one with a door. It measures 3x3m.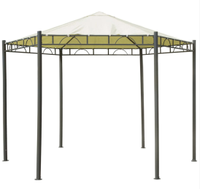 Charles Bentley Hexagonal Art Steel Gazebo | Was £139.99, now £109.99 at Robert Dyas
With its pretty, slightly Art Deco design, this stylish gazebo will transform your garden or patio into a chic space for outdoor living. Easy to assemble, measures H265 x W175 x D175cm.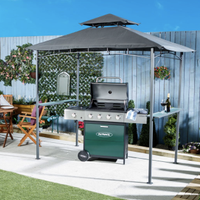 Monaco BBQ Gazebo | Was £199.99, now £129.99 at Robert Dyas
This super cool (and normally expensive) gazebo has a chimney at the top, which makes it the perfect choice for barbecues. Protect yourself from lunchtime sun (or a spot of rain) while cooking, without the gazebo filling up with smoke. Perfect.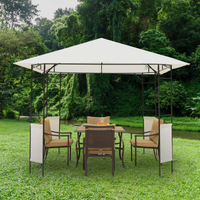 Outsunny 3 x 3 Meters Patio Garden Metal Gazebo | £118.71 at Amazon
This gorgeous gazebo is very similar to the Aldi gazebo everyone's after, and it's very similar in price, too. Lightweight but sturdy, it's large enough for a full outdoor dining set.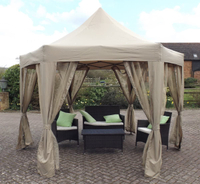 Horwood Garden Pop-up gazebo | Was £199, now £169.95 at Amazon
This is a gazebo fit for a king: extra large, measuring 3.6x3 metres and featuring extra heavy 180gsm fabric, this is a pop=up gazebo that looks way pricier than it is.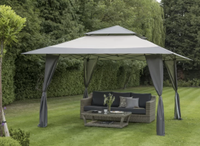 Got It Covered 4m x 4m Steel Pop-Up Gazebo | Was £199.99, now £169.99 at Wayfair
This nicely styled gazebo is very sturdy and strong – and will protect you from a shower as well as strong sun. It's a pop up design that you can easily take down after using.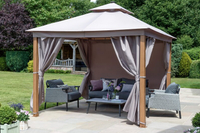 Hinckley Metal Patio Gazebo | Was £609.99, now £469.99 at Wayfair
If you really want to impress your friends and family (when they're allowed back over), this is the gazebo to do it with. It comes with a durable aluminium frame and weather and UV-resistant cover with stylish curtains. This high-end, 3x3m gazebo includes an LED interior centre light and strip lights on the roof ribs.
Check out these great deals on garden products