Styling your home to look totally Instagram-worthy is a trend we're certainly on-board with. And having a beautiful bed is often the place to start (of course). Cozy, chic, and certainly comfy, having an inviting bedroom you can show off to your friends on TikTok or just for your own satisfaction can change the way you think and feel about your space.
But there are so many bedspreads, sheet sets, cushions, and throws out there that finding a best duvet cover to suit your style could take time, and more importantly money. It's true, premium bedding can get pricey, especially if you're willing to go all the way with only the prettiest sheets of the highest quality.
That's why we thought you might like to see the bedding sets and duvet covers our editors have in their homes, all of which are on offer for Black Friday. From luxury linen sheets for less to discounted high-thread-count cotton sets and the freshest white sheets you can get for less than $30, these editor-approved picks are bound to give your bed the style upgrade it deserves.
They're from some of your favorite retailers too, like Dusk, Woolroom, and Piglet in bed. So scroll to shop Black Friday deals on bedding loved by the Real Homes team, and see exactly how these interior lovers are styling it.
1. Louise, sleep editor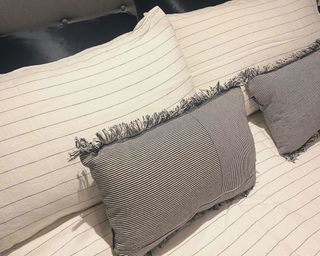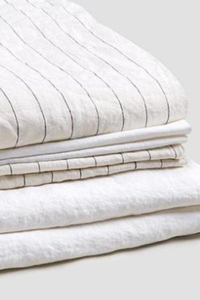 Piglet in Bed luna stripe bundle| Was $363, Now $272.25 (save $90.75) at Piglet in Bed
This premium linen bedding set is made from 100% stonewashed linen, which is perfect for all seasons, keeping you cozy in winter and cool in the summer — and with 25% off, these investment sheets are more than worth it.
"My bedroom is somewhat plain, with mainly black furniture and few gold accents. And I like the neutrals, but I'm also a fan of bold colors and clean lines. I'm admittedly not much of a Scandi-chic girl. So when I came across this simple, yet smart striped bedding set from Piglet in Bed, I just had to have my hands on it. I've paired it with some sleek silk pillowcases too, and it looks so much more expensive than it is, especially when on sale. Oh, and it feels just as premium too."
2. Annie, head of ecommerce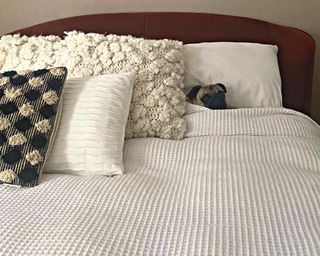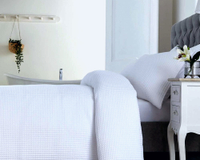 Dusk Portofino Bed Duvet cover | Was £76, Now £40 (save £36) at Dusk
Luxury feel with an affordable price tag, Dusk bedding is always a winner in our eyes. Its Portofino bedding set is a generous 200 thread-count waffle cotton, available in three chic neutral colors. But more importantly, there's £36 off, and an extra 20% with the code BF20.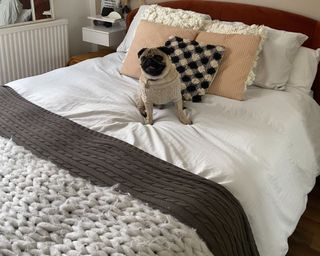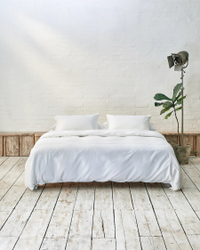 Beddable washed cotton bedding set | Was £119, now £95.50 (save £23.50) at Beddable
Beddable sheets are luxury like no other, made from 100 percent cotton, and woven in Portugal with a 400 thread count. They've currently got up to 30 percent off this premium range. A deal worth making the most of.

"If you're on a budget and looking for an affordable bedding set that looks 10 times its price tag, then Dusk's Portofino set should be in your basket. Its waffle weave adds texture to a space and it'll keep you warmer at night, and this means it doesn't have to be ironed either! I've had this set for months now and it washes so well. I'm impressed, to say the least! It's also my bedding set of choice in my spare room when we've got guests coming to stay.
When they say you can't go wrong with white sheets, they're talking about Beddable's bedding sets, because they look and feel great, even after every wash. I've got the washed cotton range, which is super soft to the touch. My pug Doug, especially loves them, as you can tell."
3. Anna, style editor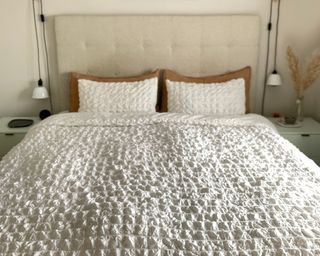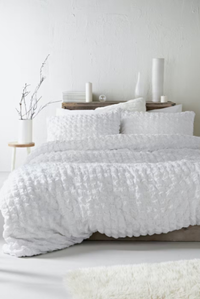 100% Cotton White Seersucker Duvet Cover | Was £35, now £28 (save £7) at Matalan
This cheerfully cheap bedding set from Matalan is even more of a great steal with 20 percent off for Black Friday. Perfect for both summer and winter its made from cool soft cotton with a textured design for a cozy nights sleep.
"Non iron, stylish, light as a feather, and comfortable to jump into, these are the main reasons why I've picked this as one of my very favorite bedding sets. It essentially makes me happy every time I put it on and still looks as fresh as it did when brand new. It's such an easy win for me as the seersucker design and crinkle finish means it never looks crumpled - which helps with my reluctance of ironing too. I genuinely love this in white but it comes in a variety of colorways and even better, it currently has 20% off this Black Friday. "
4. Millie, head of reviews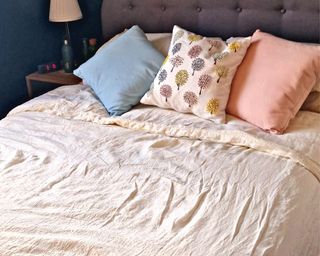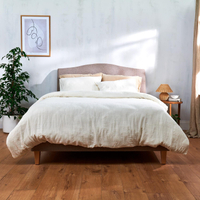 Woolroom Catarina 100% Linen Set | Was $505/£260, Now $353.50/£182 (save $151.50/£78) at Woolroom
Woolroom is known for bringing great-quality materials to the bedding market. And while its wool duvets, pillows, and more are undoubtedly prize-worthy, we love its linen bedding sets just as much. This bundle currently has 30% off. Steal!
"The softness of Woolroom's linen bedding is unmatched in my opinion. I've had this ivory set for some time and it truly gets smoother with every wash. The colorway is super cute and fits with the paired-back theme of my bedroom. I didn't expect it to be as pinkish at first, but it grew on me and I'm more than glad that's the color I went for."
4. Nishaa, staff writer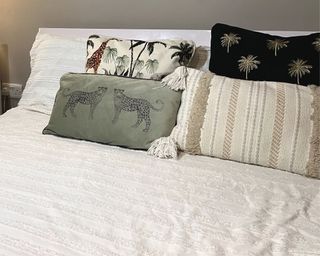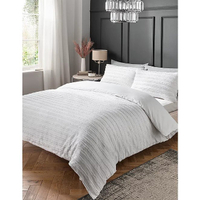 George White Tufted Washed Cotton Duvet Set | Was £32, Now £22 (save £10) at George ASDA
Who said cheap bedding doesn't last? This tufted set from George is an absolute bargain already, without its sale price considered. It might be white, which means no food or drink in bed, but it washes great time after time.
"I've had this ASDA tufted bedding set since the end of 2020, when it was going wild on TikTok. At only £27, I wasn't sure what the quality would be like, but I took the chance, and I've been pleasantly surprised by how well it's held up over the past two years! It's soft, easy to clean, stains come out like a breeze, and most importantly, it's not too heavy. We use this bedding set on repeat, no matter what the season is, and the tufted texture brings such a nice, cozy feeling to the bedroom that we love to accent with the countless throw pillows we have around our apartment."